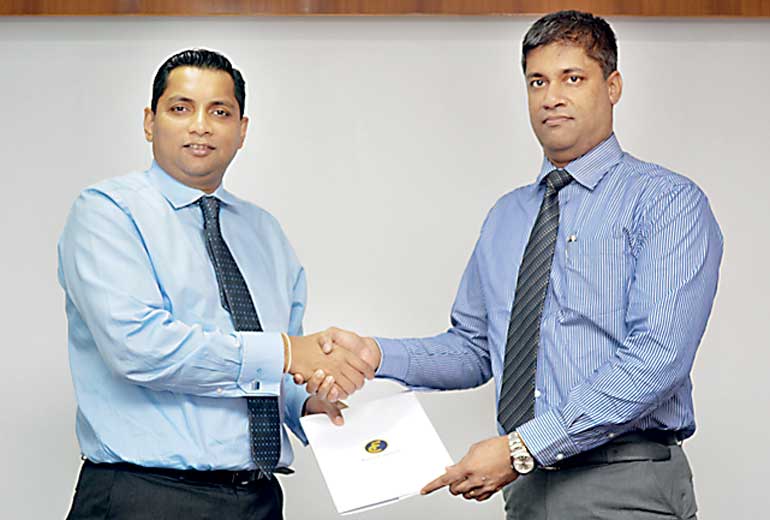 CIM Sri Lanka Chairman Sanjika Perera (left) exchanging the MOU with First Capital Holdings CEO Dilshan Wirasekara
The Chartered Institute of Marketing Sri Lanka entered into a strategic alliance with First Capital Holdings PLC, country's leading investment bank to further strengthen the knowledge and expertise of both fields.

In sharing the vision for high standards of quality and integrity, the Memorandum of Understanding (MOU) signed between CIM Sri Lanka and First Capital will mutually benefit both organisations.

Commenting on the sponsorship, Sanjika Perera, Chairman of CIM Sri Lanka, stated: "It is a pleasure to partner with First Capital Holdings PLC. As CIM Sri Lanka celebrates its 20th anniversary, we are confident of the continued support of First Capital. We place a high value on this strategic partnership."

CIM Sri Lanka is the first international branch of CIM UK and is proud to claim the largest membership outside the UK. The institute has campaigned for greater recognition and excellence in the marketing profession in Sri Lanka through education, training and development. Dilshan Wirasekara, Chief Executive Officer of First Capital Holdings PLC, said: "We at First Capital are delighted to sponsor a renowned professional body such as The Chartered Institute of Marketing Sri Lanka. In our commitment towards becoming the country's leading investment bank, we are constantly seeking to sharpen our competitive edge by collaborating with our investor base, regulatory authorities, professional bodies and governing organisations in offering innovative investment solutions."

First Capital Holdings PLC is a full service investment bank that offer objective advice and transaction execution facilities relating to capital raising and other strategic needs including mergers and acquisitions. The bank is active in the areas of fixed income and equities, providing both investment products and trading solutions. First Capital serves institutional and individual asset management needs through unit trust investments and tailored wealth management solutions.