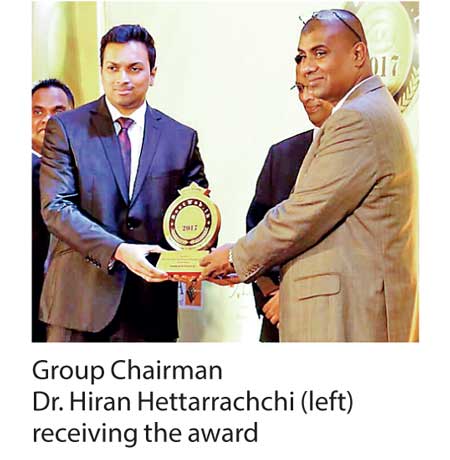 Blue Mountain's Achilleion website recently won a Gold award from bestweb.lk, in the 'Best Advertising and Marketing Website in Sri Lanka' category. The governing body for all .lk domains in the country, bestweb.lk launched the award program to recognise the most creatively designed and effective websites in Sri Lanka. Blue Mountain Group Chairman Dr. Hiran Hettiarachchi received the award on behalf of his team, at an exclusive ceremony which took place at Galadari Hotel Colombo on 4 April.

The Achilleion website – www.achilleion.lk conveys the epitome of seven-star luxury living that the iconic apartment complex is renowned for. Elegant and simple, with striking visual imagery and informative content, the website takes visitors and potential buyers on a seamless digital journey, that clearly highlights the key USPs, facilities and world-class amenities that Achilleion has to offer. E-brochures, an image-rich gallery and a state-of-the-art walk-through experience bring the property and its ultra-luxury offering to life.

Commenting on the award, Blue Mountain Group Chairman Dr. Hiran Hettiarachchi said: "Achilleion is a property that has fast-become an iconic landmark in both the local and global real estate industries. We are honoured to receive this prestigious award and we are delighted to be recognised for the investments and efforts we have made in developing a comprehensive website and harnessing the potential of digital media. We firmly believe that digital marketing and a strong online presence, play a crucial role in helping us reach the right audience. Our digital strategies and website enable us attract potential customers, buyers and investors who want to indulge in the luxurious lifestyle, exclusivity and optimal convenience that Achilleion offers as a home in Colombo."

Recognised as one of the largest projects of its kind in the residential real-estate space in Sri Lanka, Achilleion will be on of Blue Mountain Apartments' largest ventures and will serve as a key property in the company's vast portfolio. Blue Mountain Apartments has partnered with the renowned Singapore-based Palmer and Turner Group and Sri Lankan architect Surath Wickramasinghe along with interior design firm Index. In early 2017, Achilleon's show apartment was unveiled – rising 100 ft above sea level, it is believed to be the tallest stand-alone show apartment in the world. The property will have a fleet of Mercedes Benz cars, a private helicopter and helipad for residents to use, a 24/hour clinic, three swimming pools and an array of entertainment and dining spaces. Scheduled for completion in 2020, the mega project is valued at Rs. 30 billion and will provide unmatched levels of innovation and opulence in the heart of Sri Lanka's capital.