Reuters: David Beckham, the former England soccer captain turned international celebrity, was hit by a media onslaught on Monday after a series of hacked emails raised questions over his charity work after being made public.

A staple of British gossip and style columns, Beckham, 41, came under attack from newspapers after emails he allegedly sent were disclosed by the website "Football Leaks". A spokeswoman for Beckham said the emails had been taken out of context and doctored.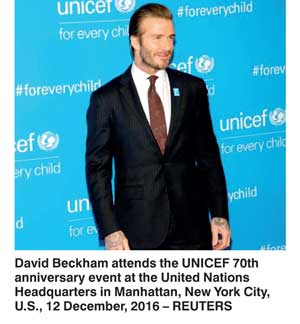 Among them was his foul-mouthed reaction when he found out he was not going to be knighted and his reluctance to donate his own money to a charity project.

The leaks fly in the face of his "man of the people" public image.

Known by the nickname "Golden Balls", the east-London born midfielder shot to fame with Manchester United thanks to his expert free-kick taking and crossing ability. He won six Premier League titles and one Champions League, when Manchester United won the "treble" in 1999. He is the third most-capped England international, and has global appeal having played for Spain's Real Madrid and U.S. team L.A. Galaxy. He became as famous off the pitch as he was on it, marrying "Posh Spice" singer Victoria Adams in 1999.

Beckham told the BBC in a special radio appearance last month that he stayed with Victoria for love rather than to protect "brand Beckham".

However, the leaked emails portray a star who carefully maintained his image and who was tetchy when he did not get his way. His spokeswoman said the emails were misleading.

"This story is based on outdated material taken out of context from hacked and doctored private emails from a third party server and gives a deliberately inaccurate picture," she said in a statement.

Reuters was not able to verify the source of the emails independently.

Many tabloid newspapers that had helped to propel his fame were unrelenting in their criticism of him on Monday.

The Daily Mail dedicated four pages to the "shame of Saint Becks," and the affair has been dubbed "Beckileaks" in the British media, although the Daily Mirror said that Beckham had been a victim of a "blackmail plot to shame footie hero".

Much of the outrage has centered around Beckham's work with the UNICEF children's charity. The leaked emails suggested that Beckham had billed it for a flight which he didn't need to take, and was reluctant to contribute his own money to the charity.

UNICEF said it could not comment on the emails, but defended Beckham's contribution.

"As well as generously giving his time, energy and support to help raise awareness and funds for UNICEF's work for children, David has given significant funds personally," it said in a statement.