The Sri Lanka Institute of Marketing (SLIM) recently held its 45th Annual General Meeting, where Ruwan Liyanagamage was appointed the 37th President of the Institute. SLIM is the national body for marketing in Sri Lanka and has been promoting marketing excellence and elevating the status of marketing since 1970. It is a member of the National Chamber of Commerce of Sri Lanka (NCCSL) and the Federation of Chamber of Commerce and Industry of Sri Lanka (FCCISL). Internationally it is affiliated with ESOMAR, the Federation of Marketing Research Industries and is a member of the Asia Marketing Federation, which is affiliated to the World Marketing Association. Following are excerpts of an interview conducted with Liyanagamage following his appointment as SLIM President:
---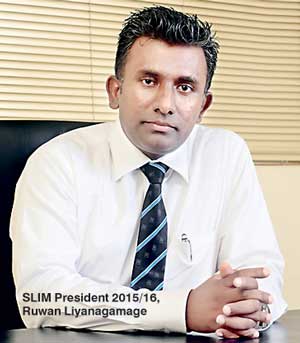 Q: When did your association with SLIM begin?

A: In 2009, I joined the Executive Committee of SLIM and was involved in organising SLIM events during the presidency of Rohan Somawansa and Thushara Perera. My first project was People's Awards and later on I was fortunate enough to be the Project Chair of Marketing Guru Prof. Philip Kotler's visit and seminar. Thereafter, I was the Project Chairman of Effie Awards. In the same year, I was appointed Treasurer and I served in that position for almost two years. Thereafter, I handled the pillar of Education as the Vice President – Education, leading up to my appointment as President.


Q: SLIM works on the four pillars of Education, Events, Training & Workshops and Membership. What are your major plans for Education this year?

A: Education will be our main area of concern in 2015/16. We are renowned for the prestigious events which we conduct annually such as Brand Excellence, National Sales Congress (NASCO), Effie Awards and People's Awards. As an educational institute we have a duty to impart knowledge about marketing and help the fraternity grow. In fact, our plan is to establish SLIM Education as a separate entity.

At present our Postgraduate Diploma in Marketing (PgDip) is considered to be one of the best qualifications in the country, on par with any other internationally recognised qualifications. Other than the Postgraduate Diploma in Marketing, we offer a wide range of courses, starting from Preliminary Certificate in Marketing (PCM) up to the MBA.



At the same time we will focus on improvements to existing products and enhancing their recognition internationally as well as introduce new products. For example, we plan to launch a Digital Marketing Program this year. We have already held discussions with some of our international partners such as the Marketing Institute of Singapore (MIS) which has the best Digital Marketing Program in the region.

Although digital marketing is a tool used by many organisations, there is ample room for development in this area. We find individuals lack knowledge on strategic digital marketing. We want to offer the fraternity a program which can develop professionals with a strategic level of understanding on digital marketing, to elevate our industry to be in par with countries like Australia and Singapore. This will give us a competitive advantage. We hope that this will add a lot of value to the fraternity and it is also our responsibility as the national body.

Besides this, we are looking at revamping our own programs to suit current market and industry requirements as well as the impact of technology in all spheres. Through this, we aim to provide the best solution for our customers, both industry and individuals. For example, while having digital marketing as a separate program, we will be introducing a module on digital marketing into our PGDip as well during this year.

We will also focus on expanding beyond Colombo. At present we have two branches in Matara and Kandy and a few accredited study centres. We recently expanded to Jaffna and Badulla and we will be establishing at least another five accredited study centres during the year. We have got several offers from centres outside Colombo to run our programs. That will be one of our major growth strategies. We will also set up another branch this year and we have selected Gampaha as a potential area. Our Matara branch has been performing very well with high student numbers and excellent results.

As for online programs, we have just started PCM Online, allowing students to follow the course online.


Q: What plans do you have for Events, the other major pillar of SLIM?

A: We want to be recognised as the Regional Awarding Body for awards which we conduct. Our Brand Excellence blueprint is one of the best in the world. Our partners at AMF are very impressed with the criterion and the methodologies adopted and having recognised this fact, they have shown interest in conducting this program in their countries. Our intention is to gain regional recognition elevating to the status as the Regional Awarding Body, rather than being restricted to Sri Lanka by bringing in contenders from and around the region to take part.

Another area we are looking to expand is training and corporate programs. The training division was established two years ago and it has been highly successful. We provide corporate training programs to several multinational organisations and many local companies. We have seen very good results and the feedback from them have been encouraging. We wish to explore further opportunities in this sector as the national body for marketing.


Q: What is the theme of SLIM for 2015/16?

A: The theme for 2015/16 is 'Gather, Govern & Grow'. The focus is on getting all stakeholders together to strengthen our governance. In 1980, we were established by an Act of Parliament and along with which we made our constitution but we have not worked adequately on strengthening our governance within SLIM.

We have introduced a corporate governance policy and a few internal policies but we feel the time has come for us to further strengthen our governance because it is not a private limited company. It is run by an association of members therefore the governance has to be much tighter than in the private sector. Like the pillar of education, we plan to strengthen governance this year.

Growth is about sustainability. Over the past years, we have recorded substantial growth and we want to ensure that this is maintained and improved upon. We want to ensure that the members, staff, fraternity and the stakeholders grow. Marketing has not been recognised as a mainstream profession. In the current scenario, concessions have been given for some of the other professions but for marketing. This is also due to our engagement with the successive governments been limited in the past. This year our intention is to change that and to obtain necessary benefits for the marketing fraternity. We intend to work towards this by lobbying the government and also utilise the strength of the marketing fraternity.


Q: Finally, what words of advice would you offer young marketers from your experience?

A: Marketing is the driver in any organisation and it is not just another functional area. Young marketers need to learn to think beyond the functional job and look at overall understanding of the business. Marketers need to think out of the box and bring innovation and creativity to produce better results for the organisation. As a young marketer, one should aim at being a CEO from day one. As SLIM, the national body for marketing, we will bring that overall knowledge and exposure to the marketer to reach the boardroom and beyond.

The lack of focus is seen as one of the drawbacks in reaching higher positions. They follow someone else and do not think beyond the functional job, which is detrimental to the self-development. The underlying factor of the misunderstanding between finance and marketing is the lack of overall knowledge and finance is seen as a stumbling block. It is important for those who aspire to be a CEO to have an overall business acumen with areas such as finance, statistics and HR in addition to a gamut of marketing. Therefore, we will redesign our curriculum to provide the overall business understanding to bring out the best marketing professionals.