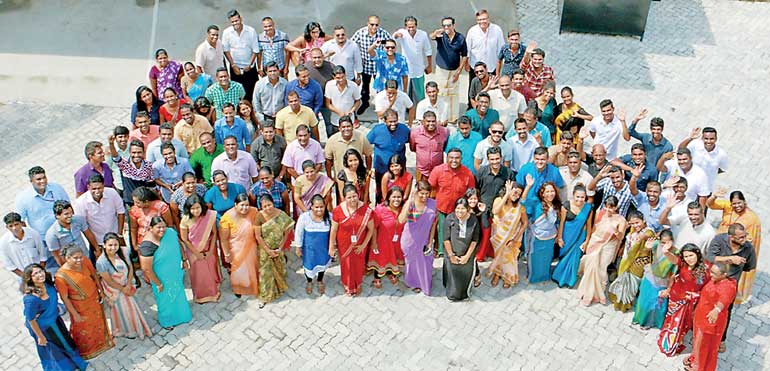 10 years ago Prashanth Supramaniam and Kapila Vidanagamage stunned the local advertising industry by their daring move to start Sri Lanka's first specialised media agency. People said it wouldn't last a year but they have proved their critics wrong and under their leadership what started off as a media only business has now diversified into a fully fledged communications Group.

It all started with the recognition that media was not getting its due importance in advertising and the value to clients was immense. The move was big, the vision was inspirational, the first step was simple and inexpensive in money terms and the attempt was considered ludicrous.

A tiny room in Sellamuttu Avenue, in Colombo, two laptops and a computer, the two men determined to succeed against all odds, despite the aspersions flung their way, and with Media Factory being treated as a joke that would not see the end of the year, 'unbundled' the media component from the advertising process in an unprecedented move in an industry that opposed change.

With the use specialised skills and services in driving media led brand connections and in getting the best media deals to make every cent of the client's budget work for them, a new significance to media planning as a source of advantage was created.

And so, they developed Media Factory to be a specialist in media consultancy, and the ultimate game changer in Sri Lanka's inflexible and well-entrenched advertising industry. Before long, clients could see the priceless change – the media activity had changed inexorably, from being a lackadaisical, non-strategic back-room scheduling job, to a strategic process closely bonded with corporate objective, leading corporate communication strategy from the front in terms of effective exposure and compelling visibility in the media.

Media Factory, at the very outset, was awarded a Rs. 2 million Heinz Ketchup account, which was brilliantly handled, paving the way for another Rs. 5 million award for five months.

Today, Media Factory is rightly proud to have defied all odds and grown to become a recognised powerhouse in advertising. Today, it is one of Sri Lanka's largest communications groups with over 100 employees, five companies and specialising across four distinct disciplines of communication. The five separate companies under the large umbrella of Media Factory Group, are – Media Factory Ltd., Madison Media Sri Lanka, Magenta Ltd. – their creative arm, Mandarin BTL. Ltd. – the activation arm and Momentus Ltd. – their PR and Digital arm.

At the core of the Group's success lies its belief in market led disruption. Disruption that is intellectual. Every company launched by Media Factory Group has learnt from the success of Media Factory and been built to question the inefficiencies of the existing practices of the industry.

If proof is in performance one just needs take a look at the position of the group's companies amongst its peers in each of the disciplines offered. This success has been driven through disruptive ideology on the thinking and modelling of each discipline which has won favour amongst clients.

Prashanth said, "The celebration of a decade is not the end of an era, but the beginning of a new chapter in our history that is shouldered on a new leadership team whose aspirations are even greater than that of ours as founders. The future is indeed bright. We may well face a few challenges, but will continue to invent and disrupt right through forcing the market into playing catch up."

Focusing on the future, Kapila says, "The next 20 years may see many new disruptive moves by the Group. And it will. But the one thing that will remain right throughout is the Spirit of Media Factory, the spirit to overcome challenges, be it our own or that of our clients. We are fighters who have learnt to fight for survival and for success that is of our own and that of our clients. Now it is entrenched in our DNA. The next decade and our future ambitions may present many challenges, but we are motivated and ready."

The dream that took root 10 years ago is a flourishing business today, with Media Factory Group of companies respected as a top player in the communications industry, offering clients unrivalled media service and specialised marketing communications solutions. As game changers, they are proud to lead the way, offering peerless services with a core of innovation.