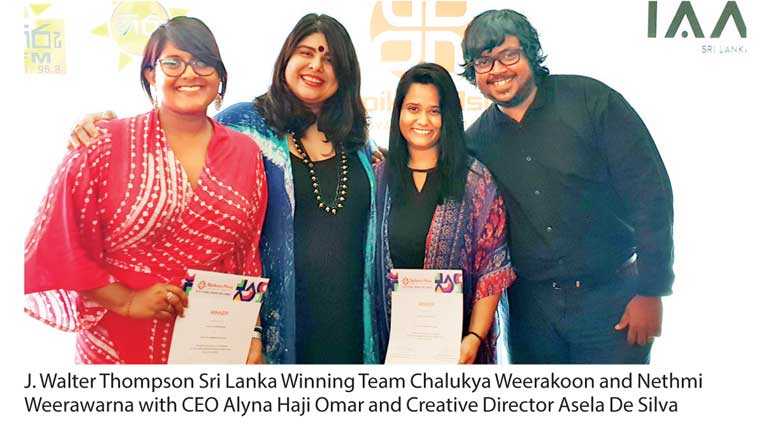 Chalukya Weerakoon and Nethmi Weerawarna, two rising stars from J. Walter Thompson Sri Lanka, part of the world largest communication brand, have been selected to represent Sri Lanka at the upcoming Young Spikes Integrated Competition 2018 held in September in Singapore, part of the Spikes Asia Festival of Creativity.

The Young Spikes Integrated Competition is an exciting two-day challenge that takes place during the Spikes Asia Festival, giving participants the chance to gain recognition within the industry and make their mark across Asia Pacific. Teams of two must create an integrated campaign in response to a brief set by a charity or non-profit organisation, whose name, objectives, strategies and target audience are kept secret until the competition briefing session.

Nethmi commenting on her and Chalukya's win said, "When we were initially given the brief, we were having a lot of fun exploring creative ideas, but we finally settled on the route that we did because we thought it was the most strategically sound and because we felt it hit a truth that was close to many Sri Lankans. We're so grateful for the opportunity to participate in a renowned festival like Spikes where we will get an opportunity to be exposed to world class talent and show them the kind of talent that Sri Lanka brings to the table!"

J. Walter Thompson Sri Lanka Creative Director Asela De Silva had this to say on the duo's win: "I'm very proud of Chalu and Nethmi for coming on top against the best young talent the industry has to offer. A mix of account management and creative clearly shows why it's still the best formula for integrated advertising. JWT has always had a good showing at these competitions and I'm glad that it's still going strong. It's a true testament to the talent pool we've possessed and our belief that the best training comes from doing creative work for our clients on a daily basis."

With over 150 years of experience, the J. Walter Thompson group specialises in creating pioneering solutions that transform brands and businesses and change the world. JWT along with Contract, Fortune, Design Sutra and Small Fry Studio offers end to end brand solutions. The group has been in Sri Lanka for over 35 years and handles a diverse portfolio of international and local brands that includes telco's, aviation, tourism, FMCG, healthcare, financial services, construction fashion and sports, etc.