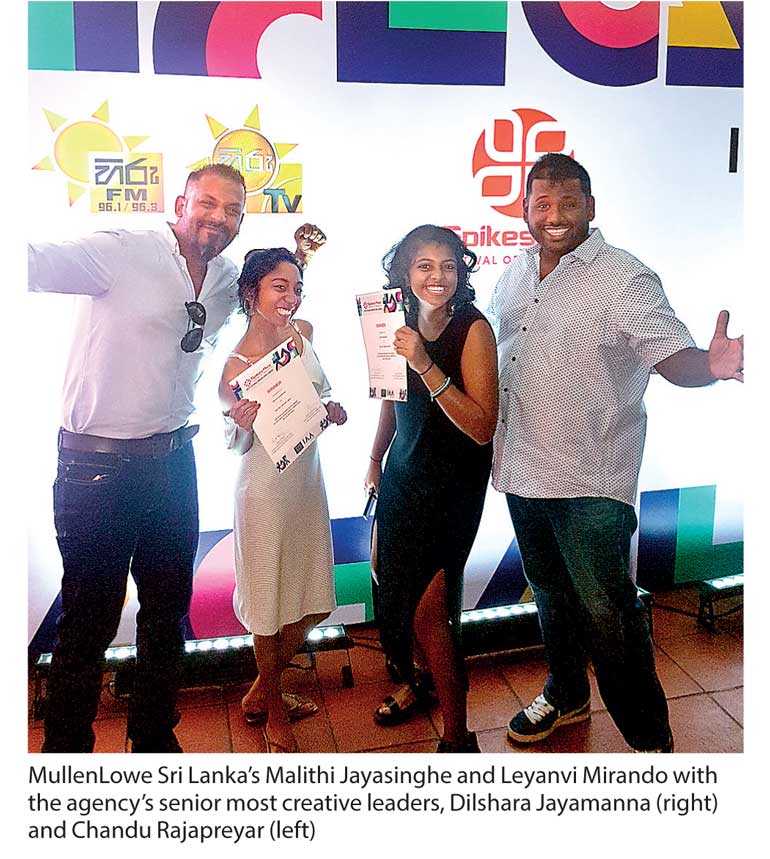 Leyanvi Mirando and Malithi Jayasinghe of MullenLowe Sri Lanka will be representing Sri Lanka at the upcoming Young Spikes 2018 held in Singapore. The duo beat 19 other teams in the digital category at the recently concluded Sri Lankan leg of the Young Spikes with their winning idea "Help them cheat".

The idea was designed to enable GCE O-Level students affected by floods and low connectivity to use someone else's short notes as their own to face the exam. It showcased the duo's brilliant understanding of consumer habits as well as an in-depth knowledge of digital platforms.

MullenLowe Sri Lanka Chief Executive Officer Thayalan Bartlett said, "MullenLowe has been fairly consistent in representing Sri Lanka at international award competitions. However this year's participants excite me as they are a very young all women team that will represent the agency and the country in this category. Leyanvi and Malithi are some of our brightest young talent who bring new meaning and purpose to ideation in the digital era and I am confident they will make us proud."

The local Young Spikes competition saw 61 teams across four categories – digital, media, PR, and integrated – vie for the opportunity to represent Sri Lanka at the main competition in Singapore. The competition challenges teams to think creatively and tests their knowledge in their given field.

As the region's oldest and most prestigious award for excellence in the creative communications industry, Spikes Asia brings together some of the finest creative thinkers from around the world providing them with a platform to network and exchange ideas. The competition itself allows young creatives to showcase their talent by solving a client's problem in a high pressured environment brought on by a short deadline.

Commenting on the win, MullenLowe Sri Lanka Senior Vice President/Executive Creative Director Dilshara Jayamanna said, "This is the third time in the last 4 years that a team from MullenLowe has won the local Young Spikes Digital competition to claim the honour of representing Sri Lanka at Spikes Asia. This is a remarkable achievement given that MullenLowe is not a conventional digital agency. It showcases MullenLowe's strength in applying creativity across digital platforms and proves that creativity is the key no matter what the medium may be."

Established as LDB Lintas in 1993, and thereafter referred to as Lowe LDB, the agency is a vibrant creative legacy. It came to be known as MullenLowe as a result of a merger with US based network Mullen in 2015. A majority of MullenLowe's business comes from global FMCG giant Unilever. In addition, it works with some of the country's leading brands in carbonated soft drinks, banking and finance, insurance, biscuits, milk foods, sanitary napkins, lubricants, foods, FinTech, personal care and beauty products, mobile communications, data and consumer electronics.

The company dominates the top 10 most advertised categories by 80% and the top 20 most advertised categories by 50% making it by far the largest creative agency in the country.