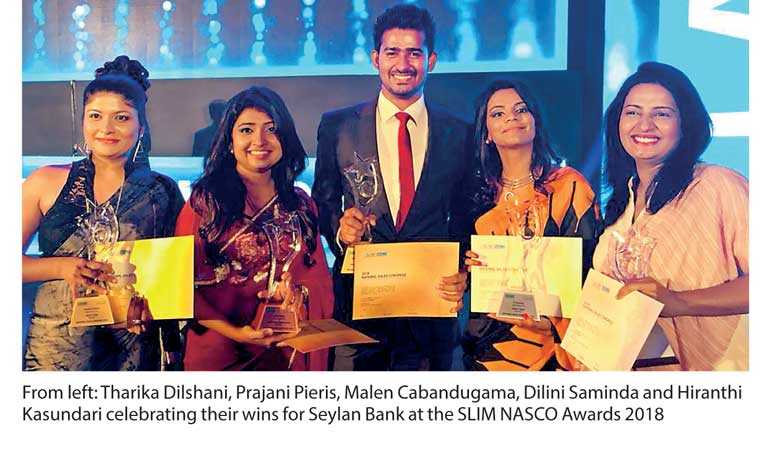 Seylan Bank's young sales force was bestowed with five awards at the recently concluded SLIM NASCO Awards 2018. The two year old sales team brought in two Golds, two Silvers and one Bronze underFront Liners, Sales Executives and Sales Support categories respectively.

Commenting on Seylan Bank's wins, Seylan Bank PLCHead of Marketing and Sales Gamika De Silva noted,"I'm extremely proud about my team and take this opportunity to congratulate them once again. We are proud and honoured to have won five awards at this year's SLIM NASCO Awards 2018. These awards are a testament of our young sales team's hard work, dedication and commitment towards offering the best of the services to our valued customers.Our Sales team was established just over 18 months ago and we are delighted to see them being recognised by the National body of Marketing.As the Bank with a heart, we nurture our employees'by identifying their career ambitions and enhancing them by providing the right skills and trainings tofuel their passion.These awards have inspired us to go beyond the norm and become the best in the banking service in Sri Lanka."

During the ceremony the Banking Industry Front Liner Gold was awarded to TharikaDilshani (Credit Card Sales), while DiliniSaminda (Personal Loan Sales Team) was awarded Silver. MalenCabandugama (Housing Loan Sales) won Goldwhilst PrajaniPeiris (Personal Loan Sales) broughthome the Bronze under the Sales Executive category.HiranthiKasundariwas awarded Silver under theExecutive Sales other staff categorywhich was introduced as a new category this year.

Earlier this year Seylan Bank bagged five awards at theGolden Globe Tigers Awards 2018 Sri Lanka Edition. In addition, the Bank with its 30 year completion is relooking at its processors and technologies to offer the best in class services to its customers.

This year's SLIM NASCO witnessed the crowning of sales champions from 22 industries in Sri Lanka. The award ceremony annually rewards high preforming individuals for their efforts and achievements in the sales fraternity and provide national level recognition.