Agency of the Year - MullenLowe Sri Lanka

Markerter of the Year - Unilever Sri Lanka

Brand of the Year - Softlogic Life
The 11th Edition of the Sri Lankan Effie Awards, organised by the Sri Lanka Institute of Marketing (SLIM), concluded on a high note recently, showcasing the strength of local talent.

Held on 30 August at Waters Edge, the gala event hosted over 400 participants whose sentiments and positive feedback endorsed the success of the event. The grand award 'Effie Sri Lanka Agency of the Year' was awarded to MullenLowe Sri Lanka as an agency that has earned the highest number of points for their winning entries across all brands and clients either as a primary or contributing agency.

The Chief Guest at the event was Fairway Holdings Group CEO Imal Fonseka, who has brought glory to the country having served as an International Effie Juror in Asia Pacific, Middle East and Africa. He also chaired the Jury of the Sri Lankan Effie Awards held in 2016.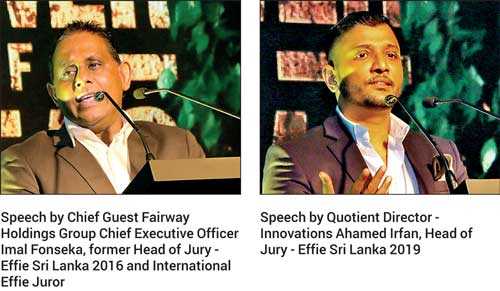 This year's Effie Awards theme focused on the 'Power of Ideas' intuitively leading to the creation of outstanding messages and execution that has catapulted brands into a special place among the minds of consumers.

This year's submissions from agencies and brand marketers, showcased and celebrated creative excellence in design and advertising. Out of 86 entries 30 winning finalists were recognised at the final awards gala. Among them, 14 outstanding entries won medals – four Gold medals, five Silver medals and five Bronze medals.

Commenting on the event, SLIM President Suranjith Swaris said, "I'm pleased with the positive response contributed by Marcom Agencies, Sri Lanka, regarding our request when we launched this event in the aftermath of the Easter Sunday attacks where the entire country was brought to a standstill. We had to postpone the event for a few weeks due to prevailing situation in the country at that time.

"However, I am very much delighted to witness the overwhelming response of receiving 84 entries. It's a great achievement because we at SLIM requested the entire nation, in particular marketers and the business community to unite and act to move forward rather than adopting a wait and see approach to their businesses. The unhesitating response of the unprecedented number of entries has shown the commitment of the agencies to move forward. I would like to express my gratitude to all agencies which have come forward to make SLIM Effies a great success this year.

"This year's 11th edition of the Sri Lankan Effie Awards showcased an outstanding degree of creative talent with fresh and dynamic thinking. The 2019 work heralds an exciting future for our industry and we congratulate all winners. We invite the winners to apply for the Effie Asia Pacific competition to bring further glory to our nation."

Notable winners for the night were MullenLowe Sri Lanka receiving the highest number of awards including three Gold, two Silver and three Bronze. Softlogic Life won two Gold and Silver for their triumphant campaign 'The Good Sickness in Life' under categories – 'Insurance, David vs. Goliath' and 'Influencers.' Unilever Sri Lanka also showcased their talent by winning a Gold for their Rexona campaign 'How Else Can I Say This' and also they won two Silver and three Bronze for 'Fair and Lovely, Clear, Vaseline, Signal' and 'Closeup.'

Patpat.lk won Gold for their Marcom campaign under the Banking and Finance category. New agencies which applied for Effie first time such as Rays & Rods and Third Shift Media also won prizes.

"The Effie Awards celebrated brands and agencies that have been able to reimagine advertising in today's ever-changing marketing mix. The range of high quality entries representing the full creative spectrum this year showcased the wealth of talent within our industry. We look forward to recognise winning campaigns via digital media platforms which will be useful material for future Effie applicants," noted SLIM Vice President Thilanka Abeywardena.

The highest accolades in the categories of 'Effie Sri Lanka Brand of the Year' was presented to Softlogic Life as a single brand earning the highest number of points for its entries. 'Effie Sri Lanka Marketer of the Year' went to Unilever Sri Lanka as a company receiving the highest number of points for its winning entries under single or multiple brands.

Effie Awards 2019 Project Chairman and Singer Sri Lanka PLC Senior Brand Manager Gayan Perera said: "We thank everyone from the SLIM Council of Management, Executive Committee, CEO, Events Division, all supportive staff, and my project committee for their dedication and diligence in ensuring this year's awards concluded on a successful note. We also extend our thanks to our sponsors, panel of judges, 4As and IAA officials and all participants of the competition. The increase in the number of entries, participants and high standards indicate the emergence of the Effie Awards as the industry's premier awards platform."