The seventh annual International Schools of Sri Lanka (TISSL) staged a conference on education, themed 'Leading in Turbulent Times' at Marriott Resort and Spa in Weligama.

The elite cross-section of academics and educational business personalities in the country listened to top speakers from overseas and Sri Lanka on recent education management insights.

A key insight shared by one speaker was that from the latest data for the first seven months of 2019, the education industry of Sri Lanka has invested a staggering Rs. 1.6 billion on advertising. To be specific, Rs. 871 million on television, Rs. 240 million on radio, and Rs. 566 million on press advertising.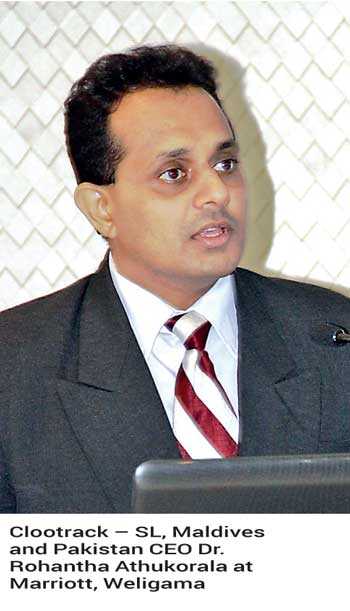 "Which means the industry will touch Rs. 3 billion by the year-end, and with 5% of net revenue as ad spend, the industry will net in a minimum Rs. 60 billion in net revenue at a bottom line of Rs. 30 billion at conservative estimates," said CEO of the number one artificial intelligence (AI) company in South Asia for perception management, Clootrack (SL, Maldives and Pakistan), Dr. Rohantha Athukorala on the theme 'Cutting-Edge Marketing with AI'.

The speaker went on to highlight that when so much money is invested on 'promotions', it is paramount that the 'product delivery' is as per international standards. He cited a case where a particular MBA program from the UK that was being run in an education institute in Sri Lanka – which was administering an old syllabus without proper protocol on journal articles, structured notes, and breakout seminar questions – was virtually running a 'rogue MBA' that did not do justice to the students.

After one year of delivery by the visiting faculty of top professionals from the private sector, they quit the program as no progress had been made to product development even though the SBU was making a profit running to almost Rs. 10 million. "We must not resort to such practices where the product advertised do not live up to the promise advertised. This will affect the whole education sector," voiced Dr. Athukorala, who was the first Executive Director of pivotal policymaking body NCED in the Ministry of Finance, and has also served as Chairman in key institutions like Sri Lanka Tourism and Sri Lanka Export Development Board.

The other key speakers at the conference were Dr. Phil Kirkman from the UK, TEDx Speaker Ujjwal Singh from India, OxfordAQA Managing Director Sadie Visick, inspirational speaker and sports personality Coxless, and crew member Natalia Cohen.

From Sri Lanka, CIIHE Chairman Dr. Darshan Perera and Chief Guest, one of the top business and academic personalities, Dr. Ravi Fernando of INSEAD fame were present.

Dr. Athukorala appealed to the international education industry to ensure that trained talent engages the Sri Lankan economy given that the country is at a low ebb of a 2.6% GDP growth, being the lowest performing economy in South Asia, beaten only by Afghanistan and Nepal. "The top economy is Bangladesh at 8.1% GDP growth, which is where we need to aspire to be, and without the support of international schools, we can't make this objective a reality," voiced Athukorala.

TISSL Chairperson Kumari Hapugalla Perera said: "I am honoured to present this international conference so that Sri Lanka can see the global trends unleashing as we speak.

"We must now be part of the national budget planning process so that international schools are part of the overall education thrust nationally," she added.