Prashantha Robertson, who was a speaker at the Customer Experience Management in Telecoms Summit at Novotel West, London from 29 to 31 January returned to the island last week.

This premier global summit saw a gathering of over 400 attendees from all over the world and from leading global players in the telco industry. Prashantha addressed a gathering of wide-ranging professional from telcos as well as from the IT sphere on the varying aspects of customer experience. Among the audience were senior executives from customer experience, customer care, marketing, sales, finance, and engineering.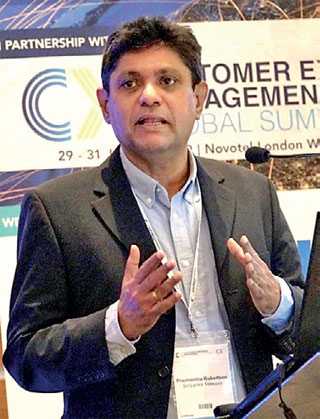 Prashantha Robertson
Prashantha, who was the only speaker from this region and among the 30-plus internationally renowned telecoms experts, shared his experiences on the customer experience aspect and this was very well received by the audience being a representation from a subcontinent telco. He said the summit gave him the opportunity to network with peers from global giants of the industry and also share and discuss on experiences in overcoming difficult situations while managing customer experience.

A renowned marketer, he serves as the Deputy Chief Customer Officer of Sri Lanka Telecom PLC. He has been in several blue chip companies in Sri Lanka during a career spanning over 25 years. Prashantha is a Chartered Marketer with qualifications from Chartered Institute of Marketing (UK).