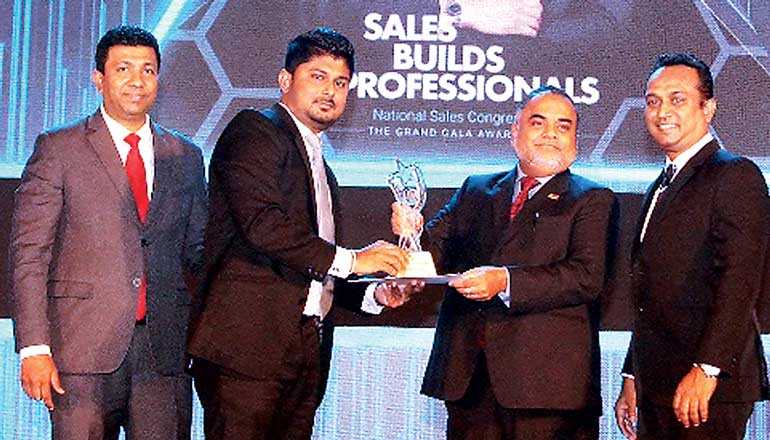 R.M. Sameera Rathnayake, Branch Manager of Mathugama who clinched the Gold award for the best territory manager category
Muhammad Rilah Muhammad Ameen,Branch Manager of Kandy branch – Alsafa who clinched the Bronze awardfor the best territory manager category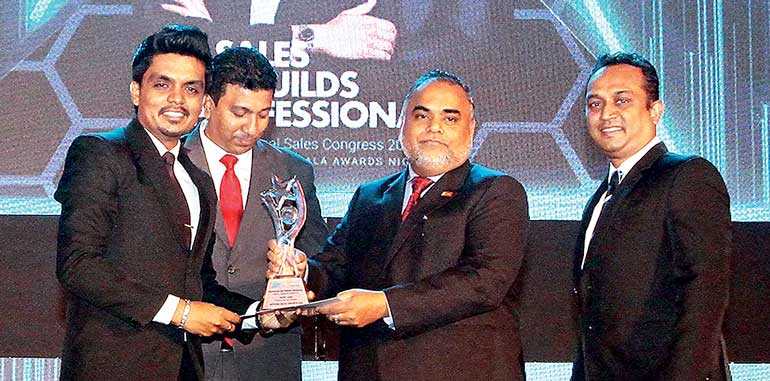 Pubudu Somapriya who clinched the Bronze award for theFront-Liner category
People's Leasing & Finance PLC (PLC), one of the foremost finance companies in Sri Lanka's non-bank finance sector was conferred with a Gold and two Bronze awards at the 18th edition of the 'SLIM NASCO 2018' awards ceremony, held at the BMICH recently.

'SLIM NASCO 2018' Gold award for the best territory manager of the year was won by PLC Mathugama branch manager R.M. Sameera Rathnayake. The Bronze award for the same category was clinched by Muhammad Rilah Muhammad Ameen, manager of Al Safa Finance Unit at the PLC's Kandy branch.

PLC's Homagama branch employee Pubudu Somapriya secured yet another Bronze award in the Front-Liner category at this year's 'SLIM NASCO' awards ceremony.

The 'SLIM NASCO' Awards ceremony is held annually to recognise potential and innovative talents of professionals who actively add value to Sri Lanka's marketing sphere.

People's Leasing CEO/General Manager Sabry Ibrahim, expressing his ideas on the 'SLIM-NASCO-2018' Gold and Bronze awards won by his team said, PLC being the trend-setter in Sri Lanka's non-bank finance sector has the prime objective of providing an exceptional service to its customers with a view to fulfilling their personal and business financial requirements.

"Our management team and employees are fully geared to cater to this need. The Gold and Bronze 'SLIM NASCO' awards they brought home this time around are sheer proof for their commitment, prowess and efficiency. I extend my sincere gratitude on behalf of the company to our team for proving once again, they are a force to reckon with," he said.

People's Leasing Company was commissioned in 1995 as a wholly owned subsidiary of the second largest state bank in Sri Lanka, the People's Bank.

Fitch Rating Lanka has assigned PLC a credit rating of AA- (lka) which makes PLC the highest rated finance company in the country. PLC is the only Sri Lankan finance company to have two international ratings of which one is equal to the Sovereign from Standard & Poor's ('B+/B') and the other is one notch below the Sovereign from Fitch Rating International ('B').

PLC's financial service product portfolio includes; leasing, fixed deposits, saving accounts, personal and business loans, margin trading, factoring and Islamic financial services.

People's Leasing conglomerate consists of six subsidiaries namely, People's Insurance PLC, People's Microfinance Ltd., People's Leasing Property Development Ltd., People's Leasing Fleet Management Ltd., People's Leasing Havelock Properties Ltd. and its newest foreign venture Lankan Alliance Finance Ltd.

The uniqueness of PLC is its strength and the stability to provide diverse financial solutions under one roof to its customers, thus enabling the customers to obtain convenient and customer friendly services.