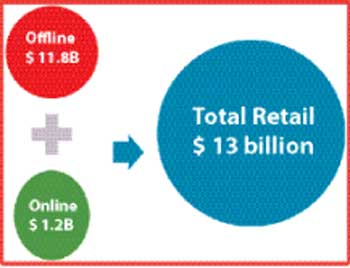 By Lahiru Pathmalal

Bloomberg on 29 August reported seeing an explosion in e-commerce in recent years in Southeast Asia, as consumers become more technology literate.

In Thailand (only country to keep data on e-com) has seen sales surge on refrigerators and TVs with 100% growth while traditional sales channel have seen only 10% growth.

This is great news for both the e-commerce players in the region as well as the consumers. This also signals the breakout moment for South East Asia in terms of e-commerce and signals what is to be expected in Lanka in the not-too-distant future.

What is currently happening in Thailand and Southeast Asia is the tip of the iceberg in terms of opportunities that are available. With investments coming in to the space to expand both marketing and operations the region has seen strong fundamental growth in the online retail segment.

While there has been strong growth e-commerce currently accounts for only 4% of total retail (Bloomberg); this is in comparison to bigger markets like China and South Korea, which respectively see 16 % & 18% of total retail now happening online. But what is most significant is the fact that e-com is seriously disrupting how consumers shop.

Implications for Sri Lanka

Locally, much like its Southeast Asian region people are spending more and more time on social media. Which means that the users are becoming more and more tech savvy. With the current Sri Lankan Government moves to reduce taxes on data charges more individuals will be spending more time online, which should see an increase in terms of consumer spending online.

Currently the e-commerce market in Sri Lanka is estimated to be at $ 30 million (AT Kearney & Neilsen) and it is expected reach more than $ 1.2 billion by 2021.

Bloomberg reported that the surge in e-commerce and a lack of official data means the health of the consumer sentiment in Southeast Asia may be underestimated, according to Maybank (Bloomberg), this can also be true on Sri Lanka with social commerce (selling on social media)/e-commerce already exploding in a big way in the island.

Other factors that will influence the e-commerce industry to flourish in Sri Lanka include a favorable policy to continue to attract investment from here and abroad; such as ease of opening investment accounts to relaxation in exchange controls that are in place. One of the other main factors that will influence the industry will be the digital payment platforms that are still nascent in the island.

With the e-commerce growth skyrocketing in the region and with a favorable investment climate one could expect more early stage and frontier investment funds making investments in to the Sri Lankan e-commerce industry. The future looks bright for both the consumer and the e-commerce industry in the region.
(The writer is the co/founder CEO of takas.lk; the views shared on this article are his owns and does not necessarily reflect the views of the organisation.)