The team at Isobar Sri Lanka
---
The following excerpt is from a conversation held with Isobar Director Mohenesh Chamith Buthgumwa. In November 2018, Dentsu Grant Group introduced a global digital agency responsible for transforming businesses through the creative use of digital
Sharing the role and my take on the direction of the digital ecosystem in Sri Lanka, it is of my strong view that local brands must differentiate the delivery and focus of their content now more than ever.
The journey of the first 365 days at Isobar

Our deep expertise in content has carved us a niche and name for ourselves as the go-to content marketing agency in Sri Lanka. We've broken records in terms of engagement, and we've been featured on multiple global publications like Adage and Adweek.

Our last year's performance was primarily driven by significant new business gains which contributed to over 70% of the revenue. And our total revenue growth is now higher than the growth of the industry. We're also the fastest growing office within the global Isobar network with revenue growth of 166% and a pitch win rate of 92% (22/24 wins).

Today, we sit firmly at the top in terms of recognition, reputation, staff health, and leadership despite Sri Lanka's economically constricting year of 2019.
Q: Key priorities at Isobar right now?

With consumer insights, technology, and creativity at our core, we want to be the number one full-service digital agency in Sri Lanka. We want to nurture experiences that build businesses by creating engaging content for consumers wherever they live.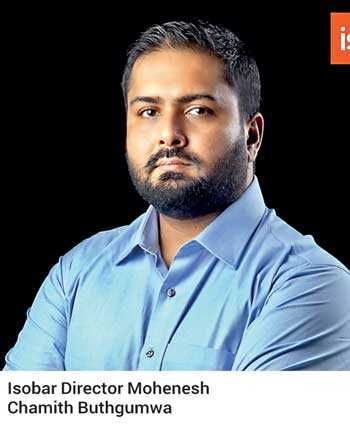 Q: Isobar's increased investment in programmatic buying?

Contrary to what most people believe, consumers haven't lost their ability to stay focused and engaged for an extended period of time. They simply chose when to disengage at a far more rapid rate. We now have the ability to select preference with split-second proficiency or 400 milliseconds to be exact. That's quicker than a finger snap – which is almost half a second. This makes an immediate connection even more crucial than ever in today's digital world. That five seconds to 'skip' an ad can feel like a lifetime, but if you find it engaging – the next two minutes fly by. Watch someone on their commute scrolling through their social feeds and you'll see the only thing faster than the speed of light seems to be the 'speed of swipe'. But, hook them, and they're happy to read a 250-word Instagram post.

The future of experience, education, and entertainment will rely more on deeper and sharper data to pinpoint how to best reach each person and what they are after. With the launch of Amnet, the first genuine programmatic network in Sri Lanka, we are set to disrupt the status quo of digital advertising by expanding local media inventory and offering more sophisticated, customised campaigns to clients. This will be our key revenue focus for the next three years.
Q: How does culture impact the workplace at Isobar?

Companies often thrive on the talent of their employees. Our greatest achievement to date – zero staff turnover and this alone has helped our client relationships to flourish. We have a simple philosophy: If you take care of your people, they will do great work. And if they do great work, your clients will be happy. Prioritise people. And clients will be taken care of.

This is the culture of our workplace. It also allows us to align the talents and personalities of our core team members to ensure a productive and positive relationship with our clients.

We actively try out the products we pitch for, use competitor products to draw comparisons, call customer service to gain insights, visit sales conventions to talk to promoters and detractors to have the edge over the competition.
Q: Are relationships with clients important?

Our clients treat us as more of a business partner than just their digital agency. And the work we've done in the past year (i.e. UNICEF, 'Ara Wade – A vote for children'; JAT, 'Wish I had a Strepsils'; Reckitt Benckiser, 'Wilbert Uncle – FriMi') in collaboration with Response, the creative arm of Isobar Sri Lanka, represent the kind of work we want to do in the future. After all, it's still going to come down to having a compelling story to tell as brands.

A story that is meaningful and compelling.

These inter-collaborations within our agencies at Dentsu Grant Group add more value creations to our campaigns.

Conceptualising and delivering some of the most talked-about campaigns using these human insights is no easy task but we're committed to being a major growth driver for the brands we serve. As an agency, we need to push our clients to meet our mutual KPIs and even set up collaborative workspaces in each other's offices.
Q: What is the next hot trend in the sphere of digital marketing?

In the immediate future, we see voice-enabled tech to have huge growth potential. It's a natural fit in our lives because it's seamless and convenient. And our vocal cords will be the only 'hardware' needed. Our voice also facilitates multitasking, something that's very important in today's age of efficiency.