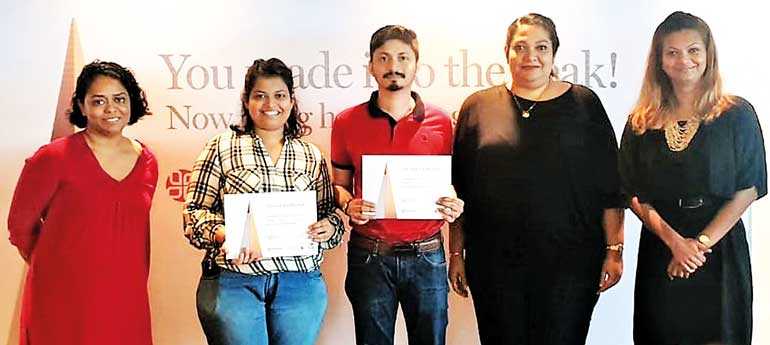 Young Spikes PR contest winners from NGage – Maheshi Dunuwilage and Shahan Fernando with the judges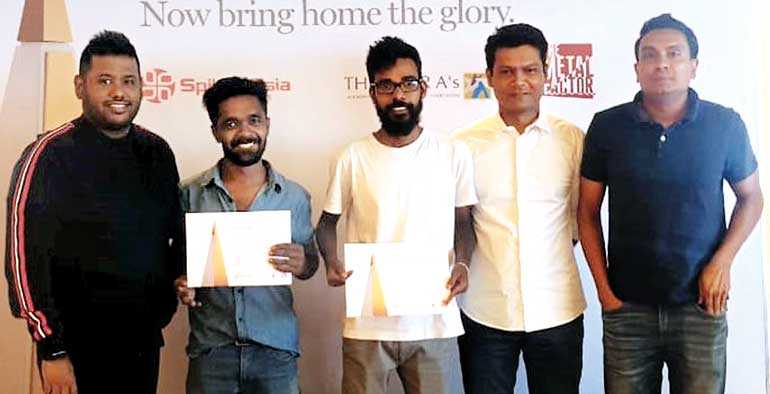 Young Spikes IMC contest winners from NGage – Harindra Attanayaka and Kalana Gihantha with the judges
---
Winning in the Young Spikes local competition held in Colombo last week were two teams from NGage Strategic Alliance, out of the four categories in a contest that assessed the ideas and skills of young (under 30) talent from among Sri Lanka's advertising and PR industry.

NGage's young professionals Maheshi Dunuwilage and Shahan Fernando won in the PR category while Harindra Attanayaka and Kalana Gihantha won in the IMC category. This gives them the opportunity to go and compete against their Asian counterparts at the regional creativity festival Spikes Asia in Singapore this September.

"We are delighted to have our young professionals win in these two categories in particular because PR and IMC are both areas where we hold a pioneering and leadership status," said Founder Chairman Nimal Gunewardena who now acts as the Agency's Chief Coach and Strategist.

Training the teams was also Chanchala Gunewardena who together with Maheshi won the local Young Lions and Young Spikes contests last year to go and compete in Cannes and Singapore. NGage prides itself as a 'Learning Organisation' where constant internal training and participation in problem-solving and campaign ideation under the guidance of the Agency's seniors is part and parcel of the agency experience for its young professionals. In its 26th year, industry pioneer NGage is driving a new vision for marketing, corporate and developmental communications in keeping with the demands of changing consumer habits and new media trends in a challenging market environment.