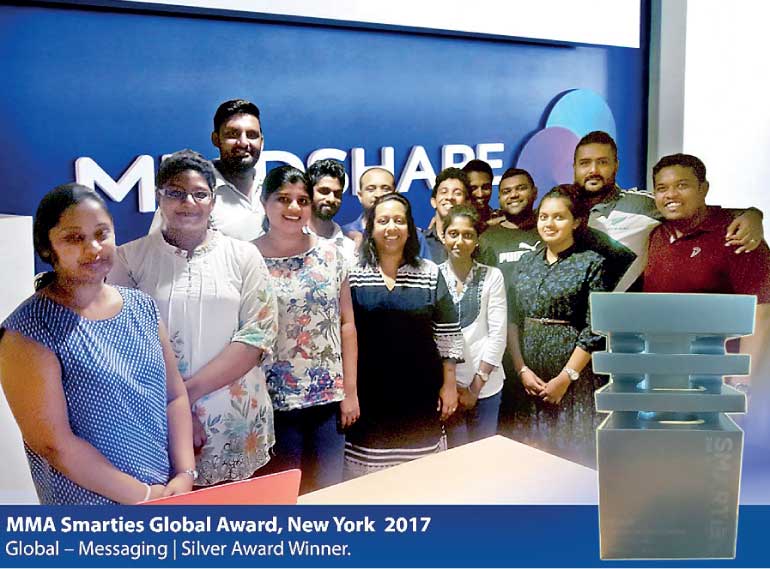 First ever achievement for Sri Lankan agency at SMARTIES Global
Proving their mettle once more, MindShare, a unit of GroupM Media Private Ltd. clinched the gold award at the SMARTIES Asia Pacific Awards and a silver award at the SMARTIES Global Awards (Messaging category) for the Softlogic Life flood relief SMS-based platform campaign organised by the Mobile Marketing Association (MMA) and held in Singapore and New York City, US respectively.

The SMARTIES Global Awards honour the innovation, creativity and effectiveness of mobile marketing campaigns. This year the award carries special significance as there were no gold award-winners in this category. The MMA is the world's leading global non-profit trade association comprising over 800 member companies, from nearly 50 countries around the world. The members hail from every faction of the mobile marketing ecosystem including brand marketers, agencies, mobile technology platforms, media companies and operators.

"This achievement is a reflection of the prowess that MindShare has acquired within a short period of time in delivering communication strategies that are worthy of capturing the attention of global players in the industry. Whilst SMARTIES Global is a significant achievement in its own right, the fact that it is Sri Lanka's first and only win so far in this most sought-after digital awards scheme, and possibly the biggest recognition for a Sri Lankan brand in the field of mobile marketing, makes the award a much more outstanding achievement," commented MindShare General Manager Erosha Tennakoon.

"On behalf of MindShare, I would like to express my sincere gratitude to Softlogic Life for the enormous support and insights that enabled us to make this campaign a truly impactful one," added Tennakoon.

During both the development and execution stages of the flood relief campaign, Softlogic Life provided the necessary strategic input and shared valuable insights from the insurance category dynamics to enable MindShare to include the right components to the campaign in order to enhance campaign impact.

MindShare Sri Lanka is considered a thought leader of great repute in the strategic and integrated communication, planning and buying industry in Sri Lanka. Utilising its visionary approach of speed, innovation and teamwork, Mindshare has been able to deliver unparalleled value and growth for clients in collaboration with its supply chain partners.

"This is global recognition for an outstanding campaign. Fusing brand value with doing good, real time marketing with mobile technology, it is a great idea and a great campaign," commented MindShare Worldwide CEO Nick Emery.

The award-winning Softlogic Lifeflood relief campaign was created around the client's corporate vision of 'Choose your life' and it was instrumental in saving approximately 2,500 lives during the disastrous floods that devastated Sri Lanka in May 2017.

Commenting on the achievement, Softlogic Life Insurance Managing Director Iftikar Ahmed said: "A local brand creating such an impact on a global platform in the area of marketing and digital is a great milestone for all marketers in Sri Lanka. This shows that we as a country are well in line with global trends and have the capability and vision to be on par with any global brand. Without a doubt, this is the highest achievement a Sri Lankan brand has garnered in the field of marketing on a global platform."

The campaign involved setting up a simple yet highly effective SMS-based platform in partnership with Etisalat, a leading mobile operator in Sri Lanka to connect flood victims, rescuers and the Disaster Management Centre (DMC) of Sri Lanka to deploy necessary rescue teams and aid to affected areas.

At a time when most communication lines were damaged and accessing the affected areas became impossible due to landslides and dangerous levels of inundation, the campaign was a success as Sri Lanka enjoys high mobile penetration of over 110%.

Moreover, the fact that the country is a predominantly 65% feature phone market allowed a greater number of phones to be active throughout in spite of the widespread power cuts that prevailed. The SMS platform was the most opportune solution at the time since high network traffic which had arisen due to the disaster affected voice call penetration.

The SMS hotline was activated with direct links to the Disaster Management Centre while an efficient dashboard gave critical information at a glance, enabling the authorities to provide necessary relief. The agile SMS platform was in operation 24 hours a day. The geo-targeted messages focusing on affected locations were relayed as the first touch point whilst awareness building posts were posted and boosted on Facebook to increase reach.

Within just a few hours after going live, the lines were inundated with a multitude of responses streaming in. Initial responses were about the actual location of victims and requests for evacuation. Once the first line of messages of requests for evacuation weaned off, a second line of responses requesting aid, assistance and food started streaming in.

The system connected numerous social activists and volunteers which enhanced the effectiveness of the campaign. The Disaster Management Centre received over 1,300 messages within just a few days of setting up the system while over 200,000 people connected with the relief operations through social media. The communication success of the campaign was evident through the 8,000 reactions, comments and shares on social media.

"This campaign was much more than a strategic communication campaign that reached out to victims of a disaster in their time of need and connected the whole of Sri Lanka to take action. In this context, this accolade is of particular significance to all of us at MindShare," commented Head of Digital Media for Mindshare Chamith Buthgumwa.

In a noteworthy tribute to the effectiveness and timely relevance of the campaign, the Mobile Marketing Association shortlisted the silver award-winning Softlogic Life flood relief campaign for a SMARTIES APAC Award as well.

"The SMS hotline from Softlogic Life is a perfect example of how in a digital age brands need to increasingly demonstrate and prove their brand values not just talk about them in passive advertisements. The Softlogic Life program proves that smart, accessible use of technology and media cannot only deliver real value to people but in this case actually save lives. A brilliant piece of work," stated Global CEO, MindShare Fast Global Chief Digital Officer Norm Johnson.

In the recent past MindShare has won a number of accolades in recognition of the outstanding work done in the area of integrated communication including Campaign Asia - Best Agency of the Year 2016 award, the most awarded media agency at the Effies Sri Lanka 2016 Awards, Festival of Media APAC and many more.

Mindshare is a unit of GroupM, the world's largest media investment management company with $ 108 billion billings (RECMA 2017). For more details log on to www.groupm.com and www.mindshareworld.com.