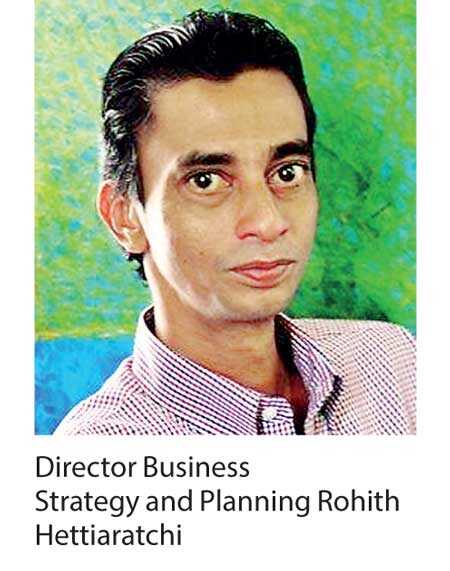 Media Factory is a specialised media entity that had pioneered the concept of consolidating a client's media budget and utilising the economies of scale in order to achieve returns on investment (ROI) for the client. Having been instigated 13 years ago, Media Factory has come a long way and still ensures that the best minds come behind the framework in order to allow for the proper implementation of global best practices and mould this knowhow to suit the local viewpoint.

Rohith Hettiaratchi joined Media Factory on 1 May as their Business Strategy and Planning Director. Prior to joining Media Factory, Rohith was also a part of Starcom, another leading agency in the country. Having been present in the industry for over 24 years, he also happens to be the very first Media Planner in Sri Lanka, having had embarked onto this career in 1994. The position was created for a revered client at the time, Unilever Sri Lanka.

To get more insight into his career and his current role at Media Factory, Hettiaratchi sat down with us for an interview. The following are excerpts from the meeting:
Foray into media
Rohith began his career in media in 1994 and at the time, a leading multi-national company, Unilever happened to be a client for the company he joined. He disclosed, "I had noticed a vacancy in the paper and decided to apply for it. Luckily, I was selected and that is when my career in media planning began. There is this concept called Media Buying which means that the creative aspect could be done by a separate agency but the media buying part could be done by another agency. So, I worked at an agency in 1999 where we had the very first media buying assignment done."

Along the way, he worked to set up what is today, one of the largest media buying agencies in Sri Lanka, Group M. Rohith was instrumental in initiating Mindshare GroupM as per the client's requirement. So, the first multi-national media agency started in Sri Lanka by GroupM because Unilever regarded the need for a separate media planning and buying entity in Sri Lanka.

"Since I have been in the industry for a very long time, many of the people who are in leading agencies today have worked under me and I have provided leadership development and training for many of them. Along the years, I have also been active in terms of publishing many articles and research based write-ups with regards to media planning and many of these have appeared in leading papers and magazines in Sri Lanka," he further added.
Media Factory

as a specialised

media agency
In the past there were these traditional advertising agencies which used to provide communication solutions for their clientele. Part of that is buying media for those communication needs. When we say buying media, this pertains to placing advertisements on TV channels, the radio or even print media for example. Previously there used to be this concept called advertising agencies that existed and these used to be denoted as full-service agencies. Now, full service agencies would produce the commercial, buy the media for their particular client and then ensure that it goes on air or that to the publisher. With the growing complexities and the choices and the cost of media, there became a need of a specialised agency who would take care of the media planning and buying aspects.

Therefore, these media agencies started coming up and what they do is understand the communication needs of the client, use whatever available research in terms of audience choices and then provide a recommendation to the client indicating the places that the client needs to be present in if to attract the right target audience. If a client agrees on it, media personnel would then visit media houses, negotiate and purchase relevant media on behalf of the client.
Amidst growing competition
The work that Media Factory conducts resembles that of a consultant's for the advertising space of their client. Media agencies hence evolved due to the many choices that were available, the complexities and the cost factors which keep going up on a daily basis. The agency is part of a specialised media agency. Rohith further stated, "Media Factory has been the pioneer in setting up a specialised media agency in Sri Lanka, 13 years ago. The aim of this concept is to establish better ROI for the client on their investments and apart from that, there should be the need to have an innovative presence in media which would cut through the clutter. So, what we have been giving them is that solution."

Media Specialisation is a growing phenomenon across the globe. In the case of Media Factory, the agency is a fully local ownership with no multi-national tie-ups involved as such. The company has been the pioneer in this market. Of course, later on many other companies had evolved in time and embraced this concept. The agency's uniqueness however, is providing not just the ROI on the investment but also unique solutions, local knowledge and knowhow on the reality. Along with this comes their approach towards looking at global best practices and localising those in a manner which will benefit Sri Lankan clientele.
Work experience
Rohith commenced his career as Sri Lanka's first Media Planner at Lowe Lintas and forayed to other leading agencies such as Grey Worldwide and JWT in Sri Lanka. Gradually, moving forward, he worked for Unilever Sri Lanka as the Communication Channel Manager and instrumented the role of changing the game of media buying for both Unilever and Sri Lanka as a whole. Prior to joining Media Factory, he was CEO/MD for Emerging Markets of Sri Lanka, Bangladesh and Nepal and managed the Starcom Media Vest Group (SMG) franchise under Brainchild Communications in Dubai, UAE.

He was also responsible for managing one of the largest advertising spends in Bangladesh as Vice President for ATL & BTL Media of Robi Axiata Bangladesh which happens to be the second largest telecom operator in Bangladesh and a part of the Axiata Berhad Group. He was also part of Pakistan MediaCom as General Manager, handling multinational clients such as British American Tobacco (BAT) and Procter & Gamble (P&G). He provided his services as Managing Partner of GroupM and was responsible for overlooking the Sri Lanka, Pakistan and Bangladesh markets and reporting to the MD/CEO of South Asia. He has been privileged to have received the opportunity to cover aspects of dealing with agencies, working with clients and also across the region overlooking other markets.
Sri Lanka vs.

the region
In those markets the complexities are much larger than that of Sri Lanka. Over there, we find a following of the local channels, a good viewership for cable and satellite channels when it comes to television. If we take Pakistan and Bangladesh, the viewership for Indian channels is very much prevalent. So, utilising cable networks would sometimes be even larger than viewing local channels. When it comes to radio in Sri Lanka, it is very much evolved here. Another uniqueness of Sri Lankan media is that one can reach almost 95% of the people through mass media.

Whereas, when it comes to the other countries such as India, Pakistan and Bangladesh, there is the aspect of media called 'Media Dark' which means that a certain percentage of people, about 20% cannot be reached via mass media due to issues such as illiteracy, inability to read the news or due to the lack of access to TV and radio. In terms of standards also, Sri Lanka has certain standards and procedures which are pretty much straightforward. Whereas in those markets, sometimes they do have systems and procedures but it becomes easier to move past those and manipulate procedures and have it in one's own way.
Global best

practices localised
Rohith explains, "When it comes to media planning and buying, there are many global tools that are available; those that are research based, those that are driven through software and those done through certain principles. So what happens is if you understand the thinking behind that, you need to adapt it to the local context and the same tool or methodology can be utilised in a manner that would suit the local perspective. There doesn't exist a huge amount of change in doing this." He also added that sometimes you may not be able to bring down, say, the tool or relevant software and simply install it right away. Certain modifications would need to be implemented first. "As I said, the complexities are not that great in Sri Lankan media when compared to the other media. You need to come up with different concepts but while focusing on the discerning requirements of the clients and keeping up with the same principles in mind. It is a challenge but it is also doable," he acknowledged.
Career prospects

in media
The job market in this field is very scarce. There aren't many people who would like to get into this industry because most of them are unaware of the prospects in this field. There is a lack of awareness about the professions and opportunities that are associated with this industry. Therefore, many of these jobs are formed through contacts or word of mouth. Aspiring youth begin through training as they would not have come into the industry with the right amount of knowledge or experience unless they had worked in another place in the same field. Rohith said, "Training and development is essential. Later on, the aspect of staff retention evolves and as media entities we need to understand how to retain staff since the scarcity is high. Of course, once they come up to a certain level in their career, there are even more job opportunities out there and they get exposed to other agencies in this segment."