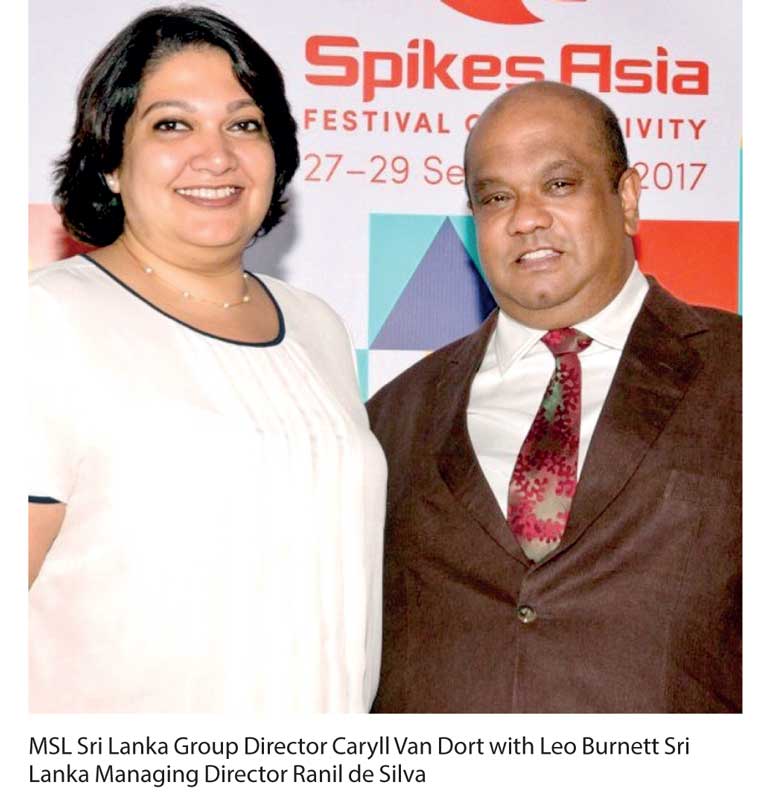 MSL Group Sri Lanka's Caryll Van Dort who leads the agency's PR arm at Leo Burnett Sri Lanka, has been invited to serve as a member of the Public Relations jury at the prestigious Spikes Asia Festival of Creativity, which will be conducted in Singapore this year, from 27-29 September.

A collaboration between Ascential Events (Europe) and Haymarket, Spikes Asia is the region's most recognised awards show and creative festival that celebrates and rewards excellence and eminence in the creative communications arena.

Since its inception, the Spikes Asia festival of creativity and awards ceremony have provided the region's marketing communications industry with a prominent platform which unites the finest creative thinkers from around the world, to network, grow and exchange ideas.

Regarded as the region's most revered awards shows for the industry, Spikes Asia recognises and rewards the most outstanding entries across a wide range of categories such as Film, Print, Outdoor, Radio, Digital, Direct, Promo & Activation, Media, Design, Film Craft, Print & Poster, Craft, Integrated, Mobile, Public Relations, Innovation, Music, Entertainment and Healthcare.

The entries are judged by leading creative experts who are at the forefront of the global creative communications industry. Each year, the festival also offers an engaging and enriching line-up of seminars, workshops and exhibitions focusing on creativity and learning.

Commenting on Caryll's appointment to the jury at the Spikes Asia Festival of Creativity, Ranil de Silva – Managing Director, Leo Burnett Sri Lanka, said: "Caryll's selection to serve on the jury at the Spikes Asia Festival is an honour for Caryll and the company. She is an extremely talented and accomplished professional in our team. To be selected to be the only Sri Lankan to earn this honour is a recognition of her success. This rare honour, opportunity and experience will add even greater value to Caryll's career and will enable her to make an even greater contribution to her clients and the company. My team and I wish her all the very best."

Also commenting on her participation as a juror at the festival, Caryll Van Dort – Group Director, MSL Sri Lanka, the PR arm of Leo Burnett Sri Lanka said: "I look forward to joining several of the industry's finest PR professionals and creative leaders at this year's Spikes Asia Festival of Creativity. It is a personal honour to have been selected to be a juror amongst such a prestigious panel of judges. I look forward to sharing my knowledge, insights and experience with the jury. Spikes Asia recognises the finest work in the industry from across Asia Pacific. I believe it will be a valuable experience for me to review the region's best campaigns in the Public Relations sector."

Having joined Leo Burnett Sri Lanka as Brand Manager in 1994 and served as a Group Director from 2017 to date, Caryll Van Dort has nearly 18 years of valuable experience and expertise in the field of marketing communications.

In 2016, Caryll was the first Sri Lankan woman to be named in Campaign Asia's 'Top 40 Women to Watch' list, which celebrates women in the Asia Pacific region who are disrupting the marketing communications industry, setting new precedents of excellence within their fields and emerging successful against all odds. In 2017 July, she was also recognised for her significant contribution to Sri Lanka's advertising industry, at the Professional Career Women Awards organised by Women In Management. Caryll won the Silver award in the Advertising category as an acknowledgement for her outstanding leadership.

This year Leo Burnett Sri Lanka together with its PR arm celebrates its 18th anniversary in Sri Lanka. Over the years, the agency has built many powerful brands and meaningful partnerships with its clients, whilst delivering gratifying results and gaining industry recognition in Sri Lanka, the region and globally. The company handles a diverse portfolio of clients; it is one of the world's largest agency networks and is a member of the Publicis Groupe, the world's third largest communications company.