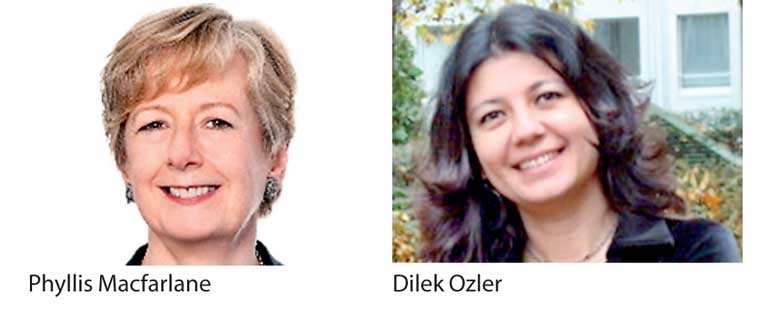 With the objective of enhancing the knowledge and skills of industry personnel and assisting professionals in the marketing arena to understand the impact of research in their business decision-making, the Market Research Society of Sri Lanka (MRSSL) yesterday kicked off a three-day workshop in collaboration with ESOMAR (World Association of Opinion and Market Research Professional).

The event is featuring two experts from the global market research industry to empower the fraternity of practitioners as well as for the makers and users of research. They are Phyllis Macfarlane - Treasurer, ESOMAR Foundation and Global Training Program Manager, GfK and Dilek Ozler - Senior Consumer and Market Insight Manager, People Data Center, Unilever, Executive Coordinator, Paragon Partnerships.

The first day was dedicated to quantitative and insight, where the focus is on "telling stories and having impact." This program covered critical factors such as the evolving relationship between client and researcher; the Client Point of View; BIG Data/data integration; principles of good sample design; and Telling Stories: Analysis and Insight Generation and New Code of Conduct, Ethics, Self-regulation.

Day 2 (today) is dedicated to qualitative research and insight - the importance of real consumer understanding to business and the public sector.

This will be followed with a session on 'The future of market research' session, where two speakers will offer a glimpse into methodologies that are shaping the future of the industry such as Behavioural Economics and Neuroscience, Online Research and Big Data/Using Social Media for Research.

On Day 3 during the concluding session, the marketing fraternity will be addressed on 'The Return on Investment I of Research and the future landscape' at a breakfast forum at The Kingsbury.

Sri Lanka Telecom is the event sponsor whilst Creative Partner is Sarva.

MRSSL said market research is an important strategic prerequisite for any organisation that believes in market drivers. The value and appreciation for market research is growing, in response to this need, market research as a career field is expanding.

The MRSSL was founded by the leading market research companies in the country with a vision 'To Inspire, Guide and Facilitate all Thought and Efforts towards the Advancement of Market Research in Sri Lanka'. It currently has a membership of over 100 market research practitioners - Kantar LMRB, Kantar TNS, The Nielson Company, Quantum Consumer Solutions, Research Consultancy Bureau, SRL and Breakthrough Business Intelligence.