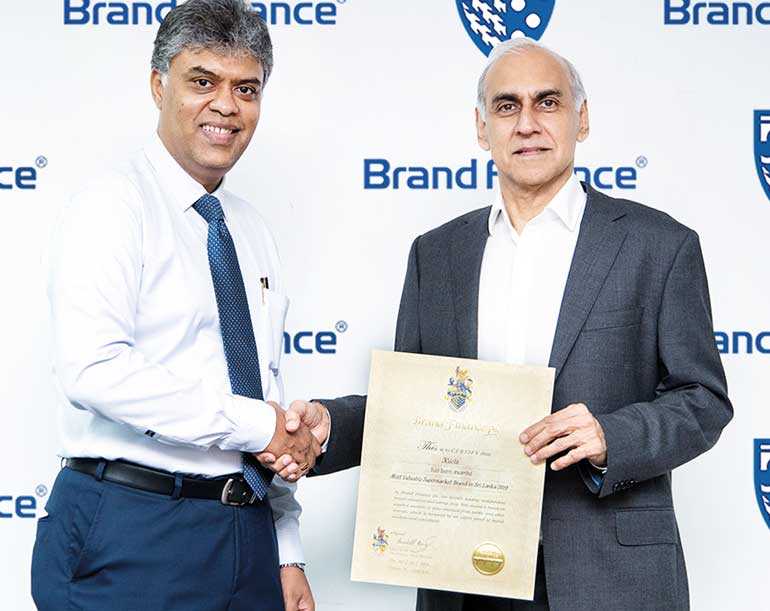 Brand Finance Lanka Managing Director Ruchi Gunewardene (right) presenting the award to John Keells Group Retail President Charitha Subasinghe
---
Keells for the first time takes over as the BrandFinance® Most Valuable Supermarket brand since inaugural index launched 16 years ago
Following rebranding, Keells outperformed market through operational efficiencies and excellence in customer service
Demonstrating outstanding marketing and financial performance, Keells (formerly Keells Super), was awarded the prestigiousBrandFinance® Most Valuable Supermarket Brand title in 2019. The 16th edition of this annual review was recently released by Brand Finance.

Keells has become the most valuable supermarket brand by overtaking the long-time leader in the category for the first time in 10 years by recoding a brand value of Rs. 17.5 billion, an increase of 51% from the previous year. The brand has risen two positions on the league table, by climbing up from 14th to the 12th rank, which would soon set itself up to enter the prestigious most valuable top 10.

Brand Finance PLC UK Managing Director Richard Haigh, commenting on Keells performance, said: "We have been tracking the performance of this brand over the years on our league table and have seen its rise. Last year it out performed the growth of the market. Latterly they have been able to significantly accelerate performance through operational efficiencies and excellent customer marketing, and we would like to congratulate them on their achievements. The brand has the potential of being amongst the most valuable brands in Sri Lanka in the near future."

In November 2017, Keells launched a new store format for its supermarkets which encompassed a change in its brand strategy, brand identity, store design and an entire suite of in-store brand communications. This rebranding took Sri Lanka by a storm, contributing to their improved market share. They changed their logo and brand colors from red to green highlighting the freshness proposition they have so long stood for.

This new brand identity and store concept is ingrained in Keells' belief of improving the quality of life for the nation by providing innovative retail experiences, quality food and fresh produce at the right price to their consumers.

These changes have made a difference, as although having fewer stores, performance through the existing ones have been far superior, resulting in the higher overall brand value.

The BrandFinance® most valuable brand measures the value and strength of 100 Sri Lanka's brands that are listed on the Colombo Stock Exchange, using a method based on the royalty relief mechanism that Brand Finance uses globally.

Brand Finance, is the world's leading independent brand valuation consultancy, which advises strongly branded organisations on maximising their brand value through effective management of their brands and intangible assets.

Founded in 1996, Brand Finance has performed thousands of branded business, brand and intangible asset valuations worth trillions of dollars.

Its clients include international brand owners, tax authorities, intellectual property lawyers and investment banks.

Brand Finance is headquartered in London and has a network of international offices including its Colombo office which is a subsidiary company and has been operating in Sri Lanka since 2004.