Reinforcing J. Walter Thompson's pioneering spirit, Akila Abdul Azeez and Minendra Sarathchandra collaborated to deliver a compelling, relevant and innovative campaign which saw them winning the 2018 AdFest Young Lotus competition.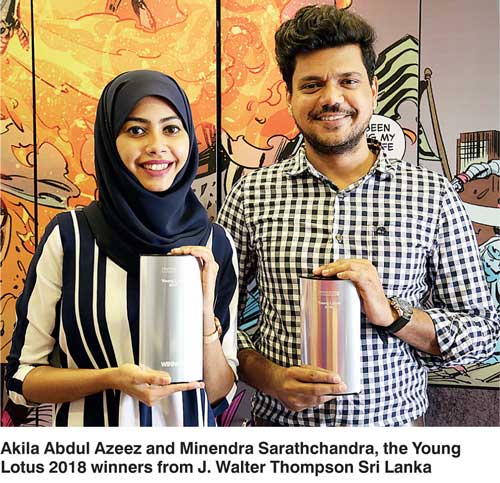 Organised by the 4A's in Sri Lanka, 49 teams representing reputed agencies from across Sri Lanka competed for the opportunity to represent Sri Lanka at AdFest 2018 in Pattaya, Thailand. The competition, which is a part of AdFest, aims to recognise young talent, while encouraging and helping them to improve their skills under the guidance of experienced advertising professionals.

Participants were given a written brief and a specified time to develop a campaign. They were required to provide a short presentation to a judging panel consisting of leading creative talent from the advertising industry.

Commenting on their win, Minendra said: "When we were initially given the brief and asked to create an integrated 360° campaign, we had a few ideas that were okay but we knew weren't going to be anything amazing, it wasn't until later on in the day that there was literally a 'Eureka!' moment between Akila and myself, where we knew exactly which idea was going to work and how it should be executed."

"It was a tough day with a lot of healthy competition and we are so excited to represent Sri Lanka on an international stage!" Akila added.

J. Walter Thompson Group Sri Lanka CEO Alyna Haji Omar, commenting on the duo's win, said: "We have made a conscious effort to not only recruit but to invest in young talent and are so thrilled that Akila and Minendra have won this opportunity to gain international exposure. Advertising is an industry where it is easy to get cynical and we believe it is very important to get the boldest and most fearless young people into our business, and an opportunity like this is great because it focuses on fresh creative talent and what they can bring to the table."

The J. Walter Thompson Group specialises in creating pioneering solutions that transform brands and businesses and change the world. JWT along with Contract and Fortune offers end-to-end brand solutions. The group has been in Sri Lanka for over 35 years and handles a diverse portfolio of international and local brands which includes telcos, aviation, tourism, FMCG, healthcare, financial services, construction fashion, sports, etc.