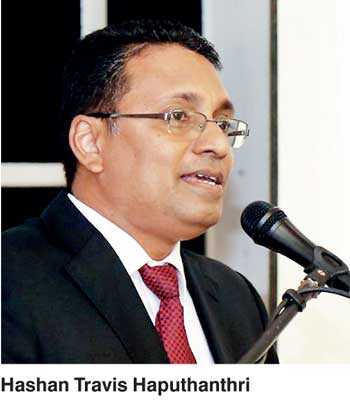 STAR Holdings International Ltd., makers of STARLIGHT Brands, Sri Lanka's emerging force for innovative fabric care, appointed Hashan Travis Haputhanthri to takeover overall operations of Sales and Corporate strategy adding to his previous position of GM Marketing.

Hashan joined Star Holdings International Ltd. in May 2017 as a Marketing Consultant and in August 2017 was appointed as the General Manager – Marketing. After recognising his resounding strength in sales strategy and steering the company through motivation, marketing executions and revamping the current system, the board awarded the new portfolios Sales and Corporate strategy to be under him.

Hashan was appointed to the post of General Manager – Marketing in August 2017. Within seven months Hashan steered the organisation to a mammoth growth of 250% in Sales from August 2017 to March 2018. This growth was the biggest in the history of Star Holdings and with its brands Starlight.

Haputhanthri said: "It is a great honour to hold more responsibilities and to be in overall command of an elite force of both Marketing and Sales. I have a very committed sales team. I believe commitment is three fold; that is committed to win, committed to be aggressive and committed to serve the consumer. My vision is to make the STAR sales force as the most innovative and aggressive force and also to be a challenging brand by 2020."

Hashan Travis Haputhanthri, Master of Science in Marketing, with over 25 years of experience in Marketing, Branding and Sales strategy for both Food and Non Food, headed brands like Nivea, Maliban Biscuits and in Fiji Islands – Sunquick, Weetbics, Royal Tea, Island Chill Mineral water and 30 other major brands, and making a comeback in 2009 to Maliban Biscuits and launched Maliban Smart Cream Cracker. Then he was heading Marketing in TVS Lanka Ltd.

Hashan mastered the launch of RAZOR International – The internal advertising agency for Start Holdings. Also coined the vision, mission and steered the business planning process. He was instrumental in appointed CIM Sri Lanka to train the Star sales force.

Hashan has won many awards. In 2010/11 he won SLIM Nielsons Peoples Award for the first time for Maliban Biscuits as the Best FMCG Food Brand of the year. Then he was instrumental in winning for the first time for Maliban Turnaround Brand of the year – Gold in 2011 for his own creation Smart Cream Cracker. Then he repeated his success in 2015 for TVS Lanka by winning three awards, Product Brand Year – Gold /Innovative Brand of the year – Gold and in 2016 the prestigious Brand of the Year and Product Brand of the year for the second time and with 5 key brand awards.

Hashan became the key inventor for TVS Lanka's major campaign - "TVS KING Dan Car ekakwagey..!" with Kumar Sangakara. He was instrumental in launching TVS HD bike campaign as a utility vehicle, TVS Metro "YanwaYanawa" campaign, pioneered TVS INNOVATIONS, TVS KING FB (Fun Bread), TVS KING FLD (Fully Loaded) and TVS KING Max (Fiber Hood) models.

Also, Hashan was conferred by the World Marketing Congress as the "Most Influential Marketing Leader" from the top 50 marketers around the globe.

He was Author and Philosopher for "Travis Brandsology" - The 1st Asian Philosophy for brand management and was launched at the 39th World Marketing Congress in New Delhi, 2012 November. For this Hashan was involved in research in Inca, Egypt and Sri Lankan symbology. He has further researched colour psychology and Namelogy as well.

Brand marketing and non conventional marketing are his inventions. Under his visionary leadership Sri Lanka Institute of Marketing re-launched Diploma in Brand Management to Diploma in Strategic Brand Management. This comprises with a practical project for brands, where it is considered to be Sri Lanka's first and world's first.

Hashan Haputhanthri is the first Sri Lankan to write about a Sri Lankan case study for an international book and the topic was "Manusath Derana" a CSR program done by Derana TV.

Hashan introduced Sri Lanka's 1st Practical Branding academy – YES Academy. Also, practical brand management is also his concept. He is Strategic Business Consultant as well as an ICC Level 01 qualified Cricket Coach.

He is the inventor of the 4th personality of a person and globally renowned motivational program IGNITE. He trains people in India, Bangladesh, China, Singapore and Indonesia. He recently introduced another program – THE GRIT which is gaining popularity. He is the inventor for "The Free Smile" campaign which he launched in India in 2012.

He is Senior Practical Marketing and Brand Lecturer/Coach for Sri Lanka as well as for overseas, Brand Strategist, Brand Developer, Brand Visionary, Brand Tactician and a Guerrilla Marketing strategist; award winning strategist for multi brand strategies; Member of Marketing Institute of Singapore, Fellow of SLIM, Member of Certified Professional Marketer (Asia), Practicing Marketer (SLIM /SL), Certified Professional Marketer (Asia), Post Grad Dip. Mktg (SL).