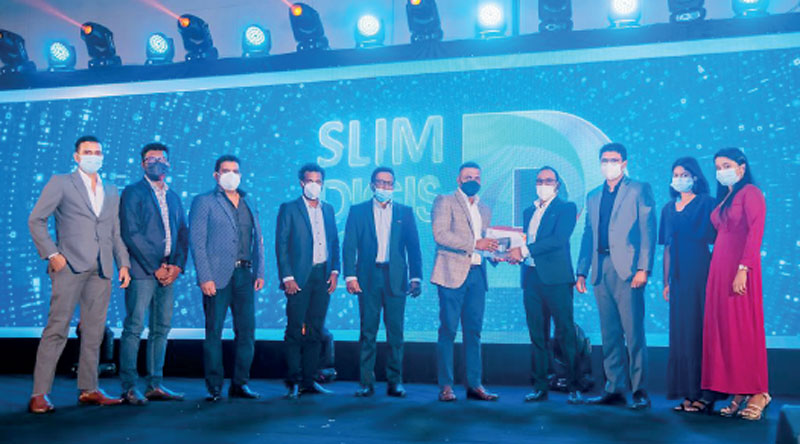 The teams from HNB and ikman.lk accepting the award at the event
---
Sri Lanka's most innovative bank, HNB PLC, together with the nation's leading e-commerce platform, ikman.lk, was presented with the Silver Award for Best Use of Data at the SLIM DIGIs 2.1 for their ground-breaking 'Leasing Guru' campaign.

"Especially in a year which has given rise to unprecedented disruptions in this category, the strength of data-driven marketing enabled us to reach out to the potential customers and seamlessly interact with them through the conversion funnel. This approach has brought us very good results, and we thank ikman.lk for being a partner in this journey," HNB Head of Marketing Upul Adikari said.

The Best Use of Data award is presented to digital marketing campaigns that utilise a creative mix of digital integrations that use laser targeting strategies to form a comprehensive data foundation to break through the clutter and directly impact customers.

"We are indeed thrilled to be associated and recognised with this award and extend our gratitude to HNB for having allowed us to plan and execute the Leasing Guru campaign. Ikman.lk is a powerhouse of data. As such, we were able to develop and execute an online ad solution via direct banners with a data-driven strategy and our smart technology, incorporating key-value targeting that reflects user behaviour with the best use of data. As a result, we surpassed the campaign expectations of our valued client HNB," ikman Ltd. Director Marketing and Sales Stefan Beekmeyer said. Held for the third consecutive year, SLIM DIGIS is the only dedicated awards event that recognises the innovations and provides due recognition for excellence in the Digital Marketing sector. The awards event recognises the best Digital Marketing achievements across multiple business sectors, including Banking and Finance, Insurance, Telecommunication, IT and Internet, Leisure and Hospitality, and Travel and Tourism.

Empowering businesses and SME across the island, HNB disbursed over 100 leasing facilities since the onset of the pandemic. Notably, the Bank also offers a unique range of leasing solutions across its extensive merchant portfolio providing customers with access to convenient, personalised payment solutions and exciting benefits.