Guththila Strategic Solutions, creative and communication agency, recently celebrated 15 years of creating ripples in the advertising industry through strategy driven, creative communication solutions. Having commenced operations in 2003, Guththila Strategic Solutions offers creative concept development, production, below-the-line marketing and digital communication solutions to a host of clients.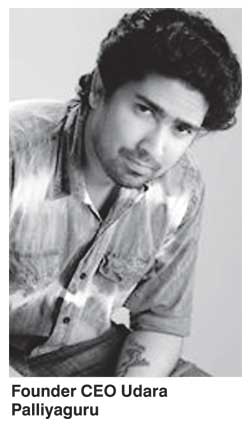 The force behind the Agency is its founder Udara Palliyaguru, a creative entrepreneur, writer, lyricist and a film director who is well-versed in all aspects of the advertising and communication industry. Guththila Strategic Solutions specialises in creative concept development and production. In addition, the Agency owns an in-house production facility which enables it to offer creative solutions, be it a TV Commercial, a company profile presentation or a documentary at competitive rates.

Commenting on the Agency's 15 year journey, Founder CEO Udara Palliyaguru said, "We derive our core strengths from our deep understanding of the collective consciousness of Sri Lankans across all social strata, our creative energy and strong work ethics. In addition, we possess the ability to create content in Sinhala, Tamil and English languages with sensitivity and insightful understanding of the different requirements that socio-linguistic aspects present."

Udara Palliyaguru is a graduate of Film Production from a university in Pune, India and gained considerable expertise and experience during his stint as a producer for a key TV channel based in Sri Lanka. As a result Guththila Strategic Solutions maintains a strong reputation for creative commercial production having produced over 500 commercials from artworks, TV commercials, company profile presentations to documentaries.

One of the key attributes of the Agency is its innate competency in 'speed-to-market'. The Agency is well-equipped to provide ready-to-be-aired creative content within 24 hours of receiving the comprehensive brief. In addition, the creative prowess of the Agency allows it to craft its own media content based on the brand or product requirement. This is yet another unique aspect that Guththila Strategic Solutions brings forth at a time when communication material often depend on existing content irrespective of the nature or dynamics of the brand or the intended audience.

Commenting further on the Agency's core values, Palliyaguru further stated, "We take our commitment to maintaining integrity at all levels of business seriously as evidenced by our handling of political campaigns without bias or a wish to seek political advantage. In the years 2002 and 2005, we managed approximately 60% of the UPFA (United People's Freedom Alliance) political campaign and in 2016 we took over the management of approximately 40% of the campaign that the current President Maithripala Sirisena conducted during his contention for presidency. We consistently remain faithful to the ethos of 'First-come-first-served' basis of taking up assignments."

Driven by insightful and intuitive consumer research, creativity, focus on strategy and ethical conduct, Guththila Strategic Solutions is set to achieve further growth in the years to come and become a force to be reckoned with in the Sri Lankan creative communication industry.