A veteran in the fields of corporate finance and management accounting, Saleem Azhar takes on the role of Chief Operations Officer whilst overseeing the CH17 loyalty Finance Department – the only loyalty services provider for corporates and focused groups – with effect from 1 August.

Saleem has extensive experience in financial and business management, new business development, and HR and admin in a number of organisations both locally and abroad.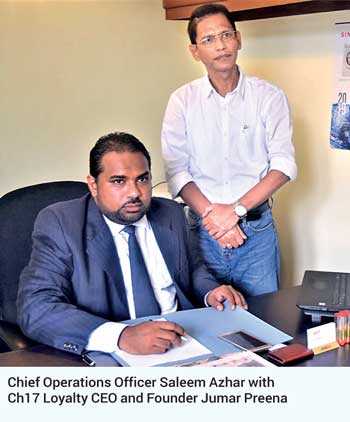 In his role, Saleem will oversee the existing business practices and expansion of Ch17 business areas with a view to streamlining all business processes and applications in marketing, sales, finance, loyalty management and corporate PR engagement, including the implementation of enterprise resource management for the Ch17 clientele.

He is a result-driven individual with over 18 years of experience with leading MNCs and blue chip companies in the areas of automobile, business strategy, financial accounting, risk management, product/service development, financial projections and budgeting, management accounting, performance management, management reporting, corporate finance, and project management. He also holds a Masters in Business Administration from the University of Wales, UK, and was a CIMA (UK) Finalist.

He specialises in systems analysis and design and database management, completing the BCS (British Computer Society) professional membership, and has been a part of implementing an ERP system at a leading blue chip in Sri Lanka. Having worked in the UK, Singapore, Malaysia, Malawi, India, and Sri Lanka, he has trained executives in the application of advanced business usage of Microsoft Excel in both Sri Lanka and overseas. He was the CFO for Southern African segment of KIA Motors/Iveco/Land Rover in Malawi.

He also served at WNS/Aviva, UK, and John Keells Computer Services from 2001 to 2008.

Ch17 Loyalty is the leading loyalty management company established in 2013 with the objective of catering to the collective needs of the corporate sector and commercial and business establishments in the areas of employee welfare, rewards and recognition, and staff retention.

The company is responsible for the introduction of a multi-functional platform to manage and implement corporate loyalty schemes and programs which can be customised to the needs of different companies.

Ch17 loyalty CEO and Founder Jumar Preena said that Saleem's entry into the company would further strengthen its business practices and help meet future market challenges and innovative promotional ideas.