Dentsu Grant Group has appointed Chalaka Gajabahu as Chief Operating Officer (COO), effective from February 2019. The new appointment comes during a time of Dentsu Grant Group completing its transition as part of the parent company DentsuAegis Network's ongoing investment in Sri Lanka.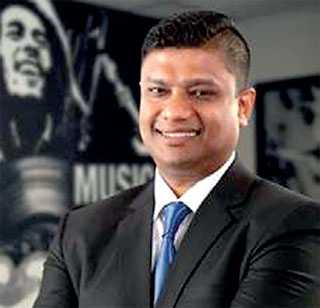 Chalaka Gajabahu
In his new role, Gajabahu will oversee Dentsu Grant Group's day-to-day operations and help deliver its strategic growth plans in Sri Lanka which will include both Dentsu Grant and Dentsu Aegis Network. He will work with directors across the different agencies to develop the creative community, uplift the organisation's service and product offerings and drive collaboration with its partners in the region.

Based in Colombo, Gajabahu will report to Dentsu Grant Group's Chairperson and Managing Director Neela Marikkar, who said Gajabahu is an ideal candidate for this role. "Sri Lanka's digital landscape is evolving and becoming more sophisticated than ever before. We have a clear idea of what we have to do to make sure Dentsu Grant Group remains successful and continues to meet our customers changing needs in the years ahead. Gajabahu's skills and experience will be invaluable in helping us to deliver these plans," said Marikkar.

"I am thrilled to work with Dentsu Grant Group to bring our services to the next level and help our clients win in the market's ever-changing landscape. We are poised to take the industry in an exciting new direction in 2019 and I am very delighted to be a part of that plan," said Gajabahu.

Gajabahu spent the past decade identifying, strategically growing and exploiting the communication and media services of Sri Lanka. This has led him to develop a unique and insightful perspective into Sri Lankan consumers and their relationship with many local and world-leading brands.

Gajabahu was previously with Saatchi & Saatchi, most recently as its Chief Executive Officer and currently holds over 24 years of experience in corporate communications and management, where his people-first approach has seen him earn the respect of EAP/EBC Broadcasting, LOWE LDB (Lintas), Grant McCann Erickson, Leo Burnett, Phoenix Ogilvy, and J. Walter Thompson. He is also the Vice President for IAA Sri Lanka (International Advertising Association), former President for 4A's Sri Lanka (Accredited Advertising Agencies Association), and an honourary member at Sri Lanka Institute of Marketing (SLIM) whilst being a member of the jury panel for its coveted award ceremonies, the Effies Sri Lanka (six years) and the Brand Excellence (five years).

Dentsu Grant Group is an award-winning agency with 130 people spread across six entities, Dentsu Grant, a media buying and creative agency; Response Marketing, an internationally-renowned creative agency; RN Media, a pioneering OOH agency; Grant Public Relations (GPR), a leader in reputation management; Juice Productions, a content creation studio; and Isobar, a global digital marketing powerhouse.

Dentsu Grant Group is a part of the extensive Dentsu Aegis Network of companies, which consists of 10 global brands and over 50 local brands operating in the domains of media and creative communications. The Dentsu Group currently accounts for more than 62,000 staff serving for 11,000+ clients in over 145 countries and regions. With one over-riding vision of "Innovating the way brands are built" the Dentsu operating model allows greater use of shared services across the network, further demonstrating its integrated approach.