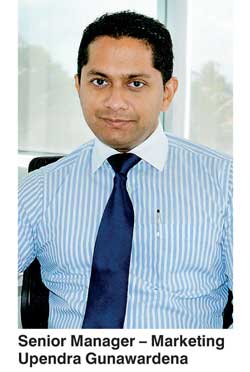 DSI recently launched a special loyalty program together with Dialog Star Points, presenting DSI customers with attractive new benefits and deals. Speaking about the program, D. Samson and Sons Ltd. Senior Manager – Marketing Upendra Gunawardena, answers some of the queries put forward. Following are excerpts:

Q: What inspired DSI to introduce the loyalty program with Star Points?

A: We've had a loyalty program before but this time we felt that tying up with Dialog Star Points would be a better option for us. Dialog Star Points is very strong in the loyalty aspect and D. Samson & Sons Ltd. has a very strong retail network; combining these strengths, we believe that going along with an already recognised loyalty program would be much better and very beneficial to our loyal customers. Adding to that is the fact that our customers now have the opportunity to enjoy the benefits of not just DSI but of all the Star Point merchants as well. As a customer-oriented company we saw this as a means of providing better benefits to our customers. Also at the same time we will have access to other loyalty cardholders while the program will help us further build up our customer base.

Q: What benefits does the program offer members?

A: For every Rs. 100 spent a customer receives a point, which is equal to Rs. 1. Apart from that there will be exclusive deals only for loyalty cardholders. They will also have the option of enjoying benefits from other promotions introduced by Dialog Star Points. One of our future plans is to have our new collections introduced to our loyalty base initially and then to the general public. This will help us to build a good relationship with our customers by via direct links with them.

Q: In what manner is the program being conducted?

A: A customer may walk into any one of our 200 plus showrooms across the island and get themselves registered for the program. Thus anyone who wishes to join the program is most welcome to participate. They only need to provide some basic information and register to get their card, which will be given free of charge.

Q: What has it been like to partner with Dialog Star Points?

A: With Star Points' strong loyalty base and with Dialog being the number one mobile service provider in Sri Lanka, together with DSI as the number one footwear brand, we believe that a combination of the two parties would enable us to provide our customers with good deals and excellent benefits. We've had a long-term relationship with Dialog and this program is just a means of taking it one step further.

Q: Since its inception how far has the D. Samson & Son's network expanded thus far?

A: Our network currently boasts over 200 showrooms across the island, our retail network has a number of exclusive branded outlets as well, such as; Reebok, Puma, Fila, Clarks, Arrow, US Polo Assn, W and Aurelia. Customers who wish to join in the loyalty program have the option of getting registered at these outlets as well.

Going forward we intend to introduce a different card to our customers, along the lines of a credit card. We plan to introduce this card, which will offer more benefits to those respective customers.

Q: What is the main belief upon which the D. Samson & Son's network is built?

A: We are a very customer-centric organisation. Our network is spread throughout the country and in most towns we have more than one showroom, the objective being to make our products easily available to our customers. Our cofounder always believed in the importance of a customer-centric business; today those values have been carried forward and have resulted in the expansion of our network to provide easy access to our customers and better shopping experience. We are also in the process of upgrading our showrooms to provide our customers with a better shopping atmosphere and ambience.

Q: What future surprises does DSI have in store for their loyal customers?

A: We at DSI have a number of ideas in mind to reward our loyal customer base; this is one of the main reasons for the introduction of the new loyalty scheme with Star Points. We also hope to be able to organise many more joint promotions with other merchants as well as Dialog. Thus, our customers can expect a lot of surprises heading their way in the future.