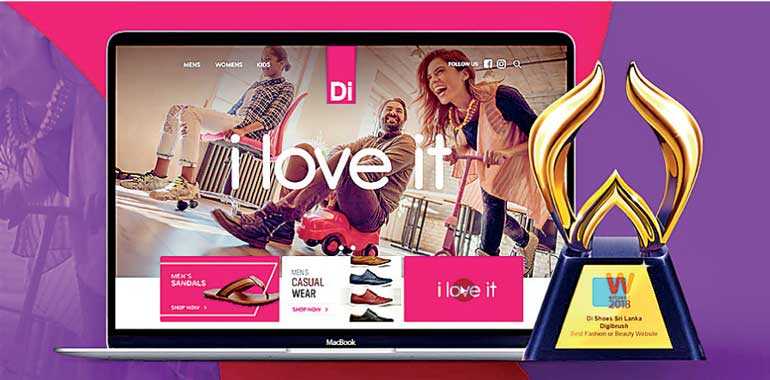 Wins 'Industry Best Website for Fashion or Beauty' category
Only Sri Lankan brand to win this accolade this year
The official website of Ceylon Leather Products Ltd. (www.di.lk) has been recognised as the best website in the 'fashion or beauty' category at the prestigious WebAwards 2018. DI's digital agency Digibrush, an experienced provider of integrated digital solutions, was also recognised for the concept, creativity and development of the said site.

Since 1997, the Web Marketing Association's annual WebAward competition has been recognised as the world's premier industry-based website award program. Acclaimed as the longest running annual website award competition dedicated to setting the standard of excellence for all website development, the Web Marketing Association has independent expert judges from around the world to review sites in 96 industries. The best are recognised with a WebAward which helps interactive professionals promote themselves, their companies, and their best work to the outside world.

According to a statement issued by the judging panel of WebAwards 2018, www.di.lk features a design that is "very modern and would appeal to the target market. The colours are vibrant, and the imagery conveys a very fun, young message. The site is incredibly easy to navigate. Options are clear and easy to identify. The prominent social media panel is well-presented and would appeal to the site's younger audiences. The infinity scrolling function is surprisingly responsive. Additional products pop up quickly and seamlessly. The history timeline does a great job of conveying the Company's rich and impressive history in short, scannable bites."

The DI website, which was recently revamped and relaunched by Sri Lanka-based design and digital agency Digibrush, was honoured in the 'Best Fashion or Beauty Website' category where it distinguished itself within a field comprising hundreds of entries, clinching the win due to its high marks across seven judging criteria, namely Design, Innovation, Content, Technology, Interactivity, Copywriting, and Ease of Use.

Commenting on the accolade received, Digibrush Co-Founder Hisham Zulfiqar stated: "It is with great pride and a sense of satisfaction that we accept this prestigious award. At Digibrush, we don't just create websites. We understand the brands we work with and create interactive platforms for the global customer. This has been the secret to our success. The DI site is just one such platform that Digibrush has created and we are glad that our hard work and commitment has paid off."

In 2017, the evolving industry and the futuristic vision of Ceylon Leather Products resulted in its metamorphosis, resulting in a completely new brand outlook as well as it being adapted as more of a lifestyle brand catering to emerging consumer aspirations and changing generational and retail dynamics. The new DI logo, which was revamped to add a degree of modernity and enhance visibility, portraying stability and professionalism, was launched as part of the process. The vibrant background colour added a trendy, dynamic feel to the brand. The brand also unveiled its new brand slogan, 'I love it'.

In addition to this, web and social media platforms were developed to enhance the brand and interact with its global consumers.

Aligned to this revival, several showrooms, too, underwent a transformation to suit the brand personality, and opened doors to a refreshing range of new designs in the forms of Ladies' and Gents' footwear, Children's shoes, and a variety of accessories and gift items. Amidst these new offerings, the brand continued to enhance its core offering of leather-based products known for its quality and durability, thus retaining its core segmental offering

Elaborating further, Ambeon Holdings PLC Group Head – Consumer Brands and Channel Development Nadee Wickramasinghe stated: "We are excited that the work done by us and Digibrush to re-launch 'DI' has been recognised at an international level with the globally coveted WebAward. As part of DI's brand transformation process, we wanted a website that communicates the brand personality, and connects and resonates effectively with our customers. We partnered with Digibrush because we felt that they understand our industry and are able to offer the 360° approach to web and social media in terms of recommendation and technical expertise. Winning this WebAward for the best fashion or beauty website is an affirmation to our right choice of partner."

Ceylon Leather Products Ltd., a subsidiary of Ambeon Holdings PLC, is a pioneer in the footwear and accessory industry and was incorporated in 1939 by the then British Government to manufacture boots, shoes and accessories for the British Armed Forces. Over the years, the organisation has been through several transformations and in the process, has established its brand DI as a renowned brand.

"The Ambeon Group values moving first and catalysing opportunities through readiness above all else. It is also our philosophy to constantly challenge ourselves to look beyond the status quo and innovate, design, develop and action results. This is an integral part of the Group's corporate value system, which is rigorously followed throughout our subsidiaries. As the holding and management company, we will remain a catalysing force for positive change across our business units, driving techno-consumerism today with a view towards tomorrow," stated Ambeon Capital PLC and Ambeon Holdings PLC Group Managing Director and Chief Executive Officer Murali Prakash.

Prakash further added: "This accomplishment by DI is the most recent recognition for a company that has survived market dynamics for over 79 years. While this is just our first win in the digital arena, I believe our customers and shareholders can expect to see many more such achievements from all our subsidiaries in the years to come."

Ceylon Leather Products PLC is a subsidiary of Ambeon Holdings PLC – a listed group holding and management company with successes in companies such as Dankotuwa Porcelain PLC, South Asia Textile Industries Ltd., Colombo City Holdings PLC, Royal Fernwood Porcelain Ltd., and Millennium Information Technologies Ltd.

The Ambeon Group is powered and guided by renowned corporate giants the Galle Face Hotel Group, the Hirdaramani Group, and Navitas Holdings.