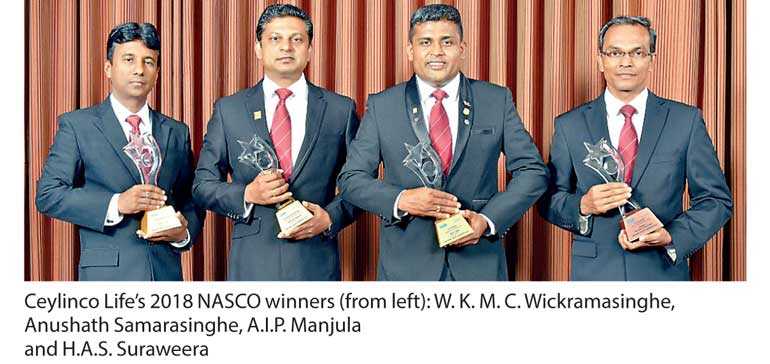 The top sales personnel of Ceylinco Life won three golds and a bronze at the 2018 National Sales Congress (NASCO) Awards presented by the Sri Lanka Institute of Marketing (SLIM), once again emphasising the company's prowess in professional salesmanship.

A.I.P. Manjula and W.K.M.C. Wickramasinghe won Gold Awards in the Frontliner category under the Life Insurance sector, while Assistant Branch Sales Manager Anushath Samarasinghe took the Gold Award in the Territory Manager category in the same sector.

Meanwhile, H.A.S. Suraweera - Assistant General Manager, Sales Administration at Ceylinco Life won the Bronze Award in the 'Other Sales Support - Manager and Above' category across all sectors. This was the first time this category was included in the competition.

Commenting on these awards, Ceylinco Life's Managing Director R. Renganathan said: "Our constant emphasis on performance as well as our position as the market leader in life insurance provides our sales professionals with an unmatchable opportunity to excel. This is borne out by the number of NASCO winners we have produced over the years."

Ceylinco Life has been taking part in the NASCO Awards since 2011 and has produced winners from Colombo, Ambalanthota, Bandarawela, Kalutara, Matara, Negombo, Nittambuwa, Kurunegala, Embilipitiya and Moratuwa across all categories. The company was also the winner of the award for the Most Outstanding Female Sales Person of the Year in 2015 and 2016.

NASCO winners are held in high regard at Ceylinco Life and receive special felicitation at the company's Annual Awards.

The premier event that recognises sales excellence and rewards and motivates sales professionals to achieve greater heights, NASCO presents Gold, Silver and Bronze medals for the best Frontliners, Sales Executives and Territory Managers in sectors such as FMCG (Food, Beverage, Cosmetics and Household) Financial Products and Services, Insurance, Automotive, Corporate Selling, Telecommunication, Travel and Leisure, Fashion and Clothing, Consumer Durables, Alcohol and Tobacco, Industrial, Healthcare, IT, Media and Modern Retail.

Ceylinco Life employs a sales team of more than 4,000 people and operates the largest network of 250 plus branches in Sri Lanka's life insurance industry, giving it a physical presence in 142 cities, towns and villages in every one of the island's 25 districts.

The market leader in Sri Lanka's life insurance sector since 2004, the company has close to a million lives covered by active policies and is acknowledged as the benchmark for innovation in the local insurance industry for its work in product research and development, customer service, professional development and corporate social responsibility.