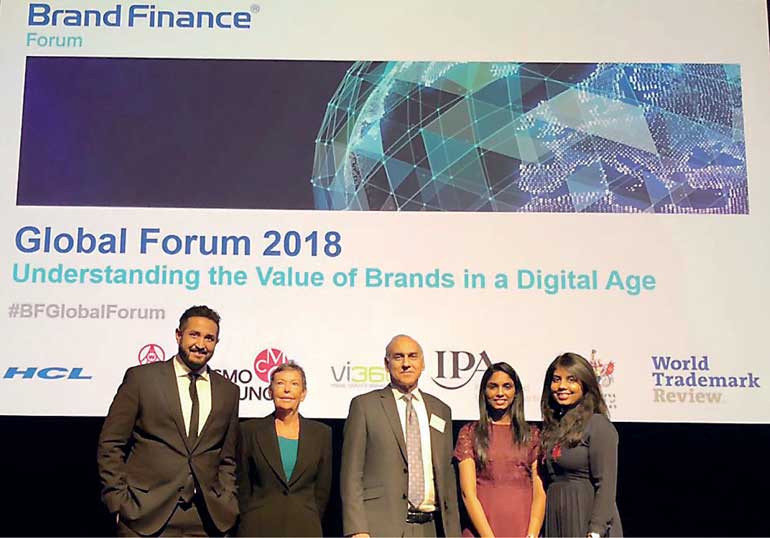 The Brand Finance Lanka team at the annual Global Brand Forum (from left): Aliakber Alihussian – Valuation Manager, Sue Evans – Strategy Consultant, Ruchi Gunewardene Managing Director, Dhanushika Shanmuganathan – Analyst and Menuka Waduge – Analyst
Brand Finance the well known strategy and valuation firm launched its Global Most Valuable 500 Brands in London last Friday. This event took place amongst a distinguished audience at BAFTA in Piccadilly, which included a lineup of speakers who presented their thoughts under the theme 'Understanding the value of brands in a digital world'.

A team of five people from Brand Finance Lanka attended the event.

Brands are some of the most valuable assets that companies possess but the profound effect they exert on financial performance, shareholder value and market capitalisation continues to be poorly understood in some quarters. Brand performance in a digitally-led world is one of the most hotly contested and least understood methods for building brand value.

Speakers included Prof. Patrick Barwise, Emeritus Professor of Marketing and Management, London Business School, Chris Clark Former CMO, HSBC, Kate Cox CMO GoDaddy.com and Kathy Dykeman, Director of Marketing Science, Facebook along with many others.

Presenters at the forum discussed how brands redirect budgets towards this new lever, and explored the most effective ways to maximise digital's impact on branded businesses. These included initiatives for product, service and business to business brands.

Brand Finance Lanka Managing Director said, "As our business in Sri Lanka grows and more of our clients demand local expertise, we are making a big investment in training up our young team and attending this global forum is one such initiative. This knowledge transfer is crucial in our discussions with clients who have challenged us to provide them with strategic solutions for measuring the impacts of marketing investments on business as well as providing efficiencies on marketing planning amongst many others."

Brand Finance Lanka is the pioneering brand strategy and valuation firm which has been operating in Sri Lanka since 2002, and has successfully completed over 200 projects amongst a wide sector of business. In 2017 it completed projects in the healthcare, beverage (soft drinks and alcohol), dairy, property, technology and personal care sectors. Projects included brand valuations for the purpose of setting up a special purpose vehicle for revenue/accounting efficiencies as well as exploring strategic opportunities for market entry amongst others.