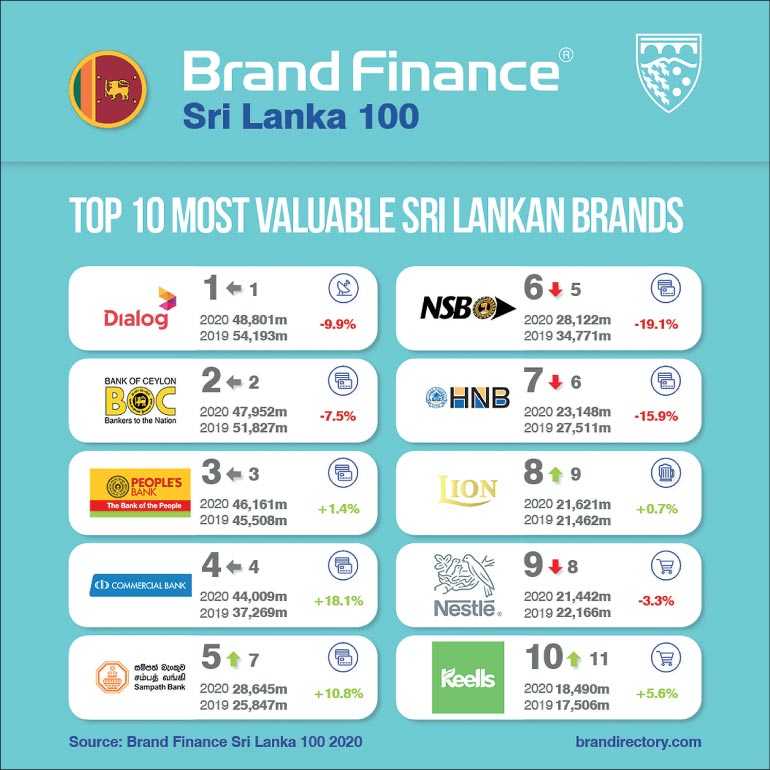 Increase in country risk impacts overall brand value of Sri Lanka's 100 Most Valuable Brands
Total value falls from Rs. 628 b to Rs. 603 b or 4%
Preliminary calculations of impact of COVID-19 will be a decline of a further 9.5%
For second consecutive year, Dialog retains its position as most valuable and strongest brand
For very first time, Sampath Bank enters top 5, while Keells enters top 10
LMD's Brands Annual to release full results in latter half of May
Brand Finance Lanka, the pioneering brand valuation and strategy firm, has released its 17th annual review of Sri Lanka's most valuable and strongest brands.

While the total value of Sri Lanka's most valuable brands in the year under review fell by Rs. 25 billion or 4%, the future outlook is significantly bleaker. Brand valuations are set in context to the economic environment and consumer sentiment in which brands operate. Multiple factors such as increasing country risk which rating agencies have already signalled and declining consumer spending will drive values further down.

The impact of COVID-19 will be significant, with different impacts across various industry sectors. Some will be more resilient than others. At an overall level however, the preliminary impact of COVID-19 on Sri Lanka's most valuable brands is expected to be in the region of Rs. 57 billion or a further 9.5% decline in overall value.


Most valuable brand

Dialog has been able to stave off the banking brands to remain No. 1 on the table this year too. It's been able to retain this position despite a drop of 10% in its brand value to Rs. 48.8 billion.

Dialog also retains its position as the strongest brand amongst the Top 100 with AAA brand rating. Its ability to quickly adapt even in difficult times is a clear sign of the way it continues to support its customers and strengthen its brand. A recent example is the free voice and data facilities it has extended to customers during the COVID-19 crisis.


The top 10

Following close on the heels of Dialog are two bank brands BOC ranked No. 2 and People's Bank ranked No. 3.

The entry of Sampath Bank to the No. 5 rank is significant as this is the highest position it has achieved in our table by edging out some of the bigger brands. We have long forecasted Sampath Bank's rise.

Apart from the banks we see a new category emerging at the top, with supermarket brands. Keells has entered the top 10 for the very first time and can be expected to make further headway in the future as more Sri Lankan's shop for their staple food products more often in the "modern trade".


Banking sector

The banking sector continues to dominate the Sri Lanka rankings accounting for 44% of the total brand value. However, challenging economic conditions have hindered the growth and a drop in total brand value by 3.3% this year. These established financial institutions have been able to weather the economic storm better than most other sectors.

The traditional way of conducting business is diminishing fast with digital transformation and automation a key growth factor, which will further accelerate with COVID-19, as customers are forced to resort to on-line banking. This year we have seen those who are at the forefront of innovation, such as Commercial, Sampath and Peoples' Bank, notching an increase in both their brand strength and brand value.


Non-Banking Financial Institutions

Unlike in the banking sector, the Non-Banking Financial Institutions (NBFI) brands have increased in brand value by 3.2% this year. PLC retained its position as the most valuable NBFI brand with a marginal increase in brand value. Being backed by a leading bank contributes to PLC's strong strength and brand value.

Two of the biggest gainers in this sector this year were LOLC Finance and LB Finance.

LOLC Finance has emerged as the strongest NBFI brand, with AA brand rating. The benefits of the merger between LOLC Finance and LOLC Microcredit was the catalyst in improvement. LB Finance's steady growth trajectory in its financial performance was one of the main contributors to the increase in brand value this year.


Supermarkets

Despite the competition, brand values of the three main supermarket brands (Keells, Cargills Food City, Arpico) have increased, a welcome change compared to many of the other sectors which have shown declines. This could be attributed to the sector now being very much a part of the modern consumer's lifestyle.

Keells is the fastest growing supermarket brand with revenue growth of 21% and takes the top slot in this sector. Following the improved customer experience through the rebranding of Keells on a "fresh" platform, this continues to give solid results.

While Keells is still smaller in terms of number of outlets to Cargills Food City, it has been able to better standardise its format and maximizing the growth potential, creating more brand value.

Cargills Food City is beginning to show results in terms of foot-fall due to the significant investments that have gone into revamping their stores. The new stores are larger, brighter, have more parking, improved fresh vegetable displays and offering good choice.


Insurance sector

Sri Lanka's insurance market has seen several mergers and acquisitions as well as new entrants which has dramatically shaken this sector. The year has seen some major moves which are likely to challenge the leading insurance brands in the future.

In General insurance, Sri Lanka Insurance emerged on top despite a 20% decrease in value. This is closely followed by Ceylinco General, which had a 12% decline in brand value, in line with the industry average for the year.

Allianz General, which acquired Janashakthi General Insurance, saw their brand value double, as it rose 22 positions up the table, while Fairfirst (ranked 54) and People's Insurance (ranked 76) entered the table for the first time.

In Life insurance, much like in General, the brand values of most brands declined. Ceylinco Life emerged as the most valuable brand, despite a 3% decline in brand value, while Softlogic Life was able to grow their brand value by 25% through an aggressive marketing initiative and product innovations.


Future challenges

As the impact of COVID-19 takes effect, businesses and brands are going to be challenged. Depending on the category, some brands will thrive, others will be striving for growth, and some others will be hard pressed to survive.

Within this tumultuous environment there is much that brands can do to build reputation by adjusting to the challenges, collaborating with others, taking a leadership role as it genuinely extends itself to provide services and protect their customers.

The comprehensive review with related analysis will be available in LMD's 2020 Brands Annual which will be published in the latter half of May.

Brand Finance Plc is the world's leading independent brand valuation consultancy, advising strongly branded organisations on developing brand strategies and maximising their brand value through effective management of their brands. Brand Finance Lanka has been operating since 2004 and is a full-fledged office of the global network.

For more information on country brand reports go to https://brandfinance.com/knowledge-centre/reports/.