The Management Club in association with Dr. Asoka Jinadasa energised and empowered managers in a one day workshop on May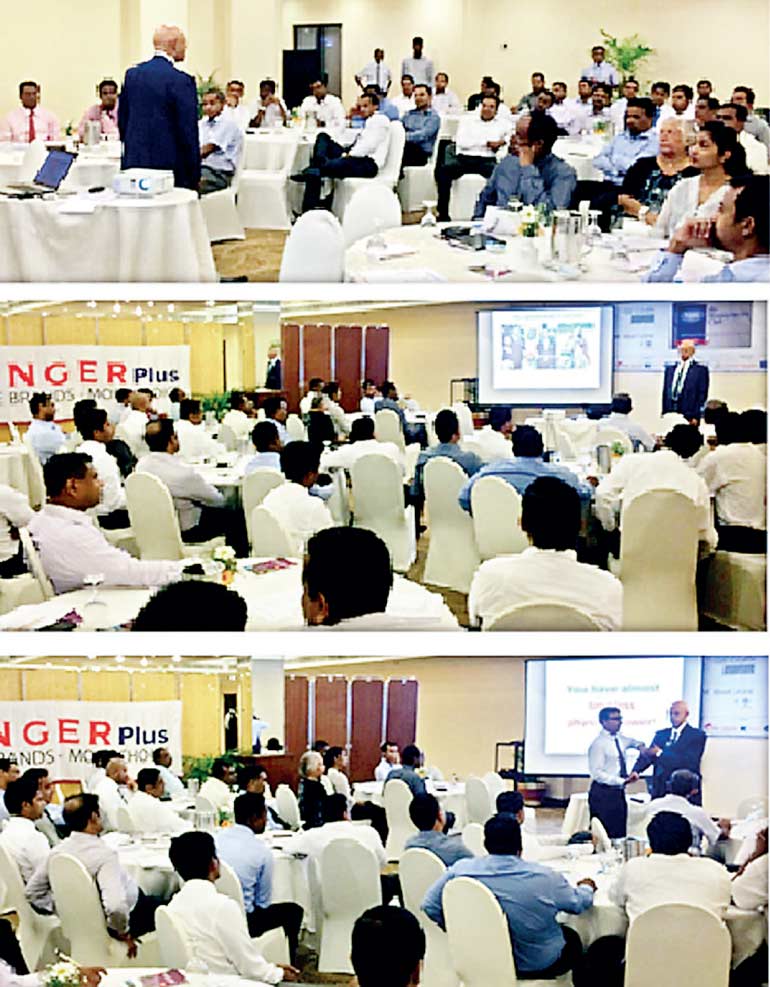 In the latest of its series of Management Training programs TMC Colombo hosted a most invigorating learning exercise along with Dr. Asoka Jinadasa on Thursday, 21 May at the Galadari hotel.

The program was attended by top and senior managers including CEOs and senior managers representing the leading corporates, banks and blue chip companies.

Dr. Jinadasa was able to share the wisdom of the ages with an enthralled and energised group in a very lucid manner. Did you know that if you are totally focussed on achievement you can actually harness cosmic energy. Most of the participants must be energising themselves at work today using many of the simple but timeless steps.

The inscription on the ancient Temple of Delphi in Greece urging humanity to 'Know yourself and you will know all the mysteries of the gods and the universe' will be etched in our memories for ever.

TMC, Colombo Chairman Ninesh Amirthiah said, "With risks and opportunities growing almost exponentially in today's increasingly turbulent world, organisations have to deal with situations previously considered improbable or even impossible. Organisations now have to develop a superior breed of managers, who can sustain organisational success under highly volatile conditions that are impossible to predict. This requires the development of intuitive, emotional, attitudinal, behavioural and interpersonal competencies, which assume increasing importance as operating conditions become more turbulent.

"These vital soft skills are lacking in most management and leadership development programs. This was why we invited Dr. Asoka Jinadasa to share his innovative new methods for unleashing human potential, which he has validated through pilot projects and presented at many International conferences."

Dr. Jinadasa is a UK-qualified Chartered Engineer with a US Doctorate in Corporate Strategy and several decades of high-level management experience in Europe, USA and Asia. As a globally-renowned thought-leader in the field of Human Potential (not Resource) Development, he has presented at major international conferences in Australia, Malaysia, Poland, India and Sri Lanka his innovative concepts and methodologies for unleashing the vast inborn human potential lying mostly dormant within every person. He also won the 2015 MTC Global Outstanding Corporate Award for Consulting.

Explaining the importance of empowering managers at all levels in every organisation, Dr. Jinadasa said, "The future of every organisation in the fast-changing times ahead depends almost totally on the energy and creativity of all its managers and their passionate commitment to sustaining success even under difficult operating conditions."

"This workshop provides a totally new set of simple tools that unleash the vast physical and mental energy lying mostly dormant within every manager. It shows them how to eliminate their negative emotions and transform limiting beliefs that pose invisible mental roadblocks in their careers. Pilot projects have validated the ability of such energised, empowered and engaged managers to boost organisational performance to unprecedented heights."

Dr. Jinadasa's innovative five-dimensional model of success and leadership is symbolised by Heart (emotional intelligence for dealing with people), Mind (creative intelligence for solving complex problems), Passion (personal energy and drive), Focus (determination to achieve goals despite setbacks) and Health (staying naturally healthy and stress-free). He explains how to develop each dimension using a simple blend of behavioural psychology, neuro-linguistic programming (NLP) and Chinese and Himalayan energy methods. He provides a field-proven set of new tools that improve the daily performance and productivity of every manager through increased awareness, self-confidence and personal energy.