Following on from the successful seasonal get together organised by TMC Kalutara at Ramada Hotel last year, TMC Negombo has enthusiastically come forward to host the seasonal get together on 4 December at Camelot Beach Hotel this year.

In the past, all members representing clubs in Colombo, Mt Lavinia, Negombo and Kalutara joined the host organising club together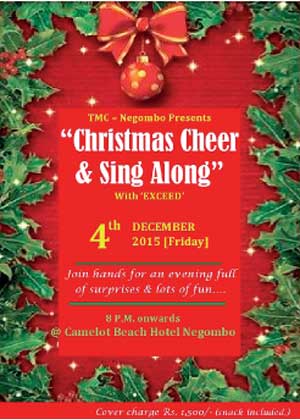 with their spouses and guests and enjoyed an evening of revelry of music, dance, surprises, lots of food and beverage in keeping with the festive spirit.

The Spokesman for TMC Negombo – Gehan Amarasinghe, the Secretary of the Club indicated that though they planned to have this event on 11 or 12 December, they were compelled to bring it forward due to the unavailability of a suitable venue. He also went on to say that the Organising Committee comprising himself, the Chairman Terrance Wijesooriya and others have already planned an evening of great entertainment.

A Flyer has been emailed to all the members and they are hopeful of having over a 100 members and guests participating at this event at a nominal fee of Rs. 1,500 to cover dinner and the beverage cost.

Chairman of the Club, Dammika Fernando also indicated that he is hopeful of seeing members and their spouses together with their guests visit the TMC Negombo and enjoy the camaraderie that is planned for them.

Members from all clubs please make a note of this event and participate in large numbers to make this event a great success.