Taking a delightful turn from its usual corporate training programs, workshops and seminars, the Sri Lanka Institute of Directors (SLID) brings together an elegant evening, starting with cocktails extending to wining and dining at an exquisite six-course dinner whilst listening to the most glamorous Indian editor, who is one of the most distinguished literary writers of South Asia,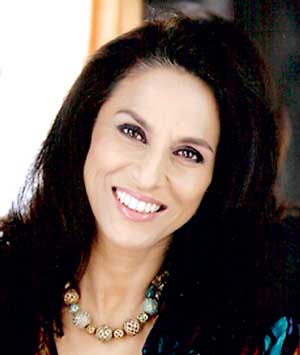 Shobhaa De. She will address the gathering on 16 October at the Kings Court, Cinnamon Lakeside, Colombo.

'Hurrah for Creativity and to Hell with Conformity' is Shobhaa's chosen topic for the evening, followed by an interview with our very own Ashok Ferrey who will get the best from her! She is known for being outspoken and controversial whilst holding an elevated position in the literary world. Being a novelist and a columnist, she has contributed profusely to South Asian literature.

Having graduated in psychology from St. Xavier's College of Mumbai, her first career choice was modelling which she pursued for some time proving herself, and later switched her career to journalism. Shobhaa offered her editorial skills to renowned magazines. Her column for The Times of India named 'Politically Incorrect' comments on various issues ranging from social, economical to political dynamics; earning great praise. Subsequently, she chose to write novels with her debut entitled, 'Socialite Evenings', which explores the dynamics of elites of Indian society, highlighting the decay of the social values, morality and culture. She portrays the socialites as immoral and degenerated people who have traded their moral values for materialistic gain. The novel was heavily criticised for its controversial content, though it sold out and gained commercial success.

Shobhaa De's literary writing journey eventually turned her into India's bestselling author. More than 17 of her novels climbed the bestselling books charts at once. Her works have been translated into many languages. The reform and rise of women's fiction is accredited to Shobhaa for her daring to voice her thoughts in her writing. Her second novel, 'Starry Nights', is allegedly inspired by two famous Bollywood off-screen couples. The book discusses the dynamics of the Indian showbiz industry. Yet again it was an instant success establishing Shobhaa as a distinguished writer. Her other book named 'Spouse – The Truth About Marriage' surveys the institution of marriage in the urban society. Over 20,000 copies were sold on its first day of official launch.

Her style of writing is deemed a breath of fresh air in Indian literature. Her highly individualistic style does at times seem provocative and bold. The worrisome behaviour and attitude of our generation is an issue she examines and discusses often in her writings. Besides literary writing, Shobhaa is also recognised for her scriptwriting for Indian television soaps. Moreover, her television appearances have increased with her popularity. Her regular participation on several television debate shows earned her an esteemed position in electronic media.

The proceeds from this event will go towards SLID's endeavour in taking the message of corporate governance to the provinces. SLID organises many programs focusing primarily on the topic of corporate governance. These programs are held on a monthly basis mainly for the corporate fraternity of Colombo. However with the growing disparity between the corporates in the Western province as opposed to the others, SLID has begun to expand its target group by organising seminars on 'Conducting Business Responsibly' in other provinces, totally free of charge.

Over the past years the institute has organised 11 such seminars in Gampaha, Kandy, Ratnapura, Trincomalee, Batticaloa, Hambanthota, Matara, Vavuniya, Mannar, Killinochchi and Jaffna, and plans to cover Ampara as well within the next few months.

The Platinum Sponsor for this event is the John Keells Group, with CitiBank as the Gold Sponsor, Peoples Leasing PLC as the Silver Sponsor, Tokyo Cement Group as the Bronze Sponsor, with the Exclusive Print Media Partner being Wijeya Newspapers with the Daily FT and Daily Mirror, Exclusive Electronic Media (Radio) Gold FM, Exclusive Electronic Media (TV) Art TV, Airline Partner Sri Lankan Airlines and the Beverages Partner Coca Cola.

More information on the dinner theatre can be obtained on telephone numbers 2301646/8 and by email to ops@sltnet.lk. The Institute's website is www.slid.lk.