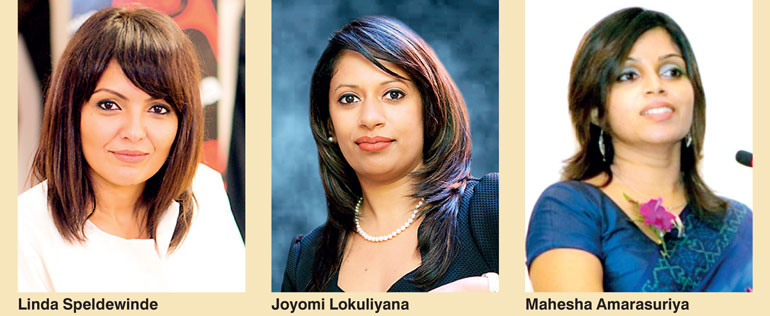 'Women at the Helm', an innovative evening discussion organised by the Postgraduate Institute of Management Alumni (PIMA), will be held on 6 June at the Hotel Galadari from 6.00 p.m. onwards.

This event will feature Linda Speldewinde, Founder and Managing Director of the Academy of Design, International Design Campus, Joyomi Lokuliyana, Co-Founder and CEO of zMessenger Ltd. and will be chaired by Mahesha Amarasuriya, Senior Manager, NDB Bank Plc and Board Member of CIMA Sri Lanka.

PIMA President Sampath Madhushankha said: "Women continue to play a significant role in the Sri Lankan economy and it is important that we identify the female leaders in Sri Lankan society and learn from their success stories."

He added that all three resource people for this program were distinguished PIM Alumni.

Speldewinde is a pioneering figure in Sri Lankan design education. She is the founder of the AOD International Design Campus (Academy of Design) and the Sri Lanka Design Festival as well as the Island Craft Project. Having won the British Council Young Creative Entrepreneur award in 2009, she linked the UK's design industries with Sri Lanka which led to AOD partnering with the UK's prestigious Northumbria University to set up a leading series of international design degree programs in Sri Lanka.

Lokuliyana, as the Co-founder and CEO of Sri Lanka's pioneering mobile marketing company, zMessenger, has played a pivotal role in shaping the mobile marketing industry in the country. Lokuliyana has led mobile marketing and campaign strategies for major brands, corporate enterprises, agencies and social missions covering over 2000 campaigns interacting with over 5 million mobile users. zMessenger has won numerous accolades in the recent past. In 2013 and 2014, Lokuliyana was recognised as one of the 50 Most Powerful Women in Business by Echelon Magazine.

Amarasuriya is also a Board Member of CIMA Sri Lanka and chairs its Student Development Committee. She was the Young CIMA Star in 2006, an award given by CIMA to the most outstanding CIMA Member/Passed Finalists below the age of 30. A CIMA Sri Lanka Prize Winner and a Fellow Member of CIMA and CGMA, she was also the first in her batch and valedictorian for her MBA batch at PIM. Amarasuriya also holds an Honours Degree from the University of Colombo.

The PIMA is an association of professionals who have completed Master's and Doctoral level degree programs at the Postgraduate Institute of Management, affiliated to the University of Sri Jayewardenepura with the largest postgraduate alumni in the country, with over 2,000 active members.

For further details or to reserve tickets contact Darshani at the PIM Secretariat on 076-5365006.