The following is taken from a session at the recently concluded Biennial International Conference that Caux Initiatives for Business conducted at Panchgani from 22 to 26 January.

Speaking on the theme, 'Making Business an Engine for Sustainable Growth' R. Gopalakrishnan, former Director, Tata Sons Ltd. drew greatly from his career that spanned close to 50 years; his learning and the four books that he eventually penned.

Great business leaders (or any other leader for that matter) are trained to be analytical. However, there is intuition and most fail to listen to intuition. The reason that many get toppled from their positions after a lot of hard work and effort is because they fail to listen to their intuition.

His book, 'The Case of the Bonsai Manager', deals with this issue. In it Gopalakrishnan likens the Manager to a bonsai plant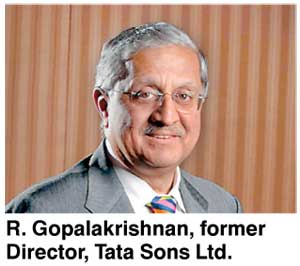 because often he is not able to reach his full potential. This is when all his roots are trapped preventing him from achieving what he is otherwise capable of.

The other issue that leaders need to be conscious of is the need to be aware of them self. They are aware of the economy, running a business and creating cash flow analysis but they fail to recognise the need for self-awareness. In Gopalakrishnan's study and observation he came to a startling conclusion: When an individual starts his career in a company, his emotional quotient (EQ) is of a certain length. As he rises up, his EQ increases. However when he has reached the top, the individual's EQ drops. 'When the Penny Drops' is a book that covers this subject.

The other issue that leaders need to be conscious of is the need to be aware of them self. They are aware of the economy, running a business and creating cash flow analysis but they fail to recognise the need for self-awareness.

The third issue that Gopalakrishnan then reflected on was how mangers are more conscious of their privileges than on their obligations. While doing an exercise in the Tata Management and Training Centre (TMTC) he would ask those with him to create a balance sheet of their career expectations – what they owe the company on the left side and what the company owes them on the right. Almost inevitably he noticed that the obligations to the company never usually exceeded four items.

They were the predictable – hard work, loyalty, competence and struggle to make the company a leader. What the company owed them was endless. There would be 20 to 25 items on that list – career, training programs, promotions, everything.

Gopalakrishnan would then tell his 'students' that the first thing any accountant will teach is that an asymmetric balance sheet cannot carry on. This caused him to develop a training called, 'Learning what's not taught' and thereafter to write his third book, 'What the CEO really wants from you'. Gopalakrishnan's latest book, 'Six Lenses' focuses on empathy. In this he dwells on the misconception of each individual – our view and our perception is the right one. The former Director's belief is that there is no reality in the world. Everything is a matter of perception. Following are excerpts:
Q: You spoke of an asymmetric balance sheet. How does one ensure that it is balanced properly?

RG: The person who is to balance his sheet, must first become aware that it is asymmetric. Each of us must recognise that we are like an onion with four different layers – the physical self, the intellectual self, the spiritual self and the psychological self. Unless these four are in alignment, we cannot lead a peaceful life. We do not need to tell the individual anything. The mere awareness that the balance sheet is asymmetric itself does wonders.
Q: What is the secret to building relationships?

RG: I have found that conversations are the real key to relationship building. As technology increases, the tools to cope with change are also increasing. However the gap between the two has not changed – it remains constant. I believe the good Lord has made that gap for us to indulge in conversations. The nature of powerful conversations – where one is really interested in the other person – to me is the essence of true relationship.
Q: It is easy for large companies to institutionalise compliance and cope with losses. What about smaller businesses? What is the inherent responsibility of business to prevent corruption from taking place?

RG: My experience is that it is wishful thinking to imagine that corruption is going to be institutionally mended. Corruption has been prevalent from the time of the Romans and before. Corruption is present not just in India but in every country in the world. I liken corruption to a virus. It is present everywhere. Each one has to learn to insulate himself (or herself) from this bacteria or virus. Corruption, to an extent, can be contained institutionally through democracy, large public organisations or NGOs, civil society, technology and the formation of pressure-groups.

All these help but it must be remembered that these are but tools. They will not eliminate corruption but can certainly help reduce it. However if we use our absence of size and scale to think that we can play the game, then we too become that virus.

In conclusion, Gopalakrishnan spoke of courage in the face of disagreements. He said that the acid test of courage is not about winning an argument. Courage is about finding a solution. There are a few different types of disagreements. If it is an ethical disagreement, we need to dig our heels into the ground in what we believe is the right thing. However if the disagreement is of opinion then we must respect the right of each to have their opinion. In such situations, it would be right to give in. That would not be lack of courage. Rather it provides elegance to courage.