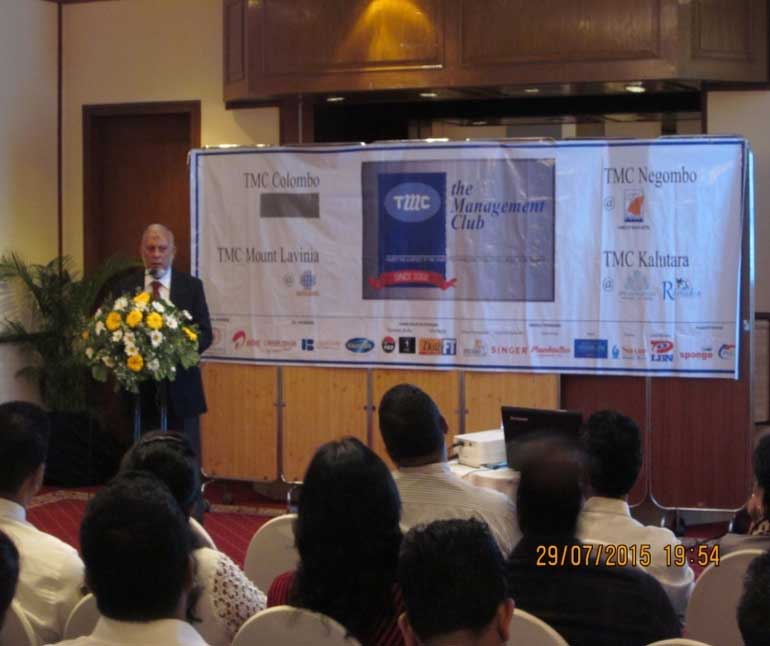 Continuation …….

Creating the future is a great form of intelligence and in this century, Issadeen said Steve Jobs was the number one choice. He revolutionised six industries that directly influenced our lives which include the PC, digital movies, music, phone, tablet computing and digital publishing. He suffered from 'Distorted Reality' which meant he never saw the world they way we see it and thus was able to create and innovate.

In Sri Lanka too we have our examples, the likes of late Upali Wijeywardena and WSO2 CEO Sanjiva Weerawarna. They are tough CEOs to work with but if you can survive with them then you will inherit and acquire a completely new way of thinking for the rest of your life.

Continuing on the intelligence of creating the future he described that Sri Lanka too has a few projects implemented and others in the pipeline; examples of which are the fish farming project in the deep blue oceans of Trincomalee, solar powered three wheelers and a 5 MW power plants using energy from sea waves.

Another project that must be considered urgently is the converting of over two billion tons of garbage piled up at Meetotamulla into energy. Each ton of Garbage generates 750 kilowatts of electricity and most importantly we can relieve the suffering masses that live around the area from lung and skin diseases. Sadly we have Sri Lankans working as Project Managers in Singapore on garbage to energy projects.

The intelligence of knowledge management and its transfer was also emphasised with an example of Delloite CEO Barry Salzburg who in 2007 when USA was suffering a depression decided to invest $ 375 million on a training centre exclusively for Delloite employees in Texas. Today Delloite has become the global leader among the top 5 accounting firms and the number one reason attributed to its success is what is now called the Delloitte University.

Thereafter Issadeen changed from the intelligence of growth to its sustainability. When success comes, so does affluence and thus comes arrogance and if not understood and brought under control then all is lost. Great personalities such as Mahatma Gandhi and Nelson Mandela underwent humiliating experience before they tasted success.

Mahatma Gandhi was educated in Law in UK and was from a wealthy family. Travelling in the first class carriage in a train from Durban to Pretoria (South Africa) to defend his client, Mahatma Gandhi was asked rudely to get off the train by the railway authorities. When refused he was thrown out at the next station bag and baggage but not his overcoat and suffered not only the humiliation but the cold night as well. This made him fight for justice and the rights of fellow human beings.

Nelson Mandela was from a Royal Family and was imprisoned for 27 years which included years in solitary confinement. Issadeen visited Robben Island in Cape Town where Mandela was imprisoned for 18 years and saw the actual conditions and listened to the sadistic acts and atrocities committed upon Mandela and his loyal supporters. The great thing in Mandela was he adopted a forgiving stance rather than anger and bitterness. This was the only reason he maintained his sanity. The lessons he learnt in prison made him one of the greatest leaders this century has witnessed.

Unfortunately Issadeen didn't have any examples of a successful person gaining humbleness or humility through such experiences but mentioned our politicians are good examples who can never learn a lesson from a humiliating experience.

Intelligent decision making skills are also vital tools all team leaders must possess. Intelligent decision making comes mainly from consulting all those who have knowledge on the subject and even external input is advisable depending on the magnitude of the problem. However the most important thing is the person who has to deliver the project or create shareholder value must make the final decision and must override majority opinion. Leadership cannot be responsible for results if it has to concede to majority opinions.

Winding up he said 'patience over matters which we cannot comprehend is also a great form of intelligence'.

He then reflected on the sad times of the Tsunami when people committed suicide unable to bear the loss of their beloved ones and property. Subsequently Issadeen was involved in a housing project in Hambantota in a village called Tsunamigama where he heard the repeated words of the Golden Tsunami. People who lived in shacks and had no income prior to the Tsunami were given both houses built with brick and tiles and had toilets plus livelihood for their existence.

Issadeen commended the TMC for enabling great networking opportunities with members of similar professional status. He added that in US, they had organisations like TMC but focused industry wise and they conducted monthly breakfast briefs with exchange of business cards and creating relationships that had business opportunities.

He was grateful to the TMC for inviting and enabling him to share his thoughts and experiences with its members who he hoped would benefit from his presentation that was customised to their needs.