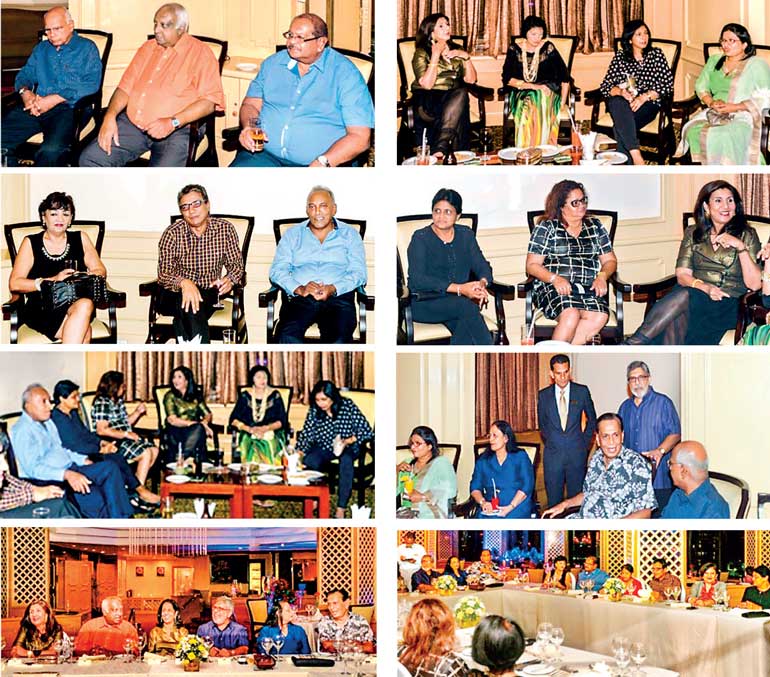 On the initiation of Fayaz Saleem, Past President of the Chartered Management Institute UK, Sri Lanka Branch (CMI) and President Emeritus of the Board of Management of The Management Club of Sri Lanka (TMC-BOM), a get-together of past and present presidents of CMI, TMC-BOM and ETC (Enable The Disabled), together with their spouses, was held at the California Grill of Galadari Hotel, Colombo, on 18 March instant.

It was an evening of bonhomie and light-hearted banter, reminiscing of the past, with many anecdotes of the experiences in the formation of the Sri Lanka branch of CMI around 20 years ago and under its auspices, setting-up of TMC soon thereafter, thus fulfilling a need for both senior and junior management professionals to interact with one another in furthering the objectives of the art and science of management.

While CMI has expanded its membership over the years and has an elected Exco to manage its affairs, TMC has, in order to accommodate the growing membership, extended its operations beyond Colombo, with clubs in Mount Lavinia, Negombo and Kalutara which are managed individually by an elected committee but overlooked by a Board of Management of TMC.

The arrangements for the evening had been very meticulously taken care of, with an eight-course sit-down dinner, preceded by cocktails and fellowship. The ambience was most fitting for such an event with light live music in the background by a four-piece band in attendance, occasionally obliging with requests from those present. While the choice of food was excellent and availability of beverages a variety, the setting was ideal for an evening of camaraderie. Importantly, it afforded an opportunity for the spouses too, to interact and discuss matters of mutual interest.

Present at this event were, Fayaz and Sarah Saleem, Sega and Sarla Nagendra, Gamini and Mangalika Karunaratne, Ajit and Chandra de Silva, Sunil and Margie Deheragoda, Keethi and Dushy Jayaweera, Rohitha and Priyadharshani Mendis, Nasser and Kuraisha Majeed, Siromi Wickremasinghe, Charmaine Vanderhoeven and Jezaya Hassendeen. Sadly missed were Col. Faiz and Shamma Ur-Rahman, Varuna and Sunethra Ratnaweera, Athula and Sharmali Jayasekera, Deepal and Eranchi Abeysekera and Murali Prakash who make up the group, due to prior confirmed commitments or being indisposed.

The curtain came down, as they say, of an extremely enjoyable and rewarding evening, with a vote of thanks most eloquently given by Nasser Majeed, the current President of TMC-BOM, spiced with humour, who, while acknowledging the participation of those present, paid a tribute to Fayaz Saleem for his initiative in organising such a wonderful event and on behalf of all those present, thanked him most fittingly, for the opportunity of a grand evening and wonderful company. All present unanimously decided to meet as often as possible or at least, make it a bi-annual event.