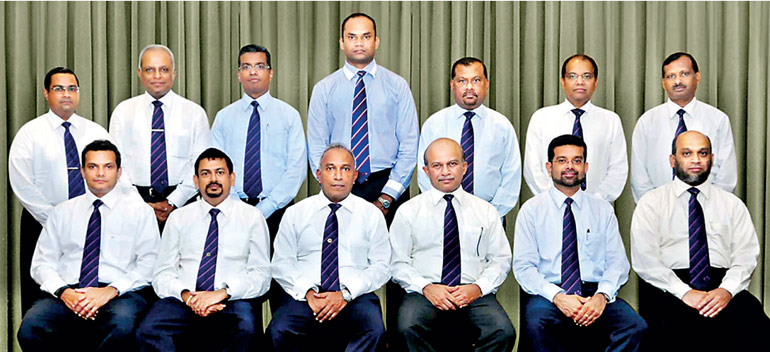 Seated from left:

Gihan S.Jayasinghe FCMI (Secretary), Malrai B.Kiriella FCMI (2nd Vice President), Rohitha Mendis CCMI (Immediate Past President), Varuna Ratnaweera FCMI (President), Sunimal Weerasooriya FCMI (1st Vice President) M.M.S. Quvylidh FCMI (Treasurer)

Standing from right:

Sanjeeva Jayasinghe MCMI (Ass. Treasurer), Indhra Kaushal Rajapaksa MCMI, Ryan Perera FCMI, Lakmal Senanayake CMgr MCMI, Nimal Mamaduwa FCMI, Murali Prakash FCMI (Asst. Secretary) K. Dharmasena FCMI

he Sri Lanka Branch of the Chartered Management Institute recently held their 200th Executive Committee meeting which they consider as a significant milestone, since forming the branch in 1995.

Being one of the few countries in the world to have their own branches of CMI, the Sri Lanka Branch, set up in 1996 and completes 19 years of dedicated work for development of professionalism in managers in Sri Lanka.

The 200th Executive Council meeting of the branch was held recently with the attendance of four of their past presidents, Sunil Deheragoda, Fayaz Saleem, Col Faiz-ur Rahman, Keethi Jayaweera and Rohitha Mendis

The other eminent personalities that had served the Sri Lanka Branch as their Presidents in the past are Zarook Marikkar, M.V. Theagarajah, Anil Weeratunga, Sega Nagendra, Ajith De Silva and Gamini Karunaratne.

The Sri Lanka Branch also has the credit of having five of their members being recognised by CMI as Companion Members – namely Gerry Hidelaratchchi, Dr. Subash Chawla and past presidents Sega Nagendra, Fayaz Saleem and Rohitha Mendis.

The branch's executive committee is currently headed by Varuna Ratnaweera with Sunimal Weersooriya and Malraj Kiriella serving as their Vice Presidents.

The Chartered Management Institute (CMI) is the only chartered body in the UK that awards management and leadership qualifications.

Founded in 1947 as the British Institute of Management the Chartered Management Institute was renamed thus, upon being awarded the Royal Charter in 2002. It was during the same year that the institute's management qualifications were recognised as part of the UK's National Qualifications Framework for Higher Education.

Membership of CMI comes in five categories – Student, Affiliate, Associate (ACMI), Member (MCMI) and Fellow (FCMI) which are awarded to applicants based on their level of academic qualifications and strategic managerial experience.

CMI UK offers special concessions to applicants from Sri Lanka who forward their applications through the branch in recognition of the active role that the branch plays in professional development of managers.

Here in Sri Lanka, CMI has an average of 150 members and the Executive Committee elected at the Annual General Meetings held in June every year, works purely on a voluntary basis to promote the concepts of good management and leadership skills.

CMI Sri Lanka branch, as a part of their activities in enhancing professional standards of Sri Lankan Managers, has joined hands with KPMG Sri Lanka in arranging evening presentations and panel discussions on timely and relevant management related topics on a periodic basis for their members as well as other professionals.

Having held a Management Quiz for the first time last year which they repeated very successfully in August 2015, CMI Sri Lanka also has plans to conduct a Management Excellence Award to recognise and reward best management practices among Sri Lanka Managers and companies.