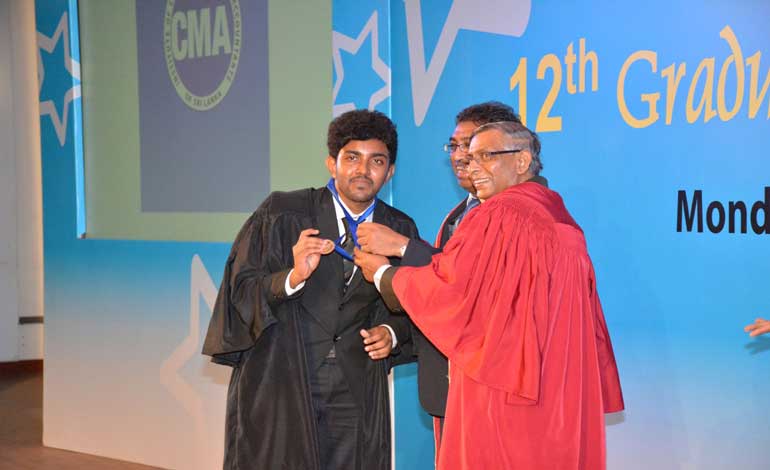 Awarding Founder President Prof. Lakshman R. Watawala Gold Medal awarded to Best Overall Performer M.H.N. Marikkar by Deputy Minister of Foreign Affairs Dr. Harsha De Silva, and President CMA Sri Lank, Prof. Lakshman R. Watawala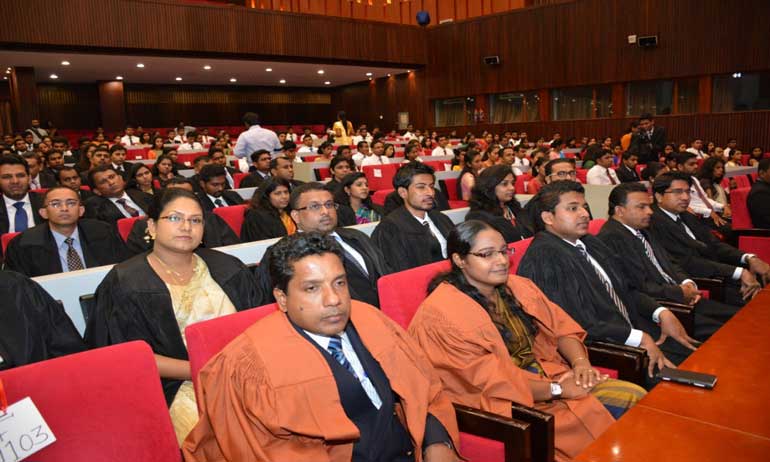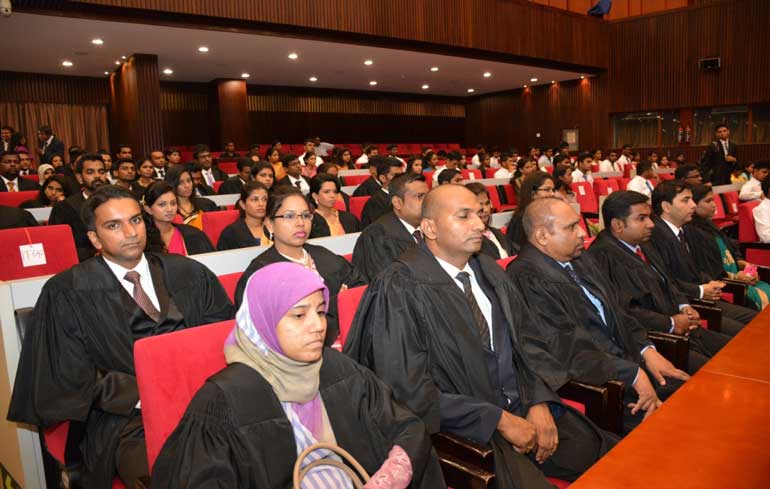 The Institute of Certified Management Accountants of Sri Lanka, since its inception 15 years ago celebrated its 12th Graduation Ceremony on 21 December 2015 at the BMICH. With this event CMA recognised students who have passed the examinations of CMA in November 2014 and May 2015 and presented them with awards. Award recipients included 16 Certificate of Computerised Accounting (CCA) Holders, 50 Associate Management Accountants designation recipients, 529Foundation Level, 239 Operational Level, 156 Managerial Level, 98 Strategic Level recipients, 78 CMA Passed Finalists and 89 overall Associate Members, 6 Fellow Members, 10 Scholarship holders and 35 Prize Winners.

The occasion was graced by Chief Guest Dr. Harsha De Silva, Deputy Minister of Foreign Affairs; Guest of Honour, Sri Lanka Institute of Advanced Technological Education (SLIATE), Director General, Dr. W. Hilary E. Silva, Patron of Dharmavahini Foundation, Ven. Metta Vihari Denmark, Department of Examinations of Sri Lanka, Commissioner of Examinations (Technology Branch), K.M.H. Bandara; Chairman of the Examination Committee(CMA) Dr. W.G. Senaka Kelum; Chairman of the Education & Training Committee (CMA) H.M. Hennayake Bandar; Consultant – Examinations (CMA) L.B. Wattegedara; Vice President CMA, M.B. Ismail and President CMA, Prof. Lakshman R. Watawala.

President of CMA, Prof. Lakshman R. Watawala, in his welcome speech said CMA Sri Lanka commenced its operations in June 2000, and was incorporated by an Act of Parliament in the year 2009 given due recognition as the National Professional Management Accounting Body in Sri Lanka.

CMA was admitted as a member of the South Asian Federation of Accountants (SAFA) in December 2009 and joins the fraternity of Professional Accounting bodies in India, Pakistan, Bangladesh, Sri Lanka and Nepal. CMA also received the Full Membership in September 2014, of the International Federation of Accountants (IFAC) which consists of 125 countries and 164 member bodies, with a total membership of more than 2.5 million accountants in public practice, education, government service, industry and commerce.

With the ever increasing demand for professional accountants and the government's decision to give pride of place to local Professional Accounting bodies and with the incorporation of CMA and making it the National Professional Management Accounting body in Sri Lanka, a large number of students in Colombo and the outstations who did not have an opportunity to become Management Accountants, were provided a strategic window of opportunity to contribute to the development of the accountancy profession in Sri Lanka. CMA has therefore taken the lead role in the development of inclusive professional education in Sri Lanka and is an eye opener for the private and public sector to consider and recognise CMA professionals for jobs in Sri Lanka.

Despite a cabinet approval the government, corporate sector and state banks have still not included CMA Sri Lanka when advertising for vacancies in the finance & accounting fields. This need to be rectified immediately and it is expected that the Deputy Minister will take up this matter with the authorities.

CMA is currently working closely with stakeholders in the private and public sector and has signed a number of MOU's to provide training for CMA students and also to recruit Sri Lankan Management Accountants. The Management Accountants role is crucial to help sustain the growth of Sri Lanka's economy and its aspired status as a leading global financial hub.

A key role for the institute will be to prepare its role as the administrator of the CMA qualification program and to ensure that the students are given the best education and training and to make the CMA qualification recognised globally.

The institute is also involved in assisting of the development of its members into high caliber accounting professionals across diversified business segments and the automatic choice to head business and work in a multidisciplinary work environment.

Tomorrows' accountants need to have a global mind set and are ready to serve the public or private sector and play a major role in the economic development of Sri Lanka.

Therefore professional management accountants emerging today and those who are still continuing their studies can be considered the future leaders of the country, amply equipped with skills, integrity, high values and standards and ready to serve both the private and public sectors.

Chairman of the CMA examination committee Dr. Senaka Kelum highlighted the importance of continuous professional development of the CMA Accountants, and the importance of the management accounting profession as well as the services provided by the Management Accountant to the country which is an essential component under the good governance.

The Chief Guest, Dr. Harsha De Sliva in his address spoke of the importance of Management Accountancy and its role in the private and public sectors. He highlighted the importance of recognising the CMA qualification as equivalent to the accounting of CA-Sri Lanka, CIMA-UK and ACCA-UK and pointed out that the recognition of CMA should come first before recognition of the foreign qualification under various service agreements with foreign countries.

He stated that under the India - Sri Lanka revised agreement; professionals from India will not be permitted to come freely to Sri Lanka. He also referred to the statement made by Prof Lakshman R Watawala regards the non-inclusion of the CMA Sri Lanka qualification for recruitment to the government and state corporation sector and said that this should be done before we permit foreign professionals to be recognised in our country.

The Deputy Minister also referred to the vital role played by CMA in providing educational opportunities for the youth and congratulated all those who have passed the final exam, those receiving membership, and students who were receiving Certificate and Diploma certificates.

Guest of Honour, Dr. W. Hilary E. Silva in his speech highlighted the importance of Management Accounting for Economic Development and the role of CMA as a national professional management accounting institute.

He commended the Institute for propagating the importance of this qualification which was recognised in every part of Sri Lanka. Today, the Institute has systematically spread its wings to major cities across the country; thereby giving access to everyone.

He was proud to point out that the Sri Lanka Institute of Advanced Technological Education (SLIATE) entered into a MOU with CMA providing opportunities for SLIATE Higher National Diploma (HNDA) holders to become Professional Management Accountants obtaining subject exemptions from CMA for their HNDA qualification.

He said the fact that the institute offers a number of scholarships annually for students is yet another encouraging fact and it also shows CMA Sri Lanka's commitment to ensure hardships should not prevent students from being good professionals.

He thanked CMA for granting scholarships for the HNDA students with outstanding performance, and for needy students and also for helping find venues to undertake practical training for HNDA students who have registered with the CMA study program.

M.H.N. Marikkar President Award Winner for best overall performance Nov'14 was given the opportunity to address gathering and in his speech he mentioned the CMA Study Program helped him to climb step by step in the corporate ladder and uplifted his professional life having solid knowledge in the subjects of Management Accounting, Financial Accounting & Business Management streams. Confidence & knowledge gained through completing CMA exams helped him to apply concepts in the practical working environment in a systematic manner. He further said, with his busy tight schedules in office environment, he could perform to receive gold medal award for the best overall performance purely by using the CMA comprehensive study text materials along with past papers & answers and attending to the Strategic Level &Integrative Case Study (ICS) classes at the final level conducted by CMA Institute.

The Director Education & Examinations Dr. Swineetha De Livera delivered the vote of thanks as final speech thanking Chief Guest Dr. Harsha De Silva and Guest of Honour Dr. W. Hilary E. Silva, for sharing valuable thoughts about the Institute and distributing the awards. She also said Prof. Lakshman R. Watawala, the President of CMA, deserves, our gratitude, for being the, Founder President, in setting up the CMA, and providing the leadership, in developing the institute, for what it is today. We are proud to mention, that CMA institute stands today with 17,000 students and 2,400 members who are capable of contributing to the, economic development, of our country. Also she offered the gratitude to Council Members & staff of CMA and all other stakeholders who graced this occasion and contributed to the success of the Graduation Ceremony 2015.