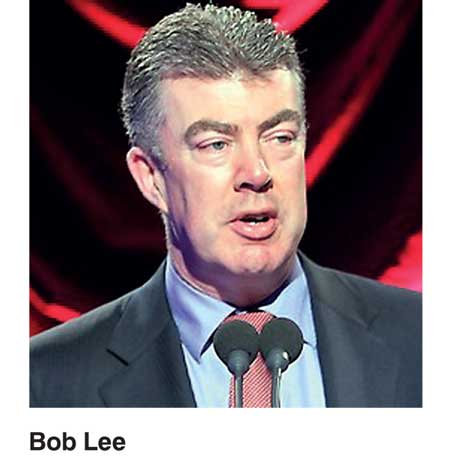 Author of 'Trust Rules'–A Best-Seller in International Business on Amazon.co.uk
​​The Great Place to Work Conference 2017 is a flagship event aimed at inspiring corporate leaders to create and sustain a High-Trust, High-Performance CultureT at their workplace.

This unique full-day program will be held on 28th June from 8.30 am onwards at the Cinnamon Grand Hotel in Colombo.

Author and Senior Management Consultant, Bob Lee will grace the stage as the International Guest Speaker at the event. He will share his views on "How the World's Best Managers Create Great Workplaces" while drawing references from "Trust Rules"– his Best-Seller (International Business)on Amazon.co.uk, which encapsulates key insights from his extensive research on data behind the Fortune's "100 Best Companies to Work For" study.

In recognition of Bob Lee's comprehensive and easy-to-use road map for building a remarkable work environment, Professor of Finance at London Business School, Alex Edmans states, "We all know that creating a great place to work is critical to a company's long-term success, but how do managers actually accomplish this? Bob Lee's book provides sixteen clear, concise principles and guidance on how to apply them to build employee trust in any industry or type of organization".

During his session, Bob will demonstrate the business reasoning and feasibility of creating a high-Trust, High-Performance Culture at work. An expert in organization solutions at McKinsey & Company, Michael Burchell states, "Trust Rules provides succinct, smart, practical guidance on how to create a high-trust, high-performing workplace. Every manager should read this book and refer to it often".

Bob Lee believes that managers play a key role in shaping an employee's workplace experience. In his presentation, he will illustrate how those mentored by great managers tend to have great workplaces experience, while those who work with less than average managers experience the opposite. He will establish the importance of the role of a manger through supporting case studies and provide guidance for managers based on "Trust Rules" identified through his research work.

In his review of the Best-Seller, the author of Highest Success Alex Chung says, "Bob Lee generously shares the playbook on how to become a world-class manager. Full of insightful and actionable items leaders can start using today, Trust Rules provides all the tools necessary to manage today's dynamic and diverse workforce at the highest levels".

Propelled by high-trust workplace relationships, the world's best employers outperform their peers on every business metric that matters. In this competitive business environment, enhancing employee engagement through advocating a culture of trust at workplaces and thereby driving performance seems the most apt way forward. "Trust Rules: How the World's Best Managers Create Great Workplaces" will be available for purchase at an introductory price at the conference.

The Conference 2017 is themed "Culture Drives Performance" and will feature a stellar line-up of over 15 CXOs from well-known organisations. They will explore strategies on how to "Assess" employee perception and effectiveness of existing people practices, "Align" organisational goals and objectives and "Advance" towards better performance.

Launching the conference to an inspiring start is Trail Blazer and CEO/Managing Director at MAS Kreeda, Sarinda Unamboowe who will deliver the keynote on "Driving Culture: A Mission with a Passion." Sequentially, President of HR, Legal, Sustainability &ERM at John Keells Group, Dilani Alagaratnam will demonstrate that "Better Culture means Better Business: A Blue-Chip Experience". In the afternoon, Co-Founder and CEO of 99X Technology, Mano Sekaram will reveal their blueprint via "Culture on steroids – The High Performing formula."

A firm favorite amongst our audience is Culture Guru and CEO of Great Place to Work® in India &Director at Great Place to Workin Sri Lanka, Prasenjit Bhattacharya who will illustrate how "It all comes down to Trust" while Consultant at Great Place to Work® in Sri Lanka, Ruwani Alwishewa will present "Insights from the Five-year National Study".

In order to engage the audience and make the event interactive two plenary sessions will be introduced to the conference proceedings.

The morning session will consist of a panel of CXOs across industries who will deliberate on "Culture Shift: Aligning and Transforming Organisational Culture". The panellists representing Brandix Lanka, DFCC Bank, LAUGFS Holdings, Marriott Hotels and Softlogic Holdings will share insights on how the organisations of today makes the "Culture Shift" required to drive performance while remaining relevant and competitive.

The evening session will feature CXOs from AOD, Auxenta, HNB Bank, Huawei and Kapruka.com who will focus on "A Culture of Innovation in the Age of Digital Differentiation". This panel will dwell on strategies adopted by organisations to drive a culture of innovation to evolve and succeed in today's constantly changing business environment.

Furthermore, Great Place to Work Institute will be launching its Certification Program in Sri Lanka at this year's conference. Great Place to Work-CertifiedTMwill be recognized and endorsed by the Employers' Federation of Ceylon (EFC) in their "Compliance +" Initiative.

Great Place to Work Institute - the global authority on high-trust, high-performance workplace cultures. The organization offers research and consultancy services to support organizations of all sizes and industries define, measure, improve, and leverage their company culture as a strategic priority.

Daily FT is the official newspaper for the Great Place to Work Conference 2017.