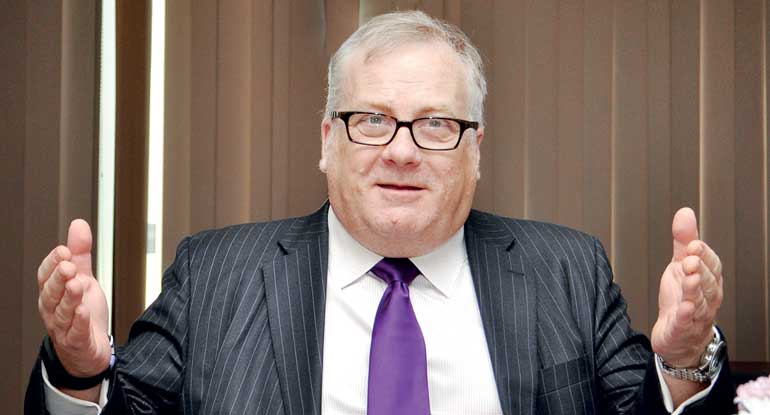 The Association of International Certified Professional Accountants (AICPA) Chief Executive – Management Accounting Andrew Harding was in Sri Lanka recently to attend to launch the CIMA Certificate in Business Accounting as the Chief Guest. He was amazed with the management accountant talent and termed Sri Lanka as a 'centre of excellence'. In addition he commended the efforts and the impressive progress made by CIMA Sri Lanka office over the years.

Prior to AICPA, Harding was Chief Executive of CIMA as it joined forces to create the world's most influential accountancy association, representing the full breadth of the profession. He served as Managing Director of CIMA from 2011 to 2016 and was responsible for the institute's operational performance. He is a chartered global management accountant (CGMA), a chartered accountant, and holds an MBA from Henley Business School. Prior to joining CIMA in 2009, Andrew worked for 17 years in professional body education, regulation and management. He is a keen musician and supporter of Queens Park Rangers F.C.

During his short visit Harding spoke to the Daily FT about the recent developments in the AICPA, expanded opportunities for CGMAs around the world the management accounting profession, challenges and the function. Following are excerpts:
By Charumini de Silva

Q: Could you outline the importance of management accountants as a profession that drives business to success?

A: Management accounting is all about providing information to business to help make right decisions for today and for future. It is also closely linked into the governance of a business, to the leadership of a business as well as to the management of the business. We are working around four key principles which includes; relevance, value, influence and trust. A good management accountant should be able to provide information which is relevant, communicate information in an influential manner, creating value and trust for the business. It is about how effective the business is progressing, delivering according to its strategy, momentary of the business, managing its performance and driving it to long-term success.


Q: What are the key challenges you foresee in the near future?

A: The first challenge is big data. It is a huge opportunity as it has got a lot of data, but in the same time it is making things a lot more different for us. Everyone says big data is going to make it easier, but it does not. Nevertheless, getting a hand on that and delivering is a big challenge at present. However, it also presents a great opportunity which I think needs to be dealt by people in going forward. There are techniques to change things.

We have other challenges around artificial intelligence and robotics. In terms of our CGMA members, the majority of them admit that they are not afraid of robotics. According to them, they say those robotics are going to take over the tedious part of their jobs, where they could concentrate on the important areas such as being the insider, influence, creating value and be satisfied from what they enjoy doing. Robotics can turn the numbers for us — that's great and we can do long-term value addition. The key here is to be really to understand how to manage that data and make sense of that data. Getting to know what artificial intelligence is and learn to be a master to the robots, rather than being a victim of the robots. We are entering a world which is very much life-long learning, where things are changing faster than ever before. I think it is a hugely exciting time.


Q: How do you think the CFOs need to evolve, and what skills and competencies will be needed in the next few years?

A: In terms of skills and competencies we have seen a change. The technical accounting skills are given but what makes people different are valued by their ability to communicate, ability to influence and the ability to lead. It is not about being a technical accountant — anyone can do that. What an employer expect is experience in leading a team, how one can inspire people, how to drive a great performance and understanding a business model properly. Those are the skills that one needs.

The great thing about management accountants is that we do not just measure the money, but we measure all sorts of performance. You get that linkage in different parts of the business and this is one of the key reasons why we see so many management accountants doing well in business and why they occupy such a diverse designation as Chief Financial Officer, Chief Executive Officer, Chief Information Officer, Chief Marketing Officer and so on.


Q: What's your perception about Sri Lankan talent?

A: It is simply remarkable. Despite the small population, Sri Lankans are disproportionately represented. Sri Lanka has been a long exporter of talent, especially management accountants. There are many business leaders here in the country and some of them are working abroad, but one common factor is that they all started as management accountants. That skill set and business acumen serves them right throughout their careers.


Q: What are the areas that need to be improved?

A: In terms of talent, I think they need to display that business acumen, make sense from that complex information and the ability to lead are important factors to be improved. The reason I said it because, sometimes people get wrapped up in technical skills.


Q: How successful has the CIMA Sri Lanka office been so far?

A: Sri Lanka has been the second largest market in the world for many years, UK being the leader. Given the small population of the island, I think this is remarkable. The office here has been very successful. We are hugely proud of what our team in Sri Lanka has achieved over the years and we are very optimistic about what is going to be achieved in future.


Q: What's your message to young management accountants embracing the field of finance through CIMA?

A: Management accounting is a fantastic career. It is a real gateway to business and this message of ours was well understood by many Sri Lankans for years. CGMA is not just a global career, but a career in business and a career which can go beyond finance. Now, finance is out of the back office and it is working together on the frontline. Very often we find management accountants started off in finance then becomes the marketing director. The amazing thing about Sri Lanka is it is got a history of over 40 years training, moving great management accountants who work in world's best and leading companies, holding senior positions which is fantastic. Sri Lanka is a centre of excellence. I think what is going on at the moment is really exciting for young people who are studying hard because from 1 January with CGMA we just multiplied that opportunity. We can provide better management accountants for Sri Lanka which will come in handy as it is a source of competitive advantage in business.


Q: What is CIMA doing to attract youngsters into the management accounting profession and what is your message to the CIMA members?

A: Two years ago we surpassed our 100,000th member, which was interestingly a lady from Sri Lanka. We see that the membership has grown over the years substantially and we see it growing further. CGMA is powered by two of the world's most respected accounting American Institute of Certified Public Accountants (AICPA) and the Chartered Institute of Management Accountants (CIMA). CIMA alone had over 230,000 member students and together we have around 650,000 member students, that will be future professionals — which is hugely influential. It means we are genuinely global.

We have a huge representation in large economies such as the US where we have around 50,000 CGMAs. However, we still have the traditional CIMA markets and we are increasingly growing members in the new super economies in China as well as in India. We see big change; we see opportunities through business markets, which are not just opportunities for organisations, but opportunities for the whole profession.

Pic by Ruwan Walpola