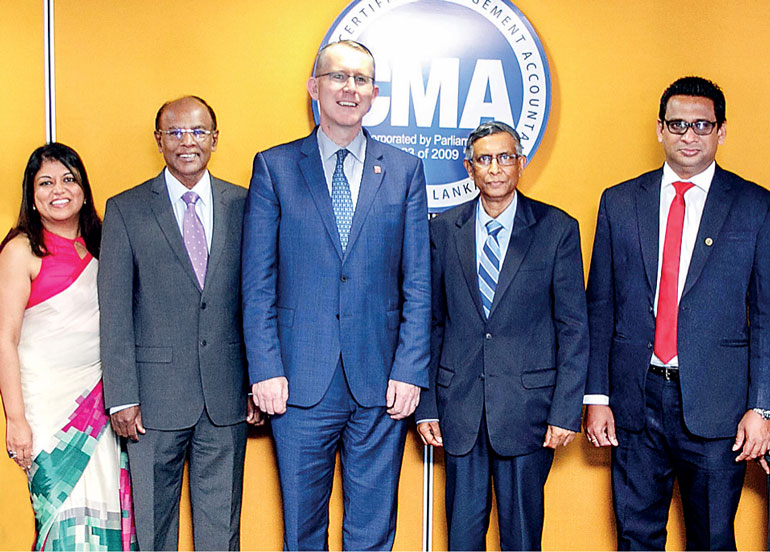 Association of Chartered Certified Accountants (ACCA) Global President Brian McEnery paid a courtesy call to the Institute of Certified Management Accountants (CMA) office in Sri Lanka recently.

He was welcomed by CMA President Prof. Lakshman R. Watawala and the management team of CMA Sri Lanka. McEnery was accompanied by ACCA Sri Lanka Head Nilusha Ranasinghe and several other officials from ACCA.

The discussions had between the two parties centred around matters relating to the development of the accounting profession in the country and in working closely towards its further enhancement and development.

CMA Sri Lanka has worked closely with ACCA over a number of years. This meeting was a result of further strengthening the alliance between the two bodies to bring together their resources to enable both organisations to strengthen their reach, relevance and resources for their members and drive value for the profession.

Promoting a strong proposition for accounting professionals globally, ACCA as the largest global professional accountancy body represents the interests of members from around the world and how they can deliver value to the profession. A significant part of this is looking to the future as to how they need to adapt to not only keep pace and remain relevant, but highlight its pivotal role in business success in the fast-moving global economy. ACCA believes that alliances such as those with CMA will offer a broader access of their qualification to future students and members, ensuring they are truly future proofed and ready to face the challenges of the profession.