By Charumini de Silva

Colombo Leadership Academy and People Business recently held the inaugural Great Manager Awards, recognising leadership competencies that produce stronger results amidst challenging business landscapes, creating stronger values to drive performances.

The Great Manager Awards is a global HR management initiative that seeks to identify and reward individuals in managerial positions. It is committed to improving performance capabilities and business acumen of partner organisations, and enables them to compare and benchmark themselves across in the industry.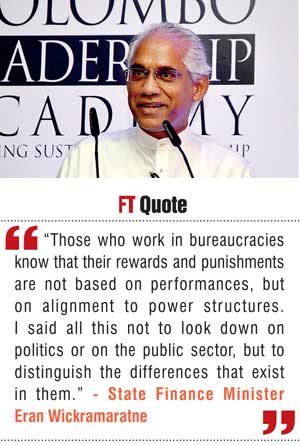 Highlighting the objective, Colombo Leadership Academy CEO Riaz Hassen said the award scheme was dedicated in pursuit of great managers.

He pointed out that when the Great Manager Awards were launched, many companies said they had won numerous awards, and that there was no need to put a spotlight on their people because these employees might switch companies.

"In Sri Lanka people switch companies, parties and Governments. But today we saw some of the courageous companies of Sri Lanka because it is driven by leadership, not mere leaders alone," Hassen added.

Despite the presence of many leaders in corporates, they have not instilled leadership. Hassen compared the situation to that of North Korea: there is a leader, but often they don't recognise that there is leadership.

He went on to note that research had brought the traditional model of leadership under scrutiny and embraced areas such as diversity, cross-functional collaboration, willingness to learn, capacity building and the ability to develop succession into one's leadership effectiveness as dominant factors in demonstrating managerial effectiveness.

In addition, Hassen, said they prepared a Millennial Managers Award for employees under the age of 30 years, who can enhance team effectiveness, perform, deliver results and at the same time groom themselves.

Delivering the keynote address, Chief Guest State Finance Minister Eran Wickramaratne said there is a huge paradigm shift in politics, unlike in the private sector where 'you destroy your successor'.

"Managing the private sector, the public sector and politics is totally different to each other. In the private sector, however 'you build your successor' and comparisons doesn't make any sense," he said.

Although an opportunity exists in recognising great managers for their high performance, the State Minister noted that promotions and rewards are not necessarily based on performance in the public sector, and that there are no provisions to penalise bad performance either.

Drawing distinctions between the private sector, public sector and politics, Wickramaratne stressed State sector recruitments had become politicised, and as a result had failed to attract the best-educated professionals.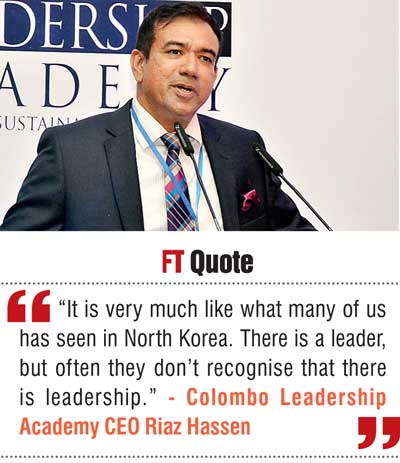 "Those who work in bureaucracies know that their rewards and punishments are not based on performances, but on alignment to power structures. I say all this not to look down on politics or on the public sector, but to distinguish the differences that exist in them," he added. He also noted that accountability in the public sector was lacking and had to be improved.

Citing the Meethotamulla tragedy, where 32 people perished due to the collapse of the garbage mountain, he stressed that no politician or an official took responsibility for that disaster. "So far, no one had taken responsibility for the incidents that took place in Digana, Kandy upheaval, where several properties and people were affected. The attitude of the public sector is why risk, play safe," Wickramaratne pointed out. He emphasised that it was critical to introduce measures to take risks in a holistic manner, and re-evaluate structures to hold people accountable for wrongdoing.

Noting that he believes that if corporates will take care of its people, the people will take care of the business, Wickramaratne called on employers to have a more equitable remuneration structure for private sector employees, insisting that there is ample justification for it. "Investing on time, education and training and a more equitable structure of remuneration to people will give you results that you never dreamt of," he quipped. The awards are conferred by The Great Manager Awards, a global human resource management consulting body committed to improving performance capabilities and business acumen of partner organisations.

The Great Manager Awards program launch in Sri Lanka is powered by Colombo Leadership Academy and People Business, a premier leadership coaching and executive education facility with top conglomerate clients.

Pix by Upul Abayasekera