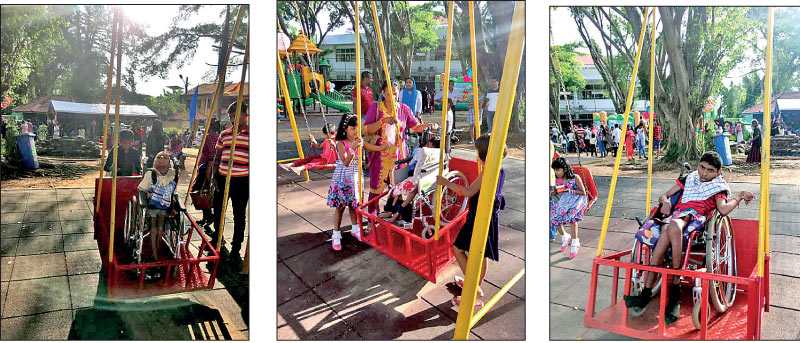 Play for All – Castle Street Children's park: December 2018
---
---
Play for All, where existing children's parks will gradually be upgraded to include infrastructure and equipment that would also cater to children with disabilities and make them inclusive children's parks was launched in August 2017.

This is the first such initiative in Sri Lanka and would be one platform where children are taught from their very young days that persons with disabilities need and should be integrated in to mainstream society and not be treated differently – resulting in an inclusive society. This value, inculcated in these children at a very young age will then be carried to adulthood and the next generation will be different to what they are today – today social and economic inclusion is something that persons with disabilities have to advocate or fight for.

The first children's park that was earmarked in the project was the Castle Street Children's park. The Ministry of Local Government and Provincial Councils funded the changes to the infrastructure in constructing wheelchair accessible paths, ramps, etc. Under ETD's initiatives, two pieces of disabled friendly equipment were installed – a wheelchair-friendly swing and a merry-go-round. The swing costing Rs. 90,000 was sponsored by Allianz Insurance while the merry-go-round costing Rs. 325,000 was paid from ETD funds collected for this purpose.

Two children with Cerebral Palsy from EASE Foundation together with their parents checked the equipment for its practicality, safety and workability for the intended purpose. The check proved successful and the smiles and squeals of these two children were a testimony to the smiles that will come to many children who have been deprived of these everyday joys.

The official park opening was on 2 December 2018.

The second park earmarked was the children's park at Apex Grounds adjacent to BRC Grounds, at Park Road. ETD is proud to have partnered with the Chartered Institute of Personnel Management (CIPM) who supported this venture as the sponsor to keep this journey going. The brand-new inclusive park opened in December 2019 and proceeds from the CIPM's 'Great HR Walk' fundraiser were used for this cause. The park is retrofitted with wheelchair accessible swings and merry-go-rounds, as well as accessible pathways which are all complemented by an aesthetic background. This park fruition was a step in the right direction, according to Enable the Disabled. Many thanks, not to only distinguished members from within the organisation, are extended to Government officials from the Colombo Municipality led by Titus Perera, and also to the Western Province Governor Dr. Seetha Arambepola.

The third park was been earmarked to be initiated in Kandy with the Mayor of Kandy been very interested in joining the initiative. However, due to COVID, the project has been on hold until further notice.

The fourth park has been given impetus by BOM member Jude Joseph who has kindly extended his support by finding a donor for said park to be built in Jaffna.

ETD's plan is to continue upgrading existing parks to inclusive children's parks, gradually covering all the provinces of Sri Lanka. These inclusive children's parks will be one step forward in building an inclusive society with good values being introduced to children at a very young age – 'Together we are One'. Its earnest request is for the public and the corporate sector to join hands with ETD to proceed further in providing more parks for the disabled children across Sri Lanka.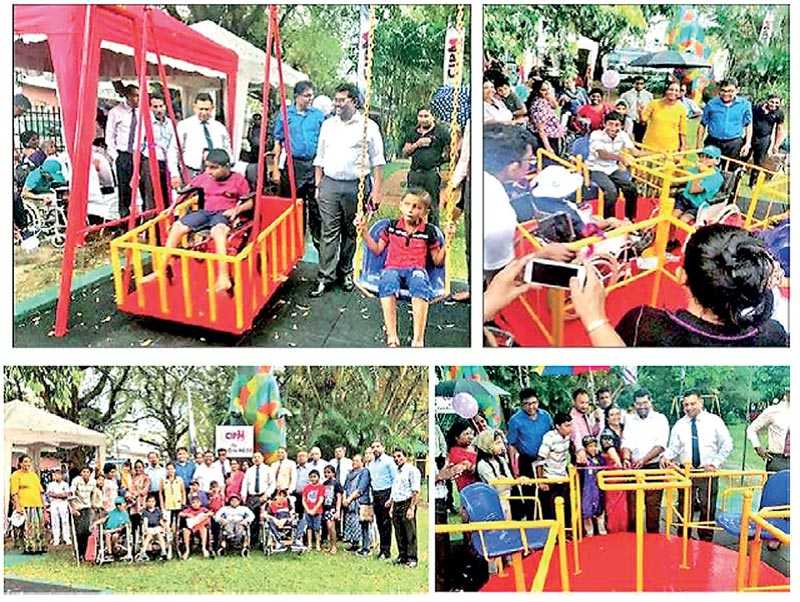 Play for all – BRC Grounds Park: December 2019
---