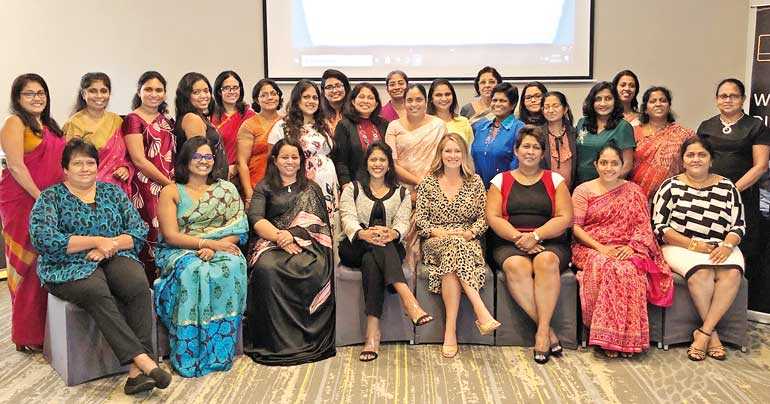 Tammy Barton together with the forum participants
---
The Women Directors' Forum (WDF), a pioneering initiative by the Sri Lanka Institute of Directors (SLID) together with the Institute of Chartered Accountants of Sri Lanka's (ICASL) Women Empowerment and Development Committee, recently organised a luncheon session with Tammy Barton, founder of the personal budgeting company 'MyBudget' which has taken Australia by storm. Barton shared inspirational insights into her remarkable achievements at the luncheon.

"The Women Director's Forum and the ICASL Women Empowerment and Development Committee are delighted to have been able to bring this truly inspiring entrepreneur in to our midst. Her incredible achievements as a woman entrepreneur is indeed an inspiration to all of us," said WDF Chairperson Aroshi Nanayakkara.

Barton started her career in the legal field at a debt collecting agency and soon realised that many people fell into financial difficultly because they lacked the knowledge and discipline to manage their finances. In many instances, they unwittingly over-extended themselves and gradually became trapped in a vicious cycle.

Seeing the impact she could make, Barton, at the tender age of 22 decided to take on a few clients whose finances she had started to manage, which included paying their bills, giving them an allowance for their expenses and agreeing with them on a savings program which would result in a nest egg to be used for the car or home they wanted to buy. This was the beginning of MyBudget which has now grown into an Australian success story.

A remarkable entrepreneur and an engaging personality, Barton was recently recognised as one of Australia's most influential businesswomen and female entrepreneurs. Not content to rest on her laurels, Barton is now taking her company global. She has also realised the impact her services could have if she were to go digital and mobile. Embracing technology to the fullest, she has now set up an IT development centre in Sri Lanka in order to develop the technology MyBudget will require for the future.

The Women Directors' Forum of SLID aims to enhance the number of women board directors and ensure a female leadership pipeline in listed, unlisted, public and private corporate entities in Sri Lanka. The WFD seeks to achieve these objectives by enhancing the knowledge, skills and visibility of women leaders and by promoting gender progressive practices in workplaces, and encourages all female leaders in Sri Lanka to join the WFD in order to learn from and support the initiative.