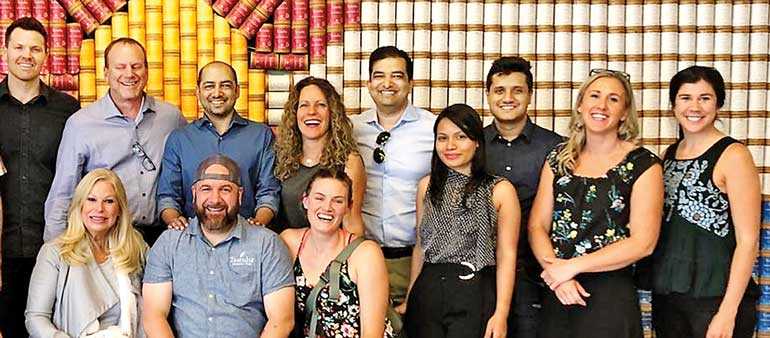 MTI Consultants Jananga Piyadasa (from Sri Lanka) and Darshana Buragohain (from India) with the Teatulia USA and Gemcon Team at the Imple-mentoring Review Sessions in Denver, Colorado
---
MTI's international team is in Colorado, USA for a strategy imple-mentoring project with organic tea company Teatulia. Colorado-based Teatulia USA has launched 'Tea Soda', a breakthrough innovation that is bound to challenge the ready-to-drink tea/beverage market in the US, starting with a test market in Denver, Colorado.
At the strategic review meeting, Teatulia and Gemcon Group Director Dr. Kazi Anis Ahmed stated: "We have an exciting time ahead with the launch of new tea soda. Teatulia is expecting a significant business growth over the next few years, which will poise them to become one of the leading organic tea brands in the US."

Teatulia and Gemcon Director Kazi Inam Ahmed added: "As a global organic and ethical tea brand, we have taken steps to expand our global footprint via operations in the US, UK and exports to Germany, China and Japan. We are glad to be partnered with MTI on this journey, where MTI's strategic reviews and insights have become very useful."

MTI CEO Hilmy Cader stated: "Teatulia has the potential to become a strong player in the US as well as in the global organic tea markets given their unique value proposition and R&D capabilities. We are delighted to assist Teatulia on this endeavour via our strategy critiques and imple-mentoring."

Teatulia is an award-winning, organic tea company based in the US and UK, which source finest organic teas directly from their own garden located in Northern Bangladesh. Teatulia has over 25 flavours of specialty tea available in black, green, herbal, oolong and white tea categories and available to the consumers via islandwide retail stores and food service outlets Teatulia has been certified by many certification bodies including USDA organic, rain forest alliance and fair trade.

MTI Consulting is an internationally-networked boutique management consultancy, offering advisory services range from strategic planning, corporate re-structuring, process re-engineering, performance management, international market entry, feasibility studies, due diligence, corporate finance, M&A, HR, executive search/head hunting, marketing strategy, branding to market research. Since its inception in 1997, MTI has worked on over 660 assignments in 43 countries, covering a diverse range of industries, clients and business challenges.