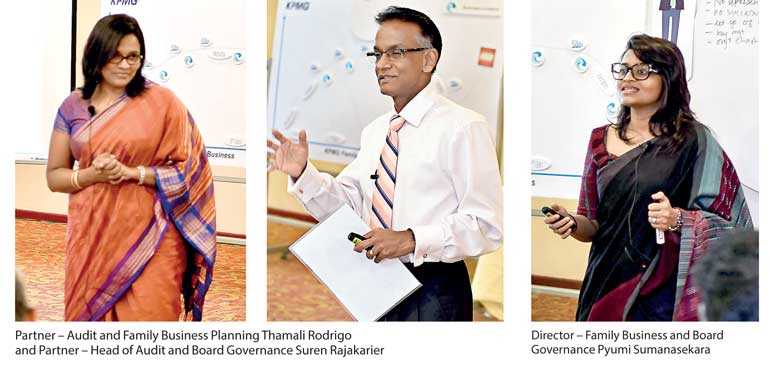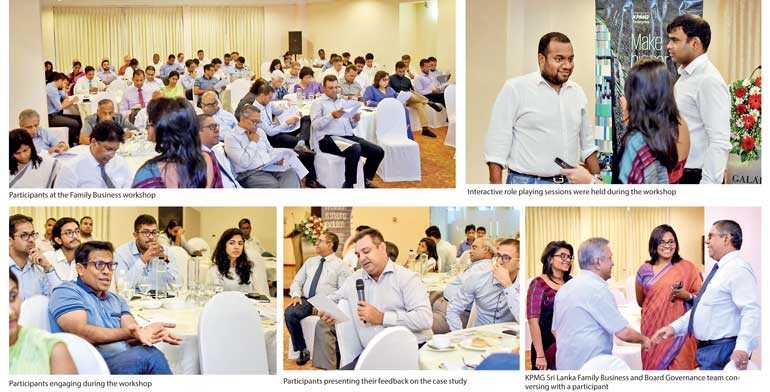 KPMG Sri Lanka hosted a workshop for family business owners on 13 July at Galadari Hotel, Colombo. The event, which focused on 'Tackling the Next Wave,' was an interactive workshop with over 100 participants, comprising owners of key family businesses who are the driving force of our economy.

The workshop was presented and coordinated by the KPMG Family Business & Board Governance team comprising of Thamali Rodrigo (Partner, Audit and Family Business Planning) and Pyumi Sumanasekara (Director, Family Business and Board Governance). Suren Rajakarier (Partner, Head of Audit and Board Governance) highlighted the importance of ensuring that a proactive and complete solution is implemented by each family business to secure its consistent growth.

With many years of experience in this field, locally and globally, the KPMG Sri Lanka team has assisted a number of local clients to successfully manage both family dynamics and business growth.

KPMG Sri Lanka Family Business and Board Governance team's vast experience, be it in terms of first-generational or multi-generational clients, conglomerates or standalone companies, puts the firm in a unique position to understand predictable challenges in any family business. The recognition of the existence of such challenges, and their capability to completely debilitate a business, prompted the team to host such a workshop with the intention of educating existing family businesses of the plight they may face if they fail to be proactive about their own upcoming 'waves'.

Rodrigo and Sumanasekara curated a couple of case studies (or 'stories', as they called it), which were specially designed by them to cover common challenges that were faced by a majority of family businesses the world over.

The content for the case studies were based on the most common real life situations that the KPMG Sri Lanka Family Business and Board Governance team had encountered through their years of experience. The carefully designed case studies focused on an array of issues, ranging from succession planning, to family conflicts, to poor exit strategies, all of which narrowed down to how these challenges or 'waves' should ideally be overcome.

Unlike traditional monologues, the workshop was interactive and provided participants the opportunity to benefit from experiential learning. Participants were asked to provide their own opinions on the characters within the case study, as well as their perspective on how the issues might have been solved. This was done through group activities and role playing, all of which created a comfortable and enjoyable environment for the participants, whilst also ensuring that they were engaged throughout the session.

The event was well received, with participants providing fantastic feedback on the structure of the workshop. Many family business owners stated that the session allowed them to realise the importance of appropriate family business governance, and that it is an area within their own family businesses which required attention.

The KPMG Sri Lanka team recognises the growing importance of planning for inevitable waves through appropriate family business and board governance to ensure longevity of family businesses in Sri Lanka, which will ultimately contribute towards the increasing strength of the economy. With over 85% of local businesses being governed by families, KPMG Sri Lanka has identified this as an area which cannot be neglected and is committed to providing its unparalleled service to its clientele.