Seated from left: Jithendra Gunatilake (Treasurer), Nimal Perera (Past President), Gamini Marambe (President), Tilak De Zoyza (Vice Patron), Ambassador Akira Sugiyama (Patron), Dayasiri Warnakulasooriya (Vice Patron), Chandana Amaratunga (Snr Vice President), Mangala Samarajeewa (Vice President) and Anuruddha Gamage (General Secretary). Standing from left: Nirosh De Silva (Asst. Secretary), Tyrell Roche (Asst. Treasurer), Damayanthi Rajapakse (Committee Member), Thilina Tippalagama (Committee Member), Nishantha Gunasekara (Committee Member) and Sunil Ratnayake (Committee Member)

---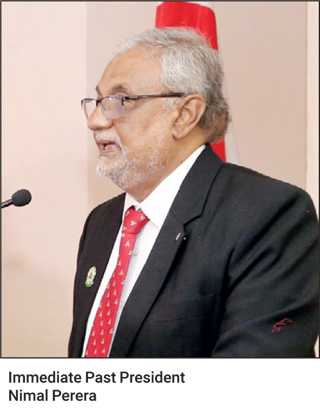 At the recently held Annual General Meeting, Gamini Marambe was elected the new President of JASTECA for a two-year term of office. Nimal Perera who steered the Association previously stepped down and will remain in the executive committee as the Immediate Past President.

At the Ceremonial Sessions that followed Chief Guest, Ambassador Akira Sugiyama spoke about an Investment seminar held in last September 2019 by JETRO and BOI Sri Lanka in Japan received favourable response from over 200 Japanese entrepreneurs and expecting further investment relationship between both countries. Further he mentioned that Japan has contributed $ 9.6 million to fight against COVID-19 which includes medical equipment.

An interesting Keynote address was delivered by Professor Buddhi Marambe on 'Modern Trends of Agricultural Production'. He presented how agricultural production has substantially increased in this country through scientific interventions and efforts of the policy makers and researchers of the Government over the past several decades.

In his inaugural address the new President Marambe outlined how he benefited from his initial training in Japan and how he re-oriented the management of the companies he managed with several Japanese management concepts and techniques which resulted in significant improvements to the production process and the bottom line.

He spelled out the most well-known Japanese practices that has made Japan a unique country, and how we in Sri Lanka could benefit from adopting these practices. Noting that JASTECA is a very recognised association in Japan, Marambe wowed to introduce many aspects of good governance and transparency and implement several new techniques of transferring Japanese management techniques and an experience of Japanese culture to Sri Lanka in the current COVID constrained environment.
JASTECA
The Japan Sri Lanka Technical & Cultural Association (JASTECA) is Sri Lanka's alumni association of past trainees of Japan's Association for Overseas for Technical Corporation and Sustainable Partnerships (AOTS) and its predecessor. It is the foremost organisation that has been a catalyst in transferring Japanese technology and management systems to Sri Lanka from Japan.

With over 3,000 members, many of who are in the technical fields, the Association is engaged in creating a multiplier effect of training received in Japan, by making past trainees resource persons in JASTECA's dissemination seminars. Being one of 73 societies in 44 countries in AOTS's network of alumni societies in the Asia, Africa, Eastern Europe and Latin America, JASTECA of Sri Lanka is considered one of the best managed in terms of activities and governance.

Having originated in 1984, succeeding from the Asia Cultural Association, JASTECA has contributed to the development efforts of Sri Lanka in various forms. Its flagship activity is the 5S competition which has encouraged many private sector and government organisations to implemented 5S thus making significant improvements to efficiency and customer service.
New Committee
The new Committee consists of the following:
Patron: Ambassador of Japan in Sri Lanka
Vice Patrons: Dayasiri Warnakulasooriya, Deshabandu Tilak de Zoysa
President: Gamini Marambe
Immediate Past President: Nimal Perera
Senior Vice President: Chandana Amaratunga
Vice President: Mangala Samarajeewa
General Secretary: Anuruddha Gamage
Treasurer: Jithendra Gunatilake
Asst. Secretary: Nirosh De Silva.
Asst. Treasurer: Tyrell Roche
Committee Members: Sunil Ratnayake, Nishantha Gunasekara, Damayanthi Rajapakse, Thilina Tippalagama
New President
The profile of the new President is given below:

Gamini Marambe attended Nalanda College Colombo where he was the Head Prefect. He commenced his career in Finance having undergone training at State Engineering Corporation and Port Cargo Corporation.

Having joined Packwell Lanka Ltd., a leading company in the packaging industry, as the Accountant he rose to the position of Director/General Manager, the first non-family member to be appointed to the Board. Thereafter he managed a few other companies as Director CEO, including Midaya Packaging, Modern Pack Lanka Ltd., a sister company of Ceylon Biscuits Ltd., and Jayasinghe Industries.

After retirement he joined his wife's business Party Treats Lanka Ltd., which is in the confectionery business, catering to the local market as well as overseas m. During this period, he was actively involved with the Sri Lanka Institute of Packaging and the Asian Packaging Federation. In 2006 he represented Sri Lanka at the World Packaging Organization. He also served the Ceylon National Chamber of Industries (CNCI) as its Deputy Chairman.

At present he is the Chairman at INGRIN Printing and Graphics Sri Lanka, a project funded by INGRIN Netherlands where 500 to 600 personnel are trained annually in the printing industry. Gamini Marambe is also the Chairman of Japan Lanka Industrial Development Centre, which is fully funded by a Japanese organisation and which helps small and micro companies which are mainly export oriented.