University of Colombo MBA Alumni evening forum on 7 Sept. with internationally acclaimed expert Professor Errol Wirasinghe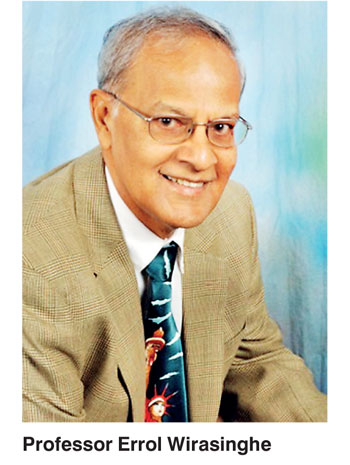 Though everyone speaks of 'Leadership Training', few really understand what this entails.

Leadership is a very broad term, and many words have been used to describe essential leadership traits. Prof. Wirasinghe points out that leadership involve the following:

Understanding (Willingness to change perspective)

Expectations; Asking Questions; Objective; Driving Criteria; Alignment; Leveraging; Resource Limitations; Predictions and Projections; Productivity and Profitability; Volatility; Uncertainty; Complexity; Ambiguity; Empathy and Sympathy; Measuring and Reacting (feedback); Targets; Politics; Risks; Safety and Security; Survival; Linkage; Consequences; Options; etc.

Deciding (Making defensible decisions)

Responses; Resources, Priorities; Strategy; Tactics; Fallback; Timing; etc. Any serious decisions we make must be defensible, optimal, consistent, and timely.

Communicating (Acceptance and implementation through effective messaging)

Direction; Influence; Commitment; Language; Motivate; Empower; Engage; Conduct, Ethics, Implement; etc.

A multitude of studies and surveys have shown that "decision-making" link is the weakest! Whether business or personal decisions, the consequences of sub-optimal decisions are numerous, and can be devastating.

In the connection, the University of Colombo MBA Alumni Association has organised an evening forum focussing on 'Essentials of decision making' with Professor Errol Wirasinghe, is an internationally acclaimed specialist on decision-making and negotiation skills, as the speaker on 7 September at 5:30 p.m. at Hotel Galadari.

Prof. Wirasinghe, based in the Silicon Valley (USA), has spent the past 17 years helping professionals all over the world to get a better handle of decision-making. He reminds us what Lee Iacocca, Former Chairman, Chrysler Corp., and US Presidential candidate, once said: "The greatest obstacle to discovery is not ignorance; it is the illusion of knowledge."

Sadly, many CEOs live with this illusion, relying on commonsense, and team/group decision-making. His research in this field has identified three critical elements that govern the decision-making process; these are:

(1) You (the decision-maker);

(2) The Data; and

(3) The Environment

As the decision-maker, one must necessarily make some assumptions on what criteria (factors) are relevant, and then interpret the data pertaining to the candidates (potential/likely solutions), in the prevailing environment.

The interpretations will depend on one's culture, education, training, values, beliefs, resources, status, image, relationships, health, skills, time constraints, context, emotional state, neurological limitations, etc.

Thus, irrespective of what tools and techniques you use, the decision-makers' subjectivity and biases will be an inevitable part of all his/her decisions.

The decision

-making process

For most people the decision-making process involves common-sense, logic, intuition, pre-cognition, gut-feel, perception, judgment, rules, laws, etc. Sadly, by themselves, these are totally inadequate in today's world of information overload. When making decisions that have serious consequences, it is vital that we use robust, proven, analytical techniques, to reinforce our logic and intuition based judgments. Prof. Wirasinghe offers three very specific analytical approaches to making defensible decisions.

(1) The Analytic Hierarchical Process (AHP); (2) The Decision-tree Technique; (3) The Payoff Table

He has also developed software to ease the use of these techniques.

Most decisions in the corporate world have to be approved by a higher authority. Hence your decision must be defensible. It is difficult to defend a decision that has not been validated. The validation process explores the sensitivity of the decision to the assumptions, data, and biases. Such an analysis must address the following: What is the impact of each criterion on our decision? Can we do without a particular criterion? How sensitive is the decision to the assumed probabilities (uncertainties)?.

Prof. Wirasinghe left Sri Lanka in 1967, to study in the UK, at a time when very few people had given thought to studying abroad. Presently he lives in the Silicon Valley, near San Francisco, which is home to tech giants such as Google, LinkedIn; Apple, Intel, Yahoo, etc.

He started life as an Engineering Apprentice at the Browns Group.

Graduating as Valedictorian from The Teesside University, U.K. in Mechanical Engineering, he went on to obtain his Ph.D. in Fluid Mechanics, from the City University, London, UK, having won a scholarship from the prestigious 'Confederation of British Industries'.

Subsequently he went on to become an Oil & Gas Engineer, Research Scientist, University Professor, Owner of Retail Stores, Founder of a Leasing Co., and also a Procurement Co.; and now a Management Consultant.

In 2001, he decided to focus on leadership development (training and consulting).

He is the author of the books "The Art of Making Decisions"; "The Decision Making Handbook", and The Negotiator's Handbook. He also developed the XpertUS Decision Support Software, which includes three decision-making software tools.

He has lived, worked and trained professionals in Asia, Mid-East, Europe, North America and South America, working for Abu Dhabi National Oil Co., Petroleos de Venezuela, British Gas, Enron Corp., and the University of Venezuela, where he lectured in Spanish.

He has published papers on topics relating to Management, Engineering and Economics, and have trained several Fortune 500 companies. Presently, he is an adjunct professor at the University of Houston's MBA program. Among his clients are Shell Oil Co.; The US Navy; Wal-Mart, Technip, General Dynamics, Applied Materials, AREVA. He was honoured by the Society of Petroleum Engineers as one of their 2009-10 most Distinguished Lecturers.

More information about the program could be obtained by calling 076 822 3926 or 077363 5504 or through email: forums@colombomba.org.